Dagworth and District Gentlemen's Cycling Society
---
Affiliated to the League of Anglian Wheelers
HQ: Rattlesden
Five Bells

(TL 977590)
---
Latest News
Ivan Codd
Renowned Stowmarket Cycle Dealer, honorary member of the D&DGCS, and purveyor of 'ICA' trouser clips passed away peacefully on Wednesday March 28, just one week before his 98th birthday. The funeral service was at St Peter's & St Mary's Church, Stowmarket, on Thursday April 19.
AGM
The AGM didn't take place on its appointed date because no one wanted to wade through the snow to Rattlesden. The decision making was, therefore, postponed until our next event. The snow stayed long enough for the Snow Ride to take place on Saturday 3 March, so most of the AGM business was done then.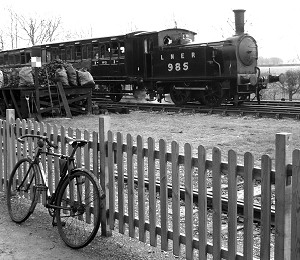 Suggested Steam Sundays
We might meet at the Middy on Sundays throughout the summer. We have picked a number of dates when, if the weather's fine, we suggest that you ride over to the Mid-Suffolk Light Railway to watch steam trains while having a pint in the Kitchener Arms and waiting to see if anyone else turns up. Taking the railway's list of operating Sundays then eliminating their special event days along with Sundays that clash with other events we might go to, we end up with these dates: 3 June, 10 June, 15 July, 22 July, 5 August, and 19 August. The MSLR has a season ticket system so one ticket will be valid on all these days.
2018 meetings
February 2018 is unusual in having no full moon, while both January and March have two. The nearest Thursdays to the fuill moon are differently, though no more evenly, distributed among the calendar months. The dates of our meetings work out at: 4 January, 1 February, 1 March, 29 March, 3 May, 31 May, 28 June, 26 July, 23 August, 27 September, 25 October, 22 November, and 20 December. This year we have decided to hold all these meetings at Rattlesden Five Bells. 8:30 is the nominal starting time.
The Sudbury
Cyclist
The former Kings Head at 53 Ballingdon Street, CO10 2BZ reopened at the end of 2017 renamed the Cyclist. It's a pub & café aimed particularly (though by no means exclusively) at cyclists. There is a secure bike lock-up and a basic toolkit is available if needed (there's also a good bike shop nearby). They specialise in local ales and aim to provide a warm, cosy environment. Coffee, wine, tea and simple food are also available. Important note: the Cyclist is totally cash-free, so you will need a card to pay for food & drinks.
Flat Section
The V-CC Flat Section has A PLAN: the last-Monday-of-the-month meetings will all be at The Victoria in Earl Soham. So far, so good… There will also be impromptu mid-month meetings at other pubs, which we stand no hope of keeping track of here.
---
Aims of the Society
The pursuance of cycling in the leisurely fashion of days gone by. The appreciation and conservation of the countryside and its way of life. The enjoyment of local public hostelries and their ales.
---
Subscribe
The D&DGCS is a sort of 'shareware' cycling society. Try before you buy. Anyone is welcome to take part in our events; come along and see if you enjoy it.
---
Officers
| | |
| --- | --- |
| President | Keith Farrow |
| Vice-President | John Purser |
| Foreman | David Whatling |
| | |
| | |
| Recorder | Jonathan Walker |
---


Last Modified, 11 May 2018