Go to the Archive index
---
The Elswick-Hopper Lynx [Archived article - see footnote]
by Frank Kilmore
The Lynx moped was built by Elswick-Hopper for the Earls Court Show in 1960. They built only two examples; both are still in Barton-on-Humber where they were manufactured. They also built another earlier model of which six were manufactured. There is only one known survivor of the six and this belongs to Mr Barry Wood of Barton-on-Humber.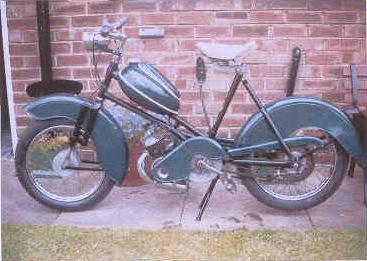 The sole survivor of the six Elswick-VAP mopeds
These models were tested for a number of days at the MIRA test track, Nuneaton and were passed with flying colours by Mr Wood. They reached a maximum speed of 56 mph.
The Lynx models were originally built by Mr Barry Wood, Mr Dennis Moody and Mr John Stockdale (dec'd); they were painted and hand sign written by Mr Harold Hunsley. All four men came from Barton. The Lynx was powered by a French ABG VAP 49cc two-stroke engine with Miller lighting. They were only shown once at Earls Court and then the whole project was abandoned and they were left untouched for many years in the main Elswick-Hopper office.
By 1982 the two Lynx machines were owned by Mr Ken Waller of Barton-on-Humber who bought the first machine from the daughter of Mr Les Green, who worked for Elswick-Hopper for many years. This Lynx changed hands three or four times before being bought by Mr John Andrews in approx 1988. The second moped was saved from going to the scrap yard by Mr Waller's son, Gavin, who was working for Elswick-Hopper at the time. Mr Waller paid £20.00 for this model, which has never yet been started up.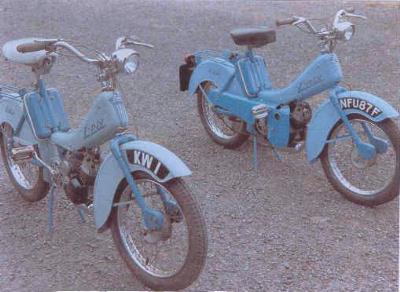 The two 1960 Lynxes
Both machines are still very much as they left the factory in 1960 and have had very little restoration.
Both machines were on show at the NACC Humber View event on 13th June 1993 and Mr Wood, Mr Moody and Mr Hunsley, who built the Lynxes, were all present.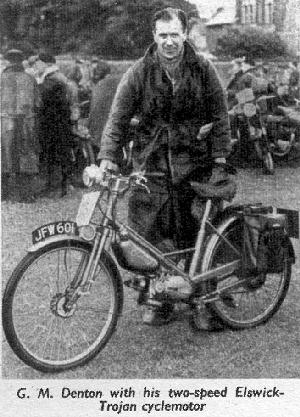 The Elswick-Trojan, an earlier prototype,
seen here after George Denton completed
the ACU 24-hour rally on it.
---
This article was first published in August 1993; this version has had some of the dates corrected thanks to further information from Barry Wood. Since the article was written, another surviving example of the six Elswick-VAP prototypes - number 6 - has been discovered and more information has been uncovered. A revised and updated article on the Elswick-Hopper Lynx was published on the Iceni CAM Website in November 2008.
Other Elswick-Hopper documents in the archive:
---

Go to the Archive index