Go to the Archive index
---
More Lynx in the Chain [Archived article - see footnote]
Mark Daniels
With such wide response to The Lynx Project in the last issue it was considered of interest to follow the item up with a few little extras that didn't make it into the main article. These pictures of Chief Engineer Barry Wood and his wife Ida were taken during the later phase of the project in 1960. Wood covered considerable mileage in road testing and stands with one of the restyled VAP prototypes.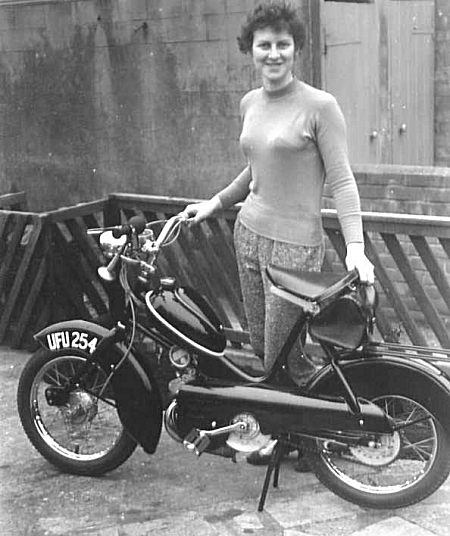 UFU 254 carries the next consecutive registration to No 5, so was undoubtedly one of the original MIRA test machines, and shows how styling to the Lynx was being developed. It wears the first engineering model trailing link fork set produced in the workshops, the first one-piece sidepanels replacing the chain & beltguard set, and the characteristic rack that also carried on to the Lynx. At this stage it still wears the bubble tank on the top frame tube and appears in the maroon colour that finished all the VAP prototypes.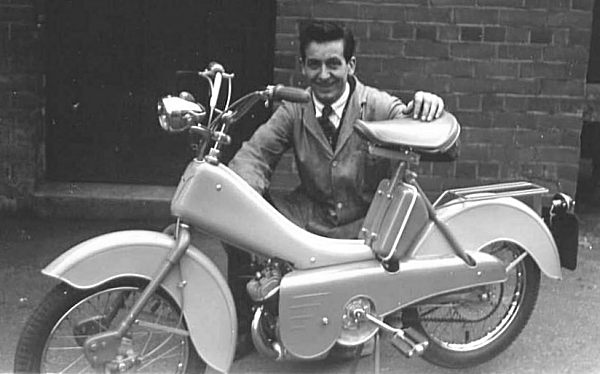 Barry Wood crouches behind one of the two identical Lynx models prepared for Earls Court, just shortly before Harold Hunsley coach painted the finishing graphics.
Records traces into Lincolnshire Archives (who issued all the Elswick registrations) sadly don't reveal many more secrets. The Elswick Trojan shows in the registration as a "Mini Motor Bicycle" on 19th January 1953 with engine number CBC1102, its last licence expiring on 30th April 1963 under registered keeper Miss V Snowden, 60 Serlby Lane, Harthill, Sheffield. Of the Elswick VAP prototypes, four are recorded as UFU253/4/5/6, on 26th August 1959, however further details like the vital frame numbers are not available since the registration cards appear blank. The card for the other surviving Lynx registered 27th May 1968 is also blank of machine details, however the log does record that the registering agent at this time, was actually the Elswick Works! The Elswick Dunkley picture was taken in the post-works ownership of Chris Welch who rode it 1963 & 1964. Its last licence expired on 31st March 1965 under the ownership of Roger Keal of Barton, who reportedly disposed of it in a rubbish bin when the engine packed up!
During research into production of the Lynx article quite a file of other unpublished research material has become recorded in the club archives, including further references on the Elswick Trojan, the Elswick Dunkley, and photosets of all the Elswick VAP prototypes at the MIRA test track and Barton Works.
---
First published in April 2003. Since the article was written, another surviving example of the six Elswick-VAP prototypes - number 6 - has been discovered and more information has been uncovered. A revised and updated article on the Elswick-Hopper Lynx was published on the Iceni CAM Website in November 2008.
---
Other Elswick-Hopper documents in the archive:

Go to the Archive index
---