Go to the Archive index
---

---
SPECIALISTS IN EXPORT
Established nearly 70 years ago, Elswick-Hopper have had long experience in building cycles for markets overseas
By L. A. AYTON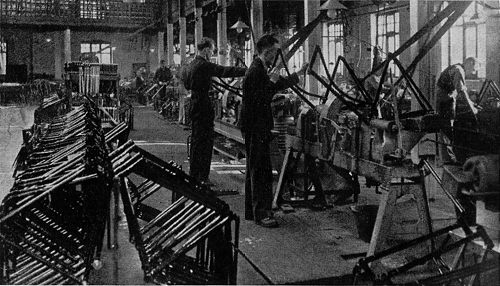 Final assembly shop at Barton-on-Humber. Operators in the foreground are tapping bottom brackets
Not many names have been associated with the cycle industry as long and as closely as that of Hopper, for it was as far back as 1880 that Frederick Hopper started to make bicycles in his small engineering and whitesmith's workshop in Barton-on-Humber, Lincolnshire. The site, now derelict, is opposite the present company's main offices and export department in Brigg Road, which were built shortly before the first world war, well within the memory of the present chairman, Arthur Stow, who completes 46 years' service in May of this year.
The founder himself died in 1926, and the present parent company, The Elswick-Hopper Cycle & Motor Co. Ltd., combines his own F. Hopper & Co. Ltd., and Elswick Cycles Ltd., the latter being originally the Elswick Cycle Company of Newcastle-on-Tyne, which was acquired in 1910. Manufacture of the two makes continues in the one factory, with corresponding models in each range, but each is marketed by the individual selling organizations and through separate agencies, to retain the brand names which have been established throughout the world.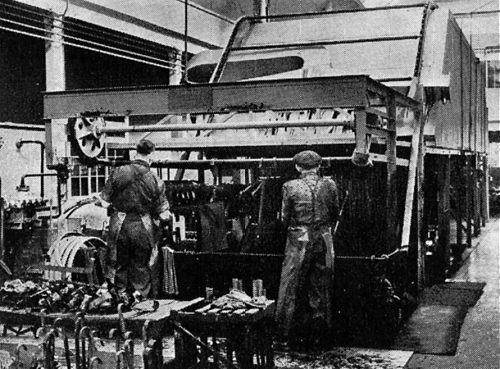 Loading end of one of the large enamelling ovens
Through long experience and careful study of market requirements, Elswick-Hopper have always done a large amount of overseas business, and the present export target of 75 per cent of output has been achieved without undue strain on the organization. Both Brazil and India are particularly good customers at present, I was told by H. Crook, the export manager, but the stencilling on the cases passing through the export packing department showed that many other markets were also active buyers.
Although it is the final stage in the production at Barton, the export packing department happened to be the first I visited, as it adjoins the head offices which are some hundreds of yards from the works. Normal shipments are made in four types of export packing. The first is of complete machines with only the front wheel out, the second is similar with both wheels out, the third is of completely unassembled machines with unbuilt wheels, and the fourth of unassembled machines with built wheels.
These latter two classes go to countries where, due to tariff obligations or legislation, a certain amount of local labour is necessarily employed to complete the machines. They are normally packed in cases of 25 sets or in multiples of 25, while the first two types of packing are used for six machines or multiples of six. Many complete machines are delivered to Continental markets in road and rail containers, enabling them to arrive in safe condition with a minimum of packing. All export shipments go by road to ports, mainly to London and Liverpool, while rail delivery is used for the home market.
Complete sets of parts as required for each export order are brought from the main Marsh Lane works on horse-drawn floats. These sets go to the wrapping section of the export packing department and are prepared for the final packing. Specially-designed trolleys hold complete sets of 25 cycle parts and are made up at one end of the packing department for use by the case assemblers. A very complete and well equipped woodworking section attached makes all the cases, which are built up section by section as each layer of parts is stowed and secured.
At Marsh Lane the main works covers an area of some 13 acres, and at present employs about 400 workers. Labour is not easy to obtain in Barton-on-Humber and another 100 employees could be absorbed with ease if materials were available.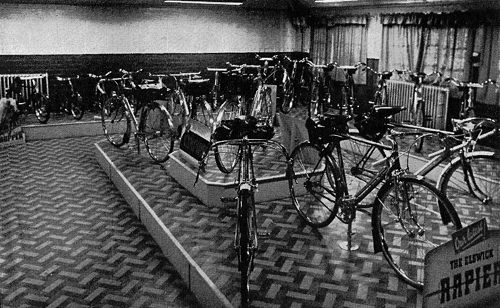 Part view of the new showroom which has a complete range of Elswick and Hopper models
Partly because of their situation away from the manufacturing Midlands and partly due to the fact that they have always made as much of their machines as they can, Elswick-Hopper are self-contained to a very high degree and produce many of the individual components that other manufacturers obtain from outside suppliers. During the war the works was engaged mainly on government contracts and in spite of its closeness to much-bombed Hull, it suffered no damage from enemy action.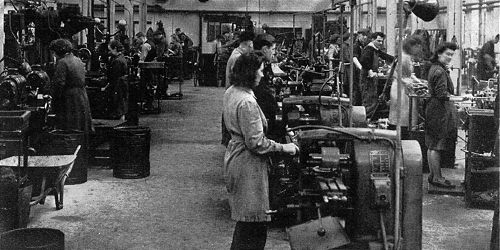 General view of the modernly equipped machine shop
The works has its own powerhouse where three large diesel-driven generating sets can supply the complete power necessary. Mains power, however, is used to supply the motorized machines in the works that require A.C. Owing to the necessity for as much economy as possible with power, there is a certain amount of staggering of labour in some departments, although apart from this the factory works the normal five-day week. Every department is heated by overhead hot-water radiators fed from a central boiler house.
In many ways the heart of the works is the machine shop, an up-to-date department with all machines individually driven and no overhead shafting. Among the machines here is a large Wickman automatic which is used on small brake parts and can be tooled-up to produce seven different articles from bar up to 13/8in diameter. As an example, it will produce eye bolts for the brake complete in five seconds, the operations including turning, drilling, and threading. A new machine for bar to 2¼in is to be installed alongside it.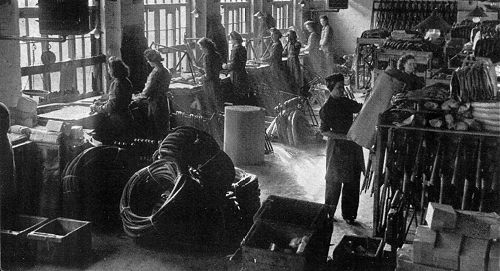 Wrapping frames and other components in the export packing department ready for final crating
Another machine noticed was a four spindle radial used for drilling cranks, while millers were in use for facing the cranks two at a time. In this department the firm produces its own hubs from the rough casting, small brake parts, chainwheels and cranks from the rough stampings and forgings, all tools in the shop being new since approximately the middle of the war. A well-equipped tool room works in conjunction with the machine shop, to produce tools, jigs, and fixtures and has its own case-hardening plant. A new case-hardening plant of the gas-fed electrically-controlled type is in process of installation for production work, adjacent to the machine shop.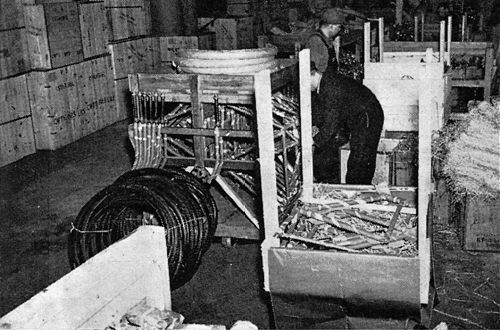 Building up a secure pack of 25 sets in the export packing case
Seat and chain stays and fork blades are other components that are made by Elswick-Hopper themselves. For these, strip steel is cut to size, bent and formed to shape and the joints are gas welded in jigs. The standard of welding is very high, and is done largely by girl operators.
In the frame building shop the parts are jigged and tack welded or in other cases, such as when 531 tubing is used, jig built and pinned before the brazing operation. Brazing is done by the dip method, the frames being fed two at a time to the three brazing furnaces by overhead gantries. After brazing the frames are trued before passing to the rough grinding department. Front forks are built up, and shaped in a special bending machine, being jigged after bending before the crown is fitted. Elswick fork crowns are machined forgings while the Hopper are machined castings or fabricated.
In the rough grinding shop, where each machine has its own extraction plant, surplus spelter is ground off before bonderizing. After rough grinding two large shot-blast cabinets give the frames and other parts a final clean up before bonderizing, the bonderizing process being done in tanks in the usual manner.
Mudguards are also made complete at Barton, and here again another new department is being fitted up for this purpose. The present department, which is rather congested, has several machines which will produce a mudguard complete from steel strip, with the rolling, shaping and beading done in a single operation. One machine produces Vee-type guards for the Indian market.
Chromium plate on all bright parts is standard on both Elswick and Hopper machines again and the plating department handles both nickel and chrome. Among the polishing machines was an automatic for dealing with plated chainwheels.
The press shop is another busy section for here are produced many brake parts, crown covers, lamp brackets, mudguard stays and other components that the company makes for itself without relying on outside contractors. Crown covers are produced from the strip on a fully-automatic press.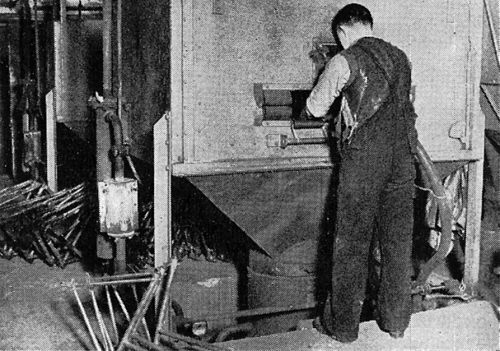 Shot-blasting cabinet for frames and other parts
Before the final finish is applied all parts are dried in a gas-fired oven. Two large Carner enamelling ovens of the oil-burning type deal with the black parts, one of these ovens normally acting as a spare. Total tIme for a part to pass through from the enamel dip to the dry end is 75 minutes. A separate shop, the colour shop, deals with other types of finish. Plain coloured frames are handled in dipping tanks while the polychromatic finishes are sprayed in fan-backed booths. After dipping or spraying they are dried in gas-fired stoves which are electrically controlled.
From the colour shop or the enamelling oven the frames go to the lining and transfer shop. Gold lining is done by hand with brushes in the old-time craftsman's manner, to match up with the previously applied transfers.
Final assembly of bicycles is done on the floor of the main assembly building, round the gallery of which such sub-assemblies as handlebars, brakes and other components are built up. The various machines seen assembled or partially assembled here included examples of the standard Elswick and Hopper ranges as well as several special export orders such as a quantity of machines for the Argentine which had a chromium-plated front tube and some with completely chromium-plated frames for Cyprus. Every machine after assembly is given a careful final check, and although I have not mentioned inspection before, this takes place at every stage of manufacture or assembly throughout the works.
Several other subsidiary departments were visited, such as the one in which handlebars are bent to the various curves required by different markets, the wheel building department, where girls lace and partially tighten the wheels, leaving the final truing to skilled men operators, hub assembly and so on.
Adjoining the main offices is a well-arranged showroom where all current Elswick and Hopper models are displayed under fluorescent lighting. This has already been visited by many of the company's dealers from overseas.
A firm that is situated in a small town like Barton-on-Humber, where it is the largest employer of labour usually assumes certain social obligations towards its employees and Elswick-Hopper set a high standard in this respect. There is a works social club in the town with several billiards tables, club rooms and other amenities, and a works canteen at the Marsh Lane factory.
Reference has already been made to the chairman Arthur Stow, who is one of the longest serving employees, and who has the satisfaction of seeing his son Peter with him in the firm. Mr. Stow was elected to the board in 1930, became managing dIrector in 1935 and chairman in 1944. Talking of the future outlook he pointed out that he had plenty of confidence that their export demands could be met providing that raw materials were made available. Under his guidance his firm has maintained a steady and conservative policy, and while no immediate plans have been made for large-scale extensions should these be required there would be no difficulty in carrying them out. Ample space and facilities are already available for this at Marsh Lane.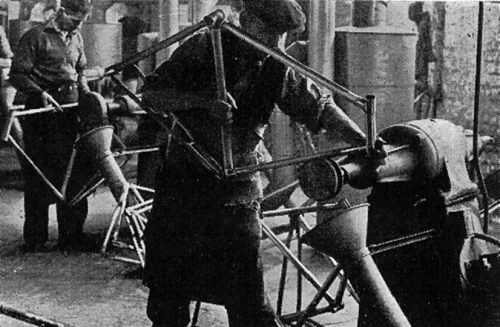 Rough grinding the frames before bonderizing
---
First published, in BRITISH CYCLES and MOTOR CYCLES Overseas, April 1949
---
Other Elswick-Hopper documents in the archive:

Go to the Archive index
---