Go to the Archive index
---
Autocycle A B C
No.2 - Aberdale
The Aberdale Cycle Co. Ltd., Bridport Road, Edmonton, London N18 announced its autocycle in Motor Cycling in March 1947.
The Aberdale was a typical autocycle of the period, being powered by a Villiers Junior de Luxe engine. This 98cc, single-speed engine was hung from a simple tubular frame with dropped top tube and no rear suspension. At the front was a basic blade girder fork. Both wheels had small drum brakes and heavy-duty 26×1¾ bicycle rims and tyres.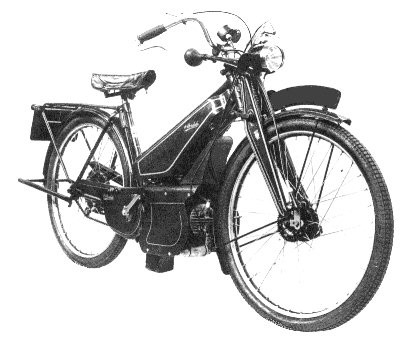 The petrol tank held about 1&½ gallons of fuel (16:1 petrol/oil mixture) and fitted into the space formed by the top, down and seat tubes. Below the tank, detachable side panels covered the engine while, behind these, there were guards for both the pedalling and power chains. A toolbox was provided, together with a tubular steel carrier over the rear mudguard. The pedalling gear revolved in the bottom bracket to the rear of the engine.
Equipment included lights, a bulb horn and, optionally, a speedometer driven from the front wheel. The controls were simple, with a throttle lever on the right, clutch on the left and inverted levers on each side for the brakes. There was also a catch to hold the clutch out and a decompressor.
All told, it was a smart example of the type and able to cruise at around 30mph, while fuel consumption could be almost 150mpg, which gave a good range for working journeys. The finish, in maroon with gold lining, gave the machine a smart appearance. It continued in production until 1948 with probably fewer than 2,000 machines being built.
Back in the 1930s, Aberdale had absorbed the Bown company and, as a result, William A R Bown had a seat on the Aberdale board. 'W.A.R' was commissioned to design a replacement model for 1949; this would incorporate Villiers's new 2F engine. The new model was exhibited at the 1948 Cycle & Motor Cycle Show, when the Motor Cycle magazine declared it to be 'one of the smartest autocycles at Earls Court'.
The new frame was an exceptionally well engineered cradle type with duplex down tubes, but otherwise the machine was cast in the normal autocycle mould. The petroil tank was fitted between the upper and lower down tubes, there was extensive panelling beneath the tank to shield the engine. As before, a pressed-steel blade girder front fork was provided for the rigid frame, and there was a saddle, rear carrier and rear stand. The lighting was powered directly from the engine's flywheel magneto.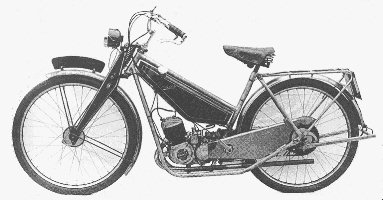 Although the 2F-engined model at the show carried the Aberdale name, this machine was sold under the name of Aberdale's subsidiary Bown company and will be examined more fully in part 4 of 'Autocycle ABC'.
The next article in this series will describe the ABJ autocycle.
---
First published - February 1998
Out of the Blue is a more recent article on the Aberdale autocycle.
---

Go to the Archive index
---