| Go to the Archive index | Go to previous Amis newsletter, Dec 2003 |

by Bryan Hollinshead
Chers Amis,
Readers of Les Amis will recall that, in a recent issue, I asked for help in obtaining details of building a SoleX powered tandem similar to one which has graced a number of rallies during the past year. David Cunier of Moulins who is a lover of all things SoleX kindly supplied me with photocopies of what is involved in producing a similar tandem as well as the address of the owner. This is not a simple project as it involves stiffening the chassis members, which in turn requires welding or brazing as well as some fairly straightforward sheet metal work. It is too late to begin this project as winter (we hope) is almost past but, by next winter, I shall have most, if not all, of the pieces necessary to commence. A motor in good order would be necessary for this vehicle as it would be required to propel almost twice the weight of a normal SoleX.
David, who writes in very good English, is a keen collector of all publicity material relating to the SoleX and would be pleased to exchange any such items for similar ones written in English. I have already sent him several that I have in my possession but if there is anyone out there who would like to contact David his address is: 13 rue Philippe Thomas, 03000 Moulins
In the past I have mentioned my dislike of the 5000 as it seems most unsuitable for a six-footer like me. Apparently it was designed to attract the younger element and I'm certainly not one of those. Recently, however, I placed mine on the work bench and examined it. It has not been used since its restoration and it is complete and ready for the road. It starts easily and from riding around my yard and up and down my drive it seems to have adequate power. (Perish the thought that I should give it a road test without it being insured). The upshot is that I have decided to insure it when my insurance comes up for renewal in April and use it for a year at least.
A recent visit to the council tip to dispose of garden waste revealed a Flash, far from its first home in the Paris area. Too far gone to merit restoration with a seized engine and several parts missing or broken I, nevertheless, removed the tyres and tubes for possible future use on my 5000. I have never had a particular desire to own one of these models on account of its accepted lack of reliability and the difficulty of obtaining spare parts so it was left to its fate in the crusher. I have also heard that work on the engine and transmission is difficult to carry out without first removing the complete unit which is a further minus from my point of view.
For those of you who might be contemplating a visit to France in search of something different from the 3800s a guide to some recent offers in the Petites Annonces in La Vie de la Moto will give an indication of general asking prices. A Pli-SoleX said to be in very good condition was priced at €700, a 5000 in similar condition, €500 and a 1010 in running order €250. It would seem that prices are on the increase nowadays. However they still find their way to England as my correspondence shows. Rollo Tomkins tells me that he has become hooked after having made several day trips across the channel returning with much of interest and value.
Rollo's account of the problems encountered with a defective magneto was interesting. It used to be common knowledge that when the rotor was removed from the assembly a soft iron keeper should be placed across the poles of the magnets to prevent loss of magnetism. Most likely a previous owner was not aware of this and the magnets were left unprotected when he carried out work on the magneto. I have experienced the same problem on two occasions. The first many years ago with a Lambretta scooter which resulted to a visit to Western Electric Services at Bristol where the flywheel was re-magnetised while I waited. This resulted in greatly improved starting and running. The second some three years ago with a SoleX. In that case the defective flywheel was discarded and replaced with one that I had spare. I'm sure that someone will be quick to question me but I understood that the modern alloys used for magnets retained their magnetism without the need for keepers.
I have heard no more about either the proposed manufacture of new rims and tyres for the SoleX and perhaps other cyclemotors. There is one item which might be of interest to owners of early SoleX models. 650×50 Demi-Ballon tyres as fitted to some bicycles are readily available and these should prove acceptable as a means of keeping an early SoleX on the road. Of course they will not last as long as the correct Michelin tyres but they are cheap and do not look too out of place. In fact it may be the only solution.
Finding the minor items to complete a restoration often proves difficult. For example a member recently sent me an e-mail asking if I could help him to obtain a pair of handlebar grips for the 3800 that he was restoring. Not a great problem if you happen to be in France but another matter if you are confined to England. Fortunately I was able to obtain a used pair from Jean-Pierre at a very reasonable price and in good condition and so perhaps by now another SoleX will have appeared on the UK roads.
A pre-Christmas visit to Paris found me calling at Klocycles to buy some gaskets and rings. On the pavement in front of the shop was a single 3800 in a very sad state presumably on sale with a view to restoration. It seemed complete and could be a project for a keen restorer. Inside were several new 3800s for sale including one by Motobécane finished in royal blue metallic paint which looked very attractive. Purists may not agree but it is a nice change from the normal black.
The SoleX shop on the Boulevard St Michel made up in quantity what it lacked in quality. I counted no less than eight 3800s in varying stages of decay, some complete, others incomplete standing outside awaiting prospective buyers. Nowhere was a price tag to be seen so it was assumed that haggling would be the order of the day. If one was looking for a SoleX to restore a visit might well prove fruitful but it must be remembered that the owner of the shop will not allow you to buy any pieces from them. It is a complete machine or nothing. One thing which struck me when browsing around these 3800s was the variety of rear lights and pedals which were fitted. It is possible that there was no standard items applied to these models when they were manufactured so if your example differs from others of the type in these respects don't worry too much!
Sylvie and Franck Meneret have recently published a book entitled "Le Cyclemotor à Galet de Mon Père". As yet I have not seen a copy of this book and so cannot comment on its contents but as Sylvie and Franck are experts in the field of cyclemotor their book will have been well researched and will contain masses of interesting information.
So, as another as another riding season approaches bring out your bikes, give them the once over, fire them up and ... away!
A la prochaine
---
Chers Amis,

Our GP here in Locquémeau always greets his patients with the question "La vie est belle, Oui?" As I write these notes it certainly seems to be true. Winter is behind us and summer is not too far away. The gardens are recovering, the flowers are beginning to appear in the hedgerows and the signs of spring are everywhere. Plans must be made as to when you will carry out the first sortie on one of the machines that you own, possibiy one which has been subiect to a rebuild during the winter months. Also,and this is a first for me, is that all of my bikes are in working order and are capable of taking to the road. True,the 45cc model is not performing as well as it might and it is really in need of a complete engine strip and rebuild. A barrel and piston in better condition than the one currently fitted would probably help but from where to obtain one?

Terry Fortune has sent me a photograph of the SoleX powered tandem which I've mentioned in previous Les Amis and this should prove to be a considerable help with the one that I hope to build next winter. I am slowly getting the pieces together and have already built up an engine which seems to perform well when fitted into a spare set of S3800 cycle parts, although I have doubts as to how it will cope when asked to propel two adults on a heavier chassis. Terry owns a S3800 and he tells me that it is in everyday use. This,of course,is exactly what it was built for in the first place.

Gordon Huxtable has added a deraiileur from the 1950s to his restored S2200 and is very pleased with the result. The older models of deraiileur are becoming increasingly hard to find but they do occasionally turn up on the Council Tip. Where else? In return Gordon has kindly sent me a small spark plug cleaner which he obtained at an autojumble and which operates from a 12 volt DC supply. This does a much better job of cleaning plugs than using a wire brush.

On occasions I receive requests for advice from owners who find difficulty in persuading the lighting system to work reliably which is, of course, a condition of passing the MoT test. As any owner will know the system is a very simple one but I have found that the main problem lies in the switch which is linked to the head and rear lights by a thin wire coil spring through which the current must flow. Corrosion and the weakening of the spring can be the cause of any problem and one solution is to bypass the spring with a short length of flexible wire soldered at each end. A better solution,if you are not too concerned with originality, is to replace the SoleX switch with a small push on/off one obtainable from electrical suppliers. This would enhance reliability and remove one possible problem with the MoT test.

John Ewart's letter in the February issue of "Buzzing" raises some interesting points on the subject of suitable alternative wheels for the early SoleX models. John mentioned his conversion to mountain bike wheels in a letter which he wrote to me some three years ago. There is no doubt that the factory fitted Westwood type rims to some early examples as I have seen several 45cc models fitted with these rims. Indeed, the first Solex which came into my possession and which I still have had Westwood rims. Unfortunately,these were too badly corroded for further use. Like John, in order to make the bike roadworthy I substituted 26"×1½" wheels shod with normal roadster tyres. Like John I found that these tyres are not the most efficient when used on a friction drive bike and so I subsequently changed to 600x50B Endrick wheels using Demi-Ballon tyres. As I mentioned in the previous Les Amis these tyres have a ribbed tread, are readily available and are competitively priced. They are, of course, not as long tasting as the correct Michelin tyres but due to their lower cost this should not create a problem. Incidentally, if you are using Westwood rims, cutting a semicircular groove with a rat tail file along the length of each brake block will result in a greater area in contact with the rim resulting in improved braking.

The current issue of L'Auxiliaire contains a number of interesting items including a feature on the Micron. This fascinating model, of which only four thousand were produced, is now rare and in consequence is much sought after commanding a high price when one is offered for sale. I have only seen one of these unusual small wheeled bikes and would dearly love to have one in my collection, although the fact that it lacked pedals would render it almost useless in the hilly area in which I live. Another point to take into consideration if you were to be offered a Micron for sale would be your height. It was stated in the article that if your height exceeded 1.8 metres you can forget about riding a Micron as the strain on your knees would be too uncomfortable to bear for any length of time! Also, judging by Frank Auton's experiences reported in February's issue, getting one registered for use in the UK might present almost insurmountable problems.

Yet another book on the subject of cyclemotors has appeared in the French press. The latest one by Bernard Soler-Thèbes, who regularly writes in La Vie de la Moto, is entitled Du Cyclomoteur à la Mob and covers the history of cyclemotors from the early clip-ons through the days of the Mobylette and VéloSoleX as well as the rare Italian cyclo-sports and triporteurs. Priced at €39.65 it should be a fascinating read. I have had several enquiries as to where this and other books on the same subject may be obtained and I would suggest the following address:

La Boutique du Collectioneur
BP 417
77309 Fontainbleau Cedex
Tel: 01 60 39 69 32

I understand that payment by credit card is acceptable.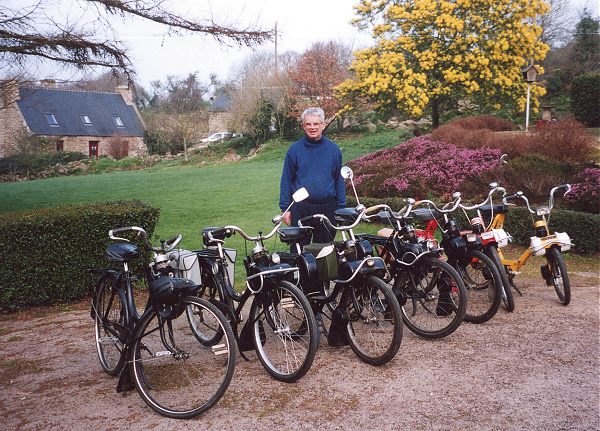 My computer records inform me that this is the twenty-seventh Les Amis that I have written, and so I feel honour bound to thank all of those who have enjoyed, to some extent at least, these notes which I have written and have contacted to me to say so. The photograph above will confirm that I do exist, live in a most pleasant area In France, and have a reasonable number of SoleX models.
A la prochaine
---
Chers Amis,
The Book of Common Prayer, that is the one which was used in the Church of England until it was largely superseded by more modern versions, contained the phrase "where two or three are gathered together". Now, two, three or more have been gathered together since the beginning of time for a variety of reasons one of which has been to discuss motor cycles and motor cycling matters. One such topic, which is sure to provoke a lively debate, is that of restoration and the degree to which it should be carried out. This can vary from the full or 'better than it left the factory' kind, through the tidy examples, right to the rat bike variety. My views on Concours d'Elégance have been aired in a previous Les Amis so need not be repeated here. In none of the restorations that I have carried out over the years have I produced anything remotely resembling a concours winning machine, neither could any of my efforts be classed as scruffy. What am I getting at? Recently on a short visit to Rennes I came across a 3800 in a state which would only be classed as "well used"; it was complete with two pannier bags and the almost mandatory wooden box held in place on the carrier by bungee elastics. While I was taking a closer look at the bike the owner arrived, who turned out to be a man in his seventies. He told me that he had used a SoleX continually for half his lifetime. The interesting point was that this was only his third one, which must say something of the long lasting qualities of the marque. When he left to continue his shopping the SoleX started immediately and carried him and his shopping on along the road as if it were fresh from the dealer's. Although old, the bike had obviously been well cared for and had never been restored. It is worthwhile to consider that our toys at one time provided a reliable means of everyday transport for countless people in all walks of life. Maybe it is a good idea to keep at least one example in an unrestored state just for a change. I know where there is a similar 3800 which I should be able to obtain for a few Euros!
The French authorities have finally got around to requiring all two wheeled vehicles to carry a registration number. This, of course, will include scooters, cyclemotors and mopeds of 50cc or under, which until this time have been exempt. As I understand it the information which has appeared in the special press is that all new vehicles bought after the 1st January 2004 will have to apply for a registration number, as will used vehicles which have changed owners after that date even though they may have been manufactured a number of years ago. It would seem that le Ministre des Transports has yet to make a decision on tandems and motorised scooters such as the Trotilex. I gather that no charge will be made for registering these vehicles which is something. What may prove to be a problem will be if these vehicles are subjected to the Contrôle Technique which would include a check on tyres. Although this would not prove a problem to owners of the later SoleX models, it would for those earlier ones for which new tyres are not available. There would, however, be some consolation should a Contrôle Technique be required as it would only have to be taken at two yearly rather than yearly intervals as in the UK.
Recently I bought a copy of Sylvia and Frank Méneret's book, "Le Cyclemotor à Galet de Mon Père". It really is an excellent book and should be a must for all who profess an interest in these machines. As well as the most common marques many others which are less well known are featured. The layout of the book has been very well thought out and the photographs, many of which are in colour, are numerous and often depict bikes which are in original condition. So, even if you have to spend time with a French dictionary in order to read the text, don't be put off buying the book. You won't regret it. In the last year or so there have been no fewer than four books published on the subject, which will enable you to add to your library and improve your French at the same time.
Several club members have recently contacted me for advice which I have been able to give only to a limited extent. Most of the problems are connected with malfunctioning engines which are extremely difficult to pin down without having the engine to examine and test. On these occasions I advise the owner to contact the Librarian and obtain a copy of the Solex factory publications, Guide de Réglage and Guide de Démontage, both of which I consider essential reading for any SoleX owner intent upon maintaining his machines. Although the translation from the original French to English leaves something to be desired this will not prove to be too great a disadvantage as the fault finding section is easy to follow and the tasks dealing with engine stripping and rebuilding are well illustrated.
Instead of having to wait until you visit France in order to obtain gaskets, pump diaphragms and piston rings for your SoleX these may now be obtained by post from Les Mordus du Galet who will send direct to purchasers in Britain and other countries. Several members have taken advantage of this method for purchasing these items and so I have forwarded a copy of the order form to the Club Librarian. Remember that piston rings for the 45cc and early 50cc models are not available from this source and are, in fact, difficult to find. Should anyone know where such items may be obtained please let me know so that I can pass on the information.
Still numerous adverts appear in the press for various SoleX models for sale. A recent one offered a 1700, a 2200 and a 3800 plus a number of spares (remember your article on that subject some twenty years ago in The Classic Motor Cycle, Bob?) all for €400 which is probably less than a night at a London theatre and a meal for two people! The current price for the later SoleX models en état de marche seems to be in the order of €100. It wasn't those adverts which interested me, however, but one for a motor cycle used for pacing cyclists on banked tracks. Reputed to have been built at the turn of the 19th Century it was powered by a V-twin Anzani engine of 1,500cc. Totally useless of course for any purpose other than the one for which it was built but I would love to own it. The asking price? Not mentioned!
The question sometimes arises as to what tools and spare parts to carry with you when you venture forth on your SoleX. As well as a sparking plug and spanner I always carry a clean filter and jet, a spare inner tube, a ten in one cycle spanner, tyre levers, a screwdriver and, until recently, an aerosol for sealing and inflating a punctured tyre. I had carried one of these for several years without having to use it. However,when I recently had the need to put it to the test I found that it would not carry out the task it was meant to even though the hole in the inner tube proved to be little more than a pin prick. Now I have bought some self-adhesive patches for use in an emergency. Has anyone had any experience of these?
Bonne route
---
Chers Amis,
Several weeks ago I received an email from a lady who regretted parting with her Solex years ago and had now decided to obtain a new one. Her main question was "which was the 'genuine' SoleX, the Chinese or the Hungarian produced version?" I had to reply that neither was a genuine model as both were copies of the original French design. Her second question was "which of the two copies represented the best buy?" As I have never had the opportunity to examine closely or ride either bike I was unable to give a definite answer. The MBK agent on the Boulevard Saint Michel displayed a version of the 3800 entitled "Rock and Solex". This model had drum brakes in both wheels and an electric horn both of which could be of use in the rush hour in Paris. At a glance the finish looked good but whether the paint and chrome would last one could only guess. At Montparnasse station I had the opportunity to examine the Hungarian version of the 3800. In a rather attractive blue finish with stainless mudguards it looked very similar to the original 3800 Luxe. It started easily for its lady rider and seemed to perform well. Sadly, in Paris the scooter is king, as it is all over France, and during the three days of my visit I only saw four examples of an original SoleX actually in use all of which showed signs of hard use and a corresponding lack of care.
During a short visit to England last month I was fortunate to spend a most pleasant evening with Tim and Margaret Bunting at their home at Hove. After examining Tim's collection we had a lovely meal prepared by Margaret and passed the remainder discussing matters in general. Tim kindly gave me several SoleX spares including the logo which is fitted to the engine cover of the 5000 and for which I had searched, unsuccessfully, for a long time. He also gave me several brand new decompressor valves which will, in time, replace the worn ones in my bikes. Measurements taken with a micrometer showed that the diameter of the stem of a new valve was, on average, 0.001" larger than a worn one. Not much you will say but coupled with the wear on the drilling in the alloy cylinder head in which the valve operates may well account for the traces of oil which tend to appear around the valve stems on several of my bikes. Perhaps one day I shall have the opportunity to repay Tim and Margaret for their hospitality.I hope so.
Roger Caunt and Ted Bemand, who were on holiday in France, came and spent the day with us making a round trip of 360, yes 360 miles, in order to do so. The day was glorious and we spent most of the time outside in the sunshine talking about, what else, the VéloSoleX. Although I was unable to give anything in the way of spares to Tim, at least I could help Ted with some pieces necessary for the rebuilding for a 2200 engine. That, I believe, is as it should be. Pass your surplus spares on to those in need of them and trust that you too will receive similar help when you require it.
When out for a ride the other evening the 3800 Luxe lost most of its power and would only run with the choke lever almost closed. After struggling back home I discovered that one of the screws holding the inlet & exhaust manifold to the cylinder barrel had disappeared altogether and the other was somewhat loose resulting in a massive air leak and a weakening of the mixture. No excuses! It should never have been allowed to happen. All similar screws on the other bikes were quickly checked and tightened where necessary. This is particularly important with regard to the nuts and bolts which secure the various parts of the frame and forks. Even slight play in these parts can result in uncertain handling. Forgive me if I'm preaching to the converted but there may be some owners who are not aware of this fact.
My love/hate relationship with the 5000 has taken another turn. Every time that I see it in the garage it seems to reproach me by saying "You have taken a tired but complete old SoleX and made a presentable bike from it so why aren't you making use of me?" I took it out for a run the other evening and it runs as well as my other bikes, therefore I cannot make the excuse that it lacks power. The trouble is that when it needs assistance on the numerous steep hills in the area I find it most uncomfortable to pedal being so tall myself. My knees almost strike my chin!
A recent edition copy of Moto Légende contained an illustrated article on the S3800. Several useful items of information were given including the fact that new tyres are becoming scarcer to find and new rims even more so. The latter may give cause for concern to those restoring a SoleX which has suffered neglect as the original plated items will have deteriorated due to the rather poor quality of the original chromium plating. As all restorers know, the cost of renewing the plating on these items constitutes a major expense and even then the result can be disappointing. This also applies to accessories such as engine protectors which are often found in a very rusty condition.
I have mentioned accessories in the past and the difficulties in finding them particularly those used for carrying additional fuel which rarely come up for sale. I did find, in a shop in Brighton recently, a rather nice rectangular wicker basket which fitted the carrier of the 330 perfectly and would be equally at home on the other models. It is always said that one is wise after the event but I wish that I had bought several more as, at only £3 each, they were certainly a bargain and make a nice change from the panniers which are normally seen on most examples of the SoleX.
From what I have read in the motor cycling press the Coupes Moto Légende was a success at its new location at Dijon with some thirty thousand spectators and several thousand motor cycles ranging from the fabulous Honda six right through the range to the humble ride to work machines of the past. Sammy Miller was, as usual, amongst the guests of honour this time with his AJS "Porcu- pine" twin. That brought back memories in that during the 1949 TT, I, as a sixteen year old, saw Les Graham retire on a similar bike with a broken magneto shaft when in sight of the chequered flag. Shame on me but I was somewhat relieved being a devotee of Joe Craig's Nortons. Of course, Dijon is much further from the channel ports than Montlhéry, which may have put off some potential UK visitors.
For those readers who may be interested in the first generation of post-war scooters the news are that Lambrettas are rapidly increasing in price. I recently saw a 1956 Model D Lambretta outside the local supermarket offered for sale at €1450. A message fixed to the saddle said "recently restored", which on examination seemed only to mean brush painting over the original paint with very little in the way of preparation. Although complete the scooter showed signs of a hard life with evidence of several knocks and a torn saddle cover.
Out one Sunday morning recently I passed a lycra clad racing cyclist out on a training run. He immediately tucked in behind me and I acted as his pacer for some 10 Kms after which we parted directions with a friendly wave and a word. Nice to have been of service!
Bonne route
---
Chers Amis,
In the town where I spent my boyhood days there was a cycle shop run by two middle aged brothers. In fact it was more than just a cycle shop in that it sold electrical fittings, radios and was a place where you were able to have your accu- mulators charged (for those brought up during the age of the transistor an accumu- lator was a two volt lead/acid cell used to supply current to the filaments of the early thermionic valves). The brothers even used to power the machinery in their workshop by electricity produced by means of a generator coupled to an imposing vertical hot bulb oil engine. The products of Raleigh, Hercules and other makes of cycles of that era were displayed in the shop window and most of us lads used to stop and gaze at these wonders on our way home from school. You could be assured that all your cycling needs would be met under this one roof.
The town near where I now live also has a cycling shop. A very large building with a frontage of about three times the length of the previously mentioned shop together with a large modern workshop. Here you can drool over the latest examples of cycling technology, choose a frame in aluminium, titanium or carbon fibre made by Pïnarello, Colnago or other illustrious names and have a bicycle assembled to suit your every wish. That is, of course, if you can afford the prices for you will need a very substantial bank balance to purchase the best of what is on offer. There the similarity ends. Needing to service the pedalling gear on one of my bikes, I called at this grand emporium whilst my wife was visiting the garden centre opposite and asked for two cotter pins. A look of blank amazement appeared on the assistant's face. "We don't keep those now" was the reply. How times have changed! Jean-Pierre supplied the pins in the end.
Being always on the lookout for useful pieces I called in at Jean-Pierre's workshop several weeks ago. On his bench there was a completely dismantled SoleX motor having its clutch replaced. Seeing no sign of any tools other than the normal workshop hand tools I asked if it was possible to reach this stage without recourse to the special tools which I had been led to believe were necessary. "Yes", he replied, "and when next you have recourse to strip down a motor bring it here and I will show you how it is done". Now Jean-Pierre has had many years of experience to draw upon and has acquired skills which may not be known to people like myself but I shall be happy to learn from an expert.
One instance where cost has taken preference over suitability is in the second generation of SoleX frames where the stand assembly is inadequate for the task required of it. The support which holds the saddle and pedal assembly is only a 16swg pressing and the holes drilled for the mounting bolts for the stand become enlarged through wear, causing play which leads to still more wear until it is impossible for the stand to keep the bike from falling over with the resulting strong possibility of damage. The stand of one of my 2200s had reached this stage and something had to be done. There have been several suggestions in the SoleX-related press as to how a repair could be carried out fairly simply but they all seemed to me to be little more than bodges. The only effective way is to fill the holes in both the stand and the folded metal seat support with weld and redrill the holes for the fixing bolts. Whilst one is about it the repair can be made more lasting by welding some 3mm steel plate on the inside of the aforementioned seat support thus giving extra support for the whole stand assembly.
Ever heard of a four stroke SoleX? Probably not but a design study was undertaken by Marcel Mennesson in 1964, a drawing of which appears in Sylvie and Franck Méneret's latest book "Le cyclomoteur à galet de mon père". This shows a side valve motor with 10mm valves and a bore and stroke of similar dimensions to its two stroke counterpart. Also there was to be positive lubrication from a separate réservoir containing 150cc of oil mounted in front of the cylinder. In order to keep costs to a minimum the crankshaft and connecting rod from the two stroke engine were to be used but a new crankcase would be necessary to contain the camshaft and pinions. Whether a prototype was actually constructed and tested I do not know, but why change a winning formula? Possibly the idea was to obtain a little extra torque to aid tired legs on steep hills.
Recently I attended a car boot sale nearby and rode there on my 3800 Lux. It created a great deal of interest and, should I have so desired, I could have sold the bike a half dozen times during the half hour or so that I was there. Of course there is always someone who knows better than you and in my case it was an elderly gentleman who insisted that black was the only colour available for the
SoleX throughout the years that it was in production and, in spite of my efforts at explanations, would not be convinced otherwise.
I am in contact via e-mail with several Amis who have holiday homes in France and who have obtained one or more examples of the SoleX marque for use during their stay. What I have heard bears out what I have said in the past in that it is possible to find a SoleX either in working order or for restoration without too much difficulty and at a reasonable price. Of course the earlier models are the most difficult but that is another matter.
I'm sorry to say that I've heard no more on the subject of the possible remanufacture of tyres for sale to those who own a SoleX with 24" or 26" wheels. This is evidently causing problems to owners of these machines but at present there seems to be no solution in sight. Also the small items which are often found to be missing or damaged when an early SoleX is purchased for restoration are becoming increasingly difficult to locate. These include the correct headlights and the very attractive glass reflectors fitted below the correct but miniscule rear light. One of the answers is to keep your eyes open at little boot sales similar to one which I attended recently and where I was fortunate enough to buy, for €2, a headlight of the type fitted to the 45cc model and this in excellent condition.
I've ridden rather more kms than usual during the past few months. Maybe it is because of the spell of fine sunny weather which we had earlier in the summer. All the bikes have performed well with no problems other than the rear wheel wheel of the 3800 Lux locking solid owing to a brake lining becoming detached from the shoe due to failure of the bonding agent. No damage was done and the damaged shoe was soon replaced with one from my stock of spares.
It is a glorious sunny afternoon. I could be tackling one of the jobs that need doing in the garden or the house. But I won't. Instead I shall take one of my bikes, probably my favourite 2200, and meander around the lanes for a while. The flowers are out and the hedgerows are a lovely sight. Why don't you follow my example?
Bonne route
---
Chers Amis,
The current edition of L'Auxiliaire contains a number of interesting items and photographs relating to recent events which took place during the summer months including "Le rallye à énigmes de Rouen" on the 9th May, in which fourteen competitors took part. This took the form of a treasure hunt in which participants had to use clues to obtain various items. Also there was an interesting article on the "Vingt-quatres heures de Chaumont" which is held each Easter weekend. As I have mentioned in the past, many of these Solex which take part are highly modified especially in the class for Prototypes. Almost all original SoleX parts have been replaced by parts specially designed and strengthened. Induction by reed valves, special crankshafts, cylinder barrels and heavily finned heads, Dell'Orto carburettors, electronic ignition and special exhaust systems are all made use of. Of course these items can be very expensive to purchase but they obviously add another dimension to the owning of a SoleX. Entered in teams of three riders, this means a possible eight hours in the saddle for each pilote in the course of the race. Rather them than me! If you are in the area and fancy something different "Aux 24 Heures Solex de Nouziers" takes place on the 14th and 15th May 2005
The Solex Club Calais held its tenth anniversary run on the 1st and 2nf May, which attracted no fewer than a hundred and forty-five entrants. Although essentially an event for SoleX owners it attracted several other roller-driven bikes including a Bima, a VéloVAP and a Berini. The back up vehicles were a Sumac 1200 and a Renault 4 FR, the latter towing a trailer which contained several examples of the SoleX in working order, which meant that if you were unfortunate enough to suffer a breakdown it was possible to borrow a replacement to enable you to complete the 52km run - which is a good idea!
It had to happen sooner or later. My 330 which, until now, has been very reliable has developed an ignition fault not unknown to users of old vehicles and which has been traced to the ignition coil. The bike starts easily, runs well until it has been allowed to stop for any reason. Then it will not restart until it has been allowed to stand for ten minutes or so after which the cycle repeats itself. Not surprisingly, coils for these early models are not exactly thick on the ground and are difficult to source. Even if I were fortunate to find another, there is no guarantee that it would be in any better conditition. However, all is not lost as the 330 will have to share the coil with my 1951 SoleX. A quarter of an hour is all the time it takes to swap one from the other. Too bad that the ignition coils from the later models are not interchangeable as I have a number of these in good condition. Speaking of 330s, an excellent example appeared in Jean Pierre's workshop for a check prior to selling. It had been in the possession of an elderly man for many years who was no longer able to ride it. Complete and original in every way, I would have loved to have bought and kept it in an unrestored condition but someone had got there before me.
Some time ago I wrote about my experience with a tyre sealant and how I had used one of the self adhesive patches now available. I received an e-mail from Andrew in which he told me that doubts had been expressed about their efficiency and that although they did the job satisfactorily they should only be regarded as a temporary solution (excuse the pun) to the problem as the adhesive used was not sufficiently strong to effect a permanent repair. I decided to see if this was true and can say that the patch that I used is still in place after more than four months of frequent use. I hasten to add that I now carry a spare inner tube with me in case of trouble. I have also replaced the wheel nuts on the SoleX which I use on most days with wing nuts which would allow for a quicker wheel removal should the occasion arise.
Two other Amis and I have been swapping ideas as to which items it would be prudent to carry in case of a breakdown and, although thoughts on the subject differ, we established that a spare jet, fuel filter, a ten in one cycle spanner, a small screwdriver and tyre levers as well as the obligatory sparking plug and spanner constituted a basic list. Frank Farrington, for whom I have the greatest admiration on account of his contributions to Classic Bike and The Classic Motor Cycle over the years, has told me that he always carries a spare ignition coil when on holiday with a SoleX. Not a bad idea as, with a simple flywheel extractor, the coil can be changed quite easily in a short time. A potential source of trouble on a SoleX is the pump and replacement of the membrane does not always effect a cure even when a distorted plastic back plate has been replaceded with a new one. Also there are numerous types of pump, which are not always interchangeable. I mentioned in a previous Les Amis that leaks can occur around the circumference of the disc at the front of pumps fitted to the later models and I suggested using Superglue to form a seal. Now, a feature in the current issue of L'Auxiliaire gives step by step instructions on servicing the pump. A copy, in French but easily understood, has been sent to Andrew for the library. We are assured in the text that if the instructions are followed, a serviceable pump is guaranteed and so it would be prudent to overhaul the pump at the time of every engine rebuild particularly as a new pump, so I'm told, can cost up to €80.
I recently had the opportunity to examine Bernard Soler-Thèbes's book "Cyclo-Sport" and what an excellent book it is. It covers the whole period of the Cyclo-Sport era together with details of the various marques, and there were far more than I had imagined. The whole book is exceptionally well illustrated. It even includes models that were familiar to British readers such as the Yamaha FS1E, the Suzuki AP50 and the Honda SS50, the latter being renowned, as far as my experience goes, for its tendency to split its rear mudguard on my son's model, which required frequent attention from the brazing torch. All in all a first class read for those interested in the subject matter.
A small ad in La Vie de la Moto had these on offer: a 3300 "as new" for €450, a 3800 in good condition for €200 and an F4 child's cycle version for no less than €1100! The first two were what one would expect to pay but for the third one - Well.
Memories of another summer are receding into the past. Long dark nights and cold winter weather make riding less of a pleasure than it normally is. Time to enter the workshop to iron out any faults which have occurred in the course of the year and also, perhaps, to pull out from the corner of the garage that bike which you have promised yourself you really will restore or rebuild as soon as time permits.
So once again I wish you all: Joyeux Noël et Bonne Année
---
Chers Amis,
When visiting a contact in Guingamp recently hoping to find some SoleX accessories I was disappointed to be given an answer in the negative. However, what was in the workshop was a moped with the name of "La Perle". Never having seen one of this marque before I was intrigued by it and, had it been for sale, I would have seriously considered making an offer. Unfortunately it was in for repair and not having a camera with me, I was even denied the pleasure of taking a photograph. The bike was in an unrestored condition and indeed it would be a shame to have done anything to destroy the patina resulting from fifty or so years of use.
The most frequent query which I receive from Amis is "Which is the correct mixture to use for a VélosoleX?" I have commented on this before but for the benefit of those who have not read my remarks I will repeat them again. The SoleX, as everyone knows, is a simple piston port two stroke the basic design of which dates back many years. It is neither high revving nor highly stressed and so it does not require the attention to its lubrication as do the later generation of small two-strokes, which may be prone to seizure without warning should the lubrication system play up. Someone making enquiries from fellow owners would probably receive numerous answers depending upon the preference of the person being questioned and during the course of my association with the VéloSoleX I have received a number of differing replies. My experience, for what it is worth, is as follows. When I bought and restored my first SoleX I used a mixture of unleaded petrol and Castrol TS mineral oil which proved satisfactory as it did for my BSA Winged Wheel. As I acquired further examples of the SoleX I continued to use a similar fuel again without problems. Some five years ago I bought a chain saw and the dealer told me that he recommended that it be run on a mixture of unleaded petrol and synthetic oil and a similar mixture to be used for the strimmer of the same marque. One day being without fuel using the mineral oil and wishing to use a SoleX I filled the tank with the chain saw mix with no ill effects and this I have done ever since. With this mixture I get almost no smoke nor an oily exhaust.
Rarely are Microns offered for sale. However, a recent issue of La Vie de La Moto contained a choice of three. One said to be in very good condition at €1,000, another in similar state at €580 and a third listed as incomplete at €400. As if that isn't enough, how about a Honda 50 Cub in "concours" condition for sale, also at €1,000! Not so long ago they couldn't be given away and many ended up in skips! Come to think of it I can't remember when I last saw one on the road, although some are in use by NACC members.
Good news for all of you who have experienced problems in obtaining tyres for certain SoleX models. French enthusiast David Cunier has arranged a supply of two sizes: 650×45B for the early models with 26" wheels and 16" size with white sidewalls for the 5000. Both tyres are of Vietnamese manufacture and can be obtained at a cost of €25 each from Antoine Larget, tel: 0033 (0)6 83 31 66 49.
Not only are tyres available but also new 19" rims for the later models. These can be obtained from Macadam Roues, 42330 Saint-Médaed-en-Force, tel: 0033 (0)4 77 94 01 88, fax: 0033 (0)4 77 94 17 96.
While on the subject of useful addresses, one that may prove useful to SoleX owners as well as owners of other mopeds of French origin: Motobécane Club de France, BP10, 31470 Fontenilles, e-mail . Visit their website www.motobecane-club-de-france.org.
Two more 3800s have been given a new lease of life. Alun Thomas, now an NACC member, was given one as a birthday present; it only needed a new inner tube to make it roadworthy. Alun has told me that even after being unused for a number of years it started straight away and runs satisfactorily. Tom Lucas was not quite so lucky with his example which required an engine rebuild and an air jet, which he made himself. Now it is up and running satisfactorily and he hopes to enjoy many happy hours using it.
Should you be on holiday, or returning from one in France and wondering what to do with the few remaining Euros in your possession, how about buying your wife, partner, girl friend or whatever a bottle of "Occitaine" bath bubbles? She will, or at least should, appreciate the thought and when the contents have been used you will be left with a nice aluminium bottle with a screw top which will hold half a litre of fuel without leakage or breakage. Just the thing to carry in your saddlebag.
SOLEX MILLENNIUM is planning a meeting at Beauvais in June 2006 to celebrate 60 years of VéloSoleX. Agreed that this is some time in the future but it will give you adequate time to make plans to visit what will surely be an excellent event. Further details will be given well in advance of the date. A further date to make a note of is the weekend of the 21 and 22 May 2005 for the Coupes Moto Légende at Dijon.
A most acceptable present was the book "Motobécane MBK" by Didier Ganneau (ISBN 2-7268-8592-6). The book traces history of the marque from its earliest days through the era of the Mobylette to the present scooter age, not forgetting the period when the firm was engages in serious racing activities. Well written and profusely illustrated, I can recommend this book to all followers of motor cycling in France.
It would be appropriate here to thank Bob Cordon Champ for the service which he has provided as VéloSoleX marque enthusiast. For many years I enjoyed Bob's articles in The Classic Motor Cycle as well as his meticulously researched books on Sunbeam motor cycles. Bob helped me on several occasions when I obtained my first SoleX and knew very little about the marque and for his help I am most grateful.
Here is another reason for a change in French law concerning the registration of mopeds and scooters of 50cc. Apparently certain young owners of these machines have been filling up with petrol at our local filling station and nipping off without paying, knowing that without a registration number they cannot be traced. Consequently they are now required to deposit their keys at the cash desk before the attendant will activate the pump.
Before sitting down to write this column I went for a short ride on the 330. It had not had an airing since before Christmas but before I had gone a kilometre or so I found myself in the middle of the first snowstorm of the winter. A hurried return to the warmth of central heating was indicated but at least the 330 was shown to be running well. Now that winter is, we hope, almost at an end we can look forward to a few months of enjoying the results of the hours spent in the workshop during those dark winter evenings. Judging by the list of events listed in "Buzzing" and other publications there will be no shortage of opportunities to enjoy oneself. Whatever your chosen steed, I wish you all...
...Bonne route
---
Chers Amis,
Firstly my apologies for the non-appearance of Les Amis in the February edition of Buzzing, the first time that it has not appeared in six years. I assure you that it was written and sent to the Editor in good time for publication. My computer recorded that it was dispatched and to the correct address but for some reason or another it didn't arrive at Paul's home. Where it ended up is anyone's guess. I can't give an answer.
Recently I commented on the prices asked for several machines offered for sale in the columns of La Vie de la Moto, particularly a Honda 50 for which a sum of €1,OOO was asked. Well, how about this? €1,200 for a SoleX F4, which everyone knows is a child's version of the 3800 equipped with a false motor. Although I have never seen an example, only photographs, I can only express amazement but I suppose that they are now collector's items.
Having fitted some new piston rings to my 5000 and as it is already on my list of insured bikes, I've taken it out on a number of occasions and find that it performs satisfactorily. It looks very presentable as well and is complete with a pair of panniers more in keeping with its size and found at, where else, the local tip. Next I must try the Vietnamese white wall tyres which have recently become available. Although it will never be the favourite in my stable, the 330 and 2000 vie for that place, it is, shall we say, interesting. Whilet parked outside the local pharmacy recently it attracted some attention and a favourable comment from a middle-aged gentleman who had owned one in his younger days. It also received a look of astonishment from the driver of a passing JCB. Whether it will have a lot of use is debatable as I still do not feel at ease on such a small machine.
When out for a recent evening run on the 3800 Luxe a persistent misfire occurred which was traced to the contact at the brass connector between the sparking plug and the HT lead from the ignition coil. Easily fixed by the roadside by cutting a centimetre from the lead and screwing the connector into the freshly cut end. I have since replaced the HT lead with one comprised of copper wire and fitted a old style brass connector at the spark plug to replace the rather crude original. Now I need to perform a similar task one my other bikes.
Alun Thomas recently sent me an e-mail telling me that he now has his recently acquired 3800 running satisfactorily but requires the choke lever to be opened somewhat from the normal running position. The service sheets tell you that if this is the case first check for air leaks and if none are present fit a larger jet. Good advice if you are able to obtain a larger jet - but they are not readily fouud. Apart for the normal No 28 jet as fitted I have, in spite of searching, found only two others: a No 32 and No 34. Most bikes run better when the optimum position of the choke lever is found and providing that a 'plug chop' shows the mixture to be correct leave it at that.
Also I received another e-mail, which included a photograph, from a person who had just been given his first VélosoleX. Apparently he is a collector and rider of Velocette motor cycles and his wife bought him another 'Velo' as a joke to add to his collection. (Remember the article in the same vein that you wrote in The Classic Motor Cycle many years ago Bob?) However, this SoleX is a Dutch model made by Van Der Heem. From the photograph it appears to be complete with the large saddle, full chain case and cylindrical tool box and should be a fairly easy restoration even after spending years in a damp barn. Most photographs of a Dutch-built Solex show a coaster brake in the rear wheel but this one is fitted with a normal brake. Let's hope that this SoleX will soon be up and running.
Still on the same theme, Gordon Huxtable tells me that he has recently obtained a Pli-SoleX (lucky man) which is almost complete and even those items that are missing should be fairly easily obtainable. Gordon plans to restore it and, having seen examples of his work when I was invited to his home several years ago, you can be sure that it will be done to a very high standard. This means that at least two of the four thousand or so Pli-Solex reputed to have been manufactured reside in the UK. Are there any more? I'd be interested to know. Some months ago Frank Farrington sent me some excellent photographs of a restored Pli-SoleX, which would be invaluable to anyone in the process of carrying out a similar project. I have sent these photographs to Gordon for copying and would be willing to do the same for anyone else who might have need of them.
Over two years ago I sent a letter to the DVLC at Swansea giving them my interpretation of the regulations governing the use of vehicles in EU countries with a view to taking a SoleX with me when visiting the UK on holiday. The bike would, of course, return to France with me upon completion of the holiday. I received no reply! Since acquiring the 5000, a more easily transportable vehicle, I again sent an e-mail to Swansea requesting clarification and still have received no reply. One is led to wonder if the DVLC do not understand the regulations themselves or are too busy to answer an e-mail. In view of the fact that a party of French Solexistes spent a week in Devon last summer without hindrance I am very tempted to take the same course of action.
Now that the lighter evenings have arrived I have restarted my regular evening outings on one or other of my bikes. This evening it has been the 'hack' 3800's turn. One of my favourite routes takes me several kilometres along country lanes to a cliff side road overlooking the bay where a detachment of an American armoured division landed in August 1944 to take part in the Liberation of Brittany. All is peaceful now with the bluebells and primroses in bloom in the hedgerows and the evening sun shining on the water. Truly "La vie est Belle".
Bonne route
---
Chers Amis,
"The SoleX is dead; Long live the SoleX" albeit under the new name of "Black 'n Roll", the trade mark VéloSoleX being the property of Magneti Marelli suppliers of ignition systems to Ferrari, Maserati and other illustrious marques. The new model has its frame and engine manufactured in China and wheels brakes, etc, produced in France, the final assembly taking place in Normandy.
How does the present model differ from its forebears? It is basically a revamp of the S3800 with electronic ignition, a catalytic exhaust, a drum brake on the front wheel, a horn and a speedometer and, having recently examined an example at MBK Motos on the Boulevard St Michel in Paris, I see that it comes with an engine protector as standard. The levers are of the later pattern and not the inverted ones in cast aluminium which, in my view, are more in keeping with the period. It is said that quality control of some of the Chinese-produced items leaves something to be desired, especially the paintwork, and the new assemblers are exmnining the possibilities of having this part of the package carried out in France. It has also been hinted that the VéloSoleX might make a comeback as a chic fashion accessory but, if that turns out to be the case, the preferred choice will be restored examples of genuine models. Whoever thought that a SoleX could become an investment?
Amongst the derelict and almost derelict batch of S3800s outside MBK Motos was one SoleX that caught my eye. An S1700 complete in every detail including several hard to find accessories. This one had obviously been well cared for throughout its life with chromed parts in a very good state, apart from where the brake blocks had come in contact with the rims, and painted parts which showed the lovely patina of age. 1700s are not exactly common when compared with the ubiquitous 3800s and this one would be a joy for someone who was looking for an easy SoleX to put on the road. A day spent with Autosol and T-Cut is all that would be needed as the proprietor told me that it was in état de marche. If I hadn't already had a 1700 I would certainly have made an offer as the price was negotiable. As I think that I have mentioned previously the owner of the shop is adamant that he will not sell any items from these machines. It is all or nothing!
While in Paris, I bought several gasket sets, piston rings and also two sets of points. It hadn't occurred in the past to ask if new points were available and, in consequence, I have made do with cleaned up exmnples which I already had. New ones are not expensive (about €5 a set) so it would seem to be false economy not to replace the old ones when carrying out an engine rebuild.
Also it seemed a good idea to buy some new condensers in order to have spares available in case of need.
The Tour de Bretagne passed through this district again this Whitsun. It seems to grow with each successive year. On this occasion there were some five hundred assorted vehicles of varying types. Listed on the program was a SoleX 3800 and a Veloto, neither of which I happened to see.
Having first hand experience of the terrain in this area perhaps they chose an easier route than the one stated on the programme. The older vehicles that were lacking in front wheel brakes certainly had something to keep their drivers occupied. I particularly enjoyed seeing what was probably the oldest vehicle on display: a De Dion-Bouton lorry from 1907 that sounded lovely and had no difficulty in keeping up with the convoy. This lorry was equipped with a SoleX-designed centrifugal radiator.
There is something most pleasurable to see Amilcars alongside Austin Healeys and a Motobécane in company with a BSA M20. It is very pleasing to see all these vehicles on the road and negotiating traffic rather than circulating the arena during a rally.
Frank Farrington recently sent me a set of photographs showing details of the Pli-Solex which would prove invaluable to anyone who is in the process of restoring one of these rare machines. I would be happy to loan these photographs for copying to any member in need of them.
Stuart Hall, our marque specialist, also has two of these rarities and sent me some more photographs.
After over two months of waiting I have yet to receive a reply to my email sent to the DVLC at Swansea requesting clarification on the legality of using a SoleX normally kept in France when on a visit to England for a holiday. I can only imagine that they unwilling to commit themselves by making a judgment. The one which I would take with me on holiday already has an EU sticker complete with a large letter 'F' adorning the rear mudguard.
For the first winter in several years I have not had a project to occupy those dark evenings when normal riding is out of the question. I have been collecting parts for building another 3800 Lux and, although I already have one in red, I fancy a second one in the alternative blue colour. I have acquired many of the difficult to find pieces such as the stainless steel mudguards, correct colour grey tank and flywheel cover and a motor ready to install. Unfortunately, I have been unable to find a frame in spite of searching, which would seem odd but items which a few years ago were very common now seem hard to source. As an alternative I have to admit to being tempted by a Peugeot 103 in Jean-Pierre's workshop and which I could buy for a very reasonable price but I have resisted - for the present at least.
Those of you who noticed in the photograph that my 330 has a derailleur, which has been the subject of several denials that it was ever an after market option on some SoleX models. This is incorrect as a Cyclo derailleur was available and details have been given of its installation together with several three-speed block options. Mine is not strictly correct as, being unable to find a Cyclo derailleur I have fitted a Huret model, which is hardly different from the correct one. It has certainly proved a worthwhile addition taking into account the several long and steep hills in this area.
On the same subject a Sturmey-Archer AW three-speed hub gear was offered as an addition for the 2200. I have one of these complete with cables and controls but am unable to find a cycle shop who will build it into a wheel. Our very Hi-Tech cycle shop will build up any wheel you like for the very expensive cycles that they sell but were not interested in my problem. Why don't I build my own wheel? I would if I could find someone who would supply me with a set of spokes of the correct length!
Looking at the photographs taken at the Sars Poteries Rally, I was most impressed with the S2200 shown displaying a GB Tax Disc. Whoever the owner is, he has done a superb job on the restoration of this SoleX and deserves recognition of such. Presumably the owner is the person standing behind the bike but only the lower part of his body is shown in the photograph. I particularly liked the smart saddle cover. The saddles on both my 2200 and 1700 would benefit from having similar covers but I've been unable to find suitable replacements of the right size. I was also very taken with the superb triporteur decked out as a 'stop me and buy one' vehicle and a special word for the side-valve Ariel VB600 which, as a sidecar tug, provided basic transport for many families before the advent of relatively cheap family cars.
So, whatever is you chosen activity be it rallies, club runs or just plain pottering about on your cyclemotor I wish you, once again...
...Bonne route
---
Chers Amis,
Returning home on the 330 one sunny afternoon in August after trying to follow the former track of a long abandoned narrow gauge railway I was passed, not surprisingly, by an immaculate Jaguar XKl40 fixed-head coupé. The driver signalled for me to stop and thinking that something was amiss I pulled to the side of the road and did so. As it turned out he only wanted to take a look at the 330 and so we chatted for a few minutes while the Jaguar, looking as though it had left the Coventry factory on only the previous day, and my SoleX, a little travel stained not having been cleaned for several weeks, stood side by side. Shame that neither of us had a camera with us to record these two examples of the upper and lower ends of powered road transport of the fifties.
Some more information on the new Black and Roll Solex published in Le Nouvel Observateur: the price, in France, is set at €900 and if you want further information contact Mopex on 03 21 28 44 37 or visit www.mopex@wanadoo.fr. It also mentions another reincarnation of the Solex, this time by Pininfarina no less. This one is to make its debut at the next Mondial du Deux-Roues exhibition.
Good news at last for all who own a 330 or any other Solex requiring tyres 600×45B. These are now available new from FGM Larget, 18 allée Grangers, 032l0 Noyant d'Allier; tel: 06 83 31 66 49. The cost I believe to be in the order of €28 each. Tyres with white sidewalls for the 5000 and 3800 are also available from the same source. I'm am particularly pleased with this good news as the tyres on my 330 will not last very much longer due to the sidewalls beginning to crack, although there is plenty of tread left. It is comforting to know that there are those who are prepared to take the risk of commissioning the manufacture of these and other obsolete tyres and so we should be prepared to pay the asking price without question.
Whilst on the subject of sales it is worth mentioning that the Vintage Motor Cycle Club Transfer Service offers a fairly comprehensive list of transfers available for the VéloSoleX, including those for the Dutch manufactured models. A copy of those available together with an order form can be obtained by telephone or e-mail from the VMCC.
During the Balade Solex dans L 'Allier, a competition was arranged to determine who could remove and replace the crankshaft of a Solex in the shortest time. Not, I hasten to add, in a workshop but by the side of the road using only the tools carried by the competitor. A condition was that the Solex should run satisfactorily after the work had been carried out. The shortest time recorded for this task was eleven minutes and thirty seconds! Unfortunately this didn't fulfil the conditions as M Duhaut had omitted to replace the screw used to blank off access to the screw to lock the crankshaft in position during its removal and so the Solex would not run satisfactorily due to air leaking into the crankcase.
The next shortest time of twelve minutes and thirty seconds was recorded by Jacques Bernard de Nerondes and, to prove that this was no fluke, the organiser of the rally, David Cunier, repeated the operation in a similar time during the meal break. I'm afraid to say that if I had to perform the same task it would have taken me that long to clear my bench and get my tools out. This rally seems to be growing in size year by year with this year's event attracting a hundred and thirty two participants from as far afield as Switzerland, Germany, Belgium, Holland and Italy as well as from the host country. It might be an interesting rally to visit if you happen to be in the area but Yzèrre, where the rally is held, is near Moulins which is in the centre of France and a long way from the Channel ports.
Keeping to the same subject, Solex Millenium is holding a rally at Beauvais during the 4th and 5th of June 2006. Beauvais is comparatively close to the port of Calais so it might be worth a visit as there are sure to be a number of interesting things going on during the rally; the aim being to celebrate sixty years of the VéloSoleX.
Recently I was fortunate to be able to buy a seized engine of the type as fitted to the 330, 1010, etc, for €10. It was on sale "for spares" and had become seized due to water entering via the sparking plug hole. By several rather brutal means ,including using a hacksaw, I succeeded in removing the cylinder/piston assembly and found the bottom half to be in a satisfactory condition. After replacing the piston, cylinder and connecting rod with ones already in my possession the motor performed quite well and I now have a spare engine in working order either for my own 330 or perhaps for a 660 should the cycle parts turn up. As the 660 was the last model to use a piston with a deflector it would be interesting to own one of these.
I have been fortunate in avoiding punctures, having only two during the past seven years. If it happens to be in the rear wheel of a drum braked Solex it is a nuisance having to remove the panniers and then having to manoeuvre the brake torque arm into position before replacing the wheel and readjusting the brake. To save time and annoyance I've been considering replacing the wheel nuts with butterfly nuts which were common in racing and semi-racing bikes a number of years ago. Not original but more convenient! In spite of what I've been told about their reliability or unreliability I am firmly wedded to the idea of self adhesive patches. The last one that I used is still in place after almost a year.
In my last article I mentioned the difficulty of getting a wheel built for the Sturmey-Archer 3-speed hub which I already have. A few days after the publication I received a letter from a member, Gilbert Smith, telling me of a wheel builder in Portsmouth who would be pleased to build it for me. As we usually travel by ferry to Portsmouth on our visits to England, I shall be able to bring the wheel and hub with me on our next visit in October. If I'd known about this craftsman sooner my 2200 would have been equipped with the gear some years ago. So nice to have help available when needed. Thanks again Gilbert! Incidentally, if anyone is contemplating conversion I can supply them with a copy of the fitting instructions including dimensions.
We have been very fortunate with the weather during the summer and I have had numerous pleasant rides using all of the bikes in my collection. Almost without exception they have performed well with no major problems other than the odd blocked jet due to dirty fuel. As I write this the evening sun is shining arid it is tempting to take advantage of it and venture out once again but this edition of Les Amis must soon be on its way to Paul and so I must resist the temptation. From reading the current Buzzing it is evident that many of you have had similar happy times on club runs, etc. Hopefully there will be a few more weeks of fine weather before winter arrives when it will be back to the workshop for the next project.
A la prochaine...
---
Chers Amis,
Members and others who have visited France during recent months will have noticed that many scooters with a capacity of no more than 50cc are now displaying registration plates and this applies to all such vehicles bought after the thirty-first of July 2004. The reason for this requirement is not only to deter possible theft but also to place a curb on owners who create excessive noise and other forms of antisocial behaviour. The village next to the one in which I live was plagued a year or so ago by teenage scooter and motor cycle riders and a police presence was required until it was sorted out. The ability to identify those owners who do not conform to the requirements of the Highway Code will also go a long way to making roads, particularly in built-up areas, safer. At present there is no obligation to register any used vehicle which falls into the aforementioned category but, from the first of July 2009, all such vehicles will need to display a registration plate, although there will be no fee for registration. There will probably be numerous bikes of various marques making an appearance before that date and so it may well be a good time to take the opportunity to add to your collection.
Recently I've discovered a website dealing with customising and tuning the SoleX engine. This site www.weronika.freeserve.co.uk [Note: site no longer exists] under the name of Professor Auguste Balls is written in English and is a mine of information for all matters concerning the SoleX engine. Step by step instructions are given aided by excellent photographs which make it almost impossible to go wrong. So, if you have a few extra engine spares and would like to experiment, go ahead bearing in mind that your engine should be in good condition before you commence work on it.
The name Pininfarina will be familiar to all lovers of exotic cars such as Maserati and Ferrari, to whom he has supplied, in my opinion at least, some of the most beautiful bodywork ever to grace a motor vehicle. Now he has turned his attention to the humblest of vehicles: the SoleX or more properly the e-SOLEX which is, as its name suggests, an electrically powered version. Brief details of the e-SOLEX are that its top speed will be in the region of 35km/h, its weight approximately 35kg and the cost will be about 950 Euros. Having recently seen a colour photograph in a French motoring magazine I can say that it looks very impressive with its bright red tyres, saddle, pedals and handlebar grips. Whether it is to everyone's taste is another matter.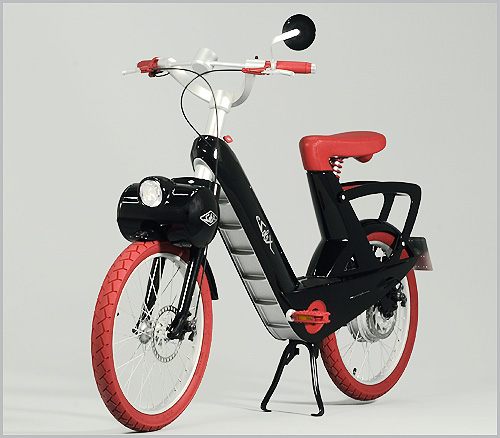 The electric motor is placed in the rear wheel hub in the manner of the Cyclemaster or the Winged Wheel, the energy for which will be supplied by a Lithium-ion battery which itself weighs less than 5kg and is placed in position in the down tube. Apparently the battery can be recharged in three hours using the charger which is contained in a case mounted in the same position as the motor of a normal Solex. The battery should last for about six years or some seven hundred charges before renewal. However, the cost of a replacement battery is said to be in the region of 200 Euros. Given the mechanically operated disc brakes front and rear and freedom from the troubles normally associated with the conventional SoleX it should make a nice reliable commuter or shopping bike but would it qualify for membership of the NACC?
My 3800, the motor of which was only built up from parts of doubtful condition, has lost power after having had considerable usage over the past year or so. No matter as decarbonising and new piston rings will put that right. What is slightly more of a problem is that the ignition coil on my 2200 has packed up, which is hardly surprising, as it must be over forty years old. I could try to find another but it would probably be in no better condition. I have several coils from the later 3800 models but these are slightly longer and will not fit between the mounting lugs on the 2200 stators. However, it should be possible to replace the complete stator with one from a 3800 and therefore use one of the encapsulated ignition coils.
Ignition coils, especially those from the earlier models, seem to be a constant source of trouble. Of course many of them have suffered from lack of use over long periods and so have lost some of their efficiency resulting in starting difficulties and uneven running. I have some half dozen of these coils, which I suspect are very much below par and only one of the encapsulated type in known good condition as a standby. Another plus for electronic ignition which forms part of the Black and Roll SoleX! Condensers can also fail completely or result in poor performance of the ignition system. Unfortunately the only ones obtainable locally carry no indication as to who is the manufacturer and therefore I treat them with some scepticism. It is also said that modern flywheels retain their magnetism over the years, which was not the case for earlier ones. I'm aware that they can be re-magnetised if you can find an auto electrician who has the necessary equipment. Unfortunately, I'm unable to do so in this area.
As I've mentioned in the past, it is becoming increasingly difficult to find the little items which used to be commonplace and make all the difference if a bike is to be returned to more or less as it was originally made. Things like the correct coloured cable covers, (I have tried in all the cycle shops in my area to find silvered cables as were fitted to my 5000), white pedal rubbers to replace worn ones on several of my bikes and, of course, cotter pins are becoming rare. On a recent visit to Jersey I bought the complete stock of cotter pins in a cycle shop in St Hellier - all four of them! I'm sure that these items are available somewhere but the difficulty is tracking them down. There seem to be very few autojumbles in the area where I live unlike other parts of France. Never mind, tracking down parts is one of the attractions not to mention frustrations of this hobby.
The various Solex websites contain numerous photographs of events that have taken place during the past year. The photographs are well worth viewing as they show all models of the Solex in various conditions from the immaculately restored examples through to the "as found in a barn" examples. One site, the Solex Millennium site, would be well worthwhile keeping an eye on as a number of events are planned to celebrate the sixty years of the VéloSoleX which takes place next year.
I see that it is almost seven years since I wrote my first Les Amis and ten years since I obtained my first SoleX in a very rough state from a member who lived at Clevedon. Although I wasn't especially looking for a Solex, rather a Mini-Motor or Cyclemaster, but on reflection, I couldn't have made a better choice. These little machines have given me endless hours of enjoyment at minimal expense and long may they continue to do so!
By the time that the Buzzing containing these musings arrives along with the Christmas mail it will be in the depth of winter when servicing, rebuilding or restoration of one or more of your machines will be in progress so I will wish you every success along with my best wishes for a...
Joyeux Nöel et Bonne Année
---

| Go to the Archive index | Go to next Amis newsletter, Feb 2006 |
---