| Go to the Archive index | Go to previous Amis newsletter, Dec 2005 |

by Bryan Hollinshead
Chers Amis,
At last the Blue 3800 Luxe is complete and very nice it looks alongside its red stable mate. It does lack a handlebar with decent chrome and the motor guard could be better but in time these will be replaced. I was fortunate some years ago to pass a house where two saddle bags in blue and white were left alongside the dustbin for collection. Although very dirty, I brought them home and after a good clean up they complement the blue 3800 Luxe perfectly. I suppose the moral, if there is one, is never to disregard anything which might prove to be of use in the future.
I have tried two of the suggestions for improving the performance of the VéloSoleX as shown on the website of Auguste Balls. Enlarging the holes in the air filter casting and fitting a No.31 main jet did not result in any noticeable improvement but the drilling of a 6 mm hole in the bottom edge of the silencer cured the four stroking which did occur at odd times. Tired of having the bolt securing the oil shield striking the frame of your Solex on full lock resulting in damaged paintwork? A simple solution is to use an old silent bloc as is required for the motor mounting. This is a push fit on the head of the bolt. Result, no further damage. Recently I salvaged two miniature toggle switches from some discarded Japanese electronic equipment. These are a push fit in the hole left when the normal lighting switch is removed thus needing no modification to the engine cover. Five minutes with a small soldering iron resulted in a reliable and simple control of the SoleX lights with the advantage that the normal switch can de refitted if originality is required.
The e-SoleX has now appeared in several of the French magazines aimed at women readers and why not, it would make an excellent shopping bike for anyone male or female needing a simple reliable and 'ready to go' machine. At least this powered bike has the merit of being designed as a whole by one of the best vehicle designers in the world whereas an example advertised in a recent English publication seemed to be nothing more than an ordinary mountain bike with a motor fixed to the rear wheel and a box added to the frame to contain the battery. The price of the e-SoleX has been confirmed at 950 Euros and they will be available for sale from this summer onwards.
Since the previous Les Amis I have received a number of e-mails including one from Canada where a Pli-SoleX is being restored to keep company with a 4600. The owner, having heard of the photographs given me by Frank Farrington of the restoration of his own Pli-Solex, asked if I could supply him with copies. These have now been sent across the Atlantic Ocean electronically and have, I understand, proved most useful.
It seems that I made a rash statement in the last Les Amis, I said that the stator back plate from the later models could be substituted for one for a 2200. I should have checked more thoroughly as they are not interchangeable and therefore I could not replace a U/S coil on my 2200 with a spare from a 3800. Fortunately I have since obtained a usable coil for a 2200 so I don't need to make the change. I also found a cycle shop where I was able to buy some white outer cable. Made by Shimano it had an anti friction lining. Quite expensive, almost three times the cost of the standard grade, but well worth the extra cost on account of the freedom of movement of the controls.
Jean-Pierre's workshop contains several VéloSoleX for sale all of which are suitable for restoration. Although I have not examined them in detail they all seem to be complete. All are 3800s and the asking price would be in the order of 100 Euros each.
Winter has not been kind to us in Brittany. Prolonged and often heavy rain has made riding something of a hazardous pastime. The mixture of rain and mud left on the roads by agricultural machinery is not an ideal surface for deux roues and so my bikes have had only occasional outings. However, things are looking up and one can expect, well at least hope for, good conditions during the coming months.
Finally for all SoleX lovers, the film Mon Oncle featuring the ever lovable Jacques Tati has been reissued on DVD. For those, like myself, who experience some difficulty in following French dialogue fear not as it's available in English. Judging from the video the early model SoleX ridden by M Hulot in the film has more urge than my similar one. Seems as though some investigation of the latter is called for!
Bonne Route
---
Chers Amis,
Once again it has happened. My last Les Amis was sent by e-mail to the Editor but evidently didn't arrive. Like similar occurences some months previously the copy must be somewhere but goodness knows where. Anyway, my apologies.
Summer has now arrived after a particularly hard winter and a somewhat unsatisfactory Spring. Now that flowers and trees are in bloom, the hedgerows and fields have put on their summer colours and one is able to get out and enjoy riding again. During the holiday season the increase in traffic makes it prudent to keep to the byways away from main roads if one wishes to survive. This suits me admirably and my evening rides are always a source of satisfaction.
Looking for a new sport or just living dangerously? Try power roller-blading! All you need, apart from the 'blades' themselves, is the front end of a VéloSoleX with motor, forks, handlebars, controls and, of course, the front wheel.
Put on your 'blades', fire up the motor and away you go, with the Solex providing motive power. I imagine you would need a considerable amount of practice in order to become proficient and whether the police would take kindly to your escapades is debatable, but an example was seen on the streets of Sotteville last June. Yes, there is photographic evidence to prove it. Will I be trying this new sport? The short answer is an emphatic NON! Although I have all the various pieces to build the power-unit, it is more than half a century since I last ventured out on roller skates.
In a previous Les Amis I mentioned using an empty aluminium bottle from a brand of bath bubbles as a container for a reserve fuel supply. It occurred to me this bottle would fit nicely into the bottle cage which can often be seen fitted to the down-tube of racing cycles. Two small holes enable the cage to be bolted to the pressing between the saddle and bottom bracket of a SoleX are all that is required to complete the process. This little 'mod' might be of particular interest to owners of the 5000, where space is limited. Although I have a porte-bidon and a 2-litre Solexine can fitted to my 330, I prefer a Jerry Baby for the later smaller wheeled models. It is, however, difficult to obtain a Jerry Baby (I believe the asking price on eBay is 50-75 euros); perhaps the aluminium can is a suitable alternative.
Although not strictly necessary, the fitting of a speedometer to a SoleX is a nice touch. Suitable instruments can sometimes be found on discarded exercise bikes but the drive cables are often the wrong length. SoleX marque specialist Stuart Hall mentioned that cables fitted to certain Peugeot mopeds might fit a SoleX 3800.
I recently had occasion to buy some SoleX autocollants from Marcel Deschamps who operates a workshop specialising in SoleX repairs and servicing and also supplies new & used SoleX spares. I found his service excellent and his prices most reasonable. Should you require his services, visit his very comprehensive website www.lesolex.com which is available in French, English and German. Of particular interest is the illustrated list of most of the accessories available for various SoleX models over the years. Marc may well be able to supply your needs via autojumbles he visits.
Gordon Huxtable has recently restored a Pli-SoleX and has taken it with him on holiday to France - he showed me several photos of it prior to restoration. Although when he obtained it his bike was complete it needed a total rebuild and Gordon had the frame powder-coated in the original orange colour. Very nice it looks and the finish should prove durable.
When I met Gordon in England recently he gave me a silicon diode which, as mentioned on Auguste Ball's website, is supposed to prolong the life of SoleX ignition coils by limiting heat-buildup within the coil. Fitting the diode is very simple, needing only a small soldering iron and solder tags. It would be wise to use a heatsink when soldering the tags to the diode to avoid damage. Now I will wait and see if it works.
Four excellent colour photos of Geoff Hudspith's steam-powered SoleX appeared on the Solex Appeal website recently under the title SoleX à Vapeur. Unfortunately there was no text to give details of Geoff's accomplishments.
This year is the sixtieth anniversary of the birth of the VéloSoleX and numerous special events are planned in various locations - visitors from across the world are expected. Details of these gathering are given on various web sites devoted to the SoleX - make a note of them in your diary.
Bonne Route
---
Chers Amis,
Firstly a sincere apology to anyone who e-mailed me shortly after the closing date for June's Buzzing and did not receive a reply. This was due to a complete computer failure which included all my incoming and outgoing e-mails, my address book and details of all previous Les Amis.
In the course of five years my computer has needed a new modem, a hard disc drive and a new power supply. It leads one to suspect that domestic electronic equipment has a built-in lifespan. The cost of repairing my computer was nearly half the price of a new laptop, so now I'm back online and available to answer any further correspondence.
I am at present in the happy position of having all my seven Solexes in running order, except for the 1950 model which is still down on power because I have not been able to find an engine in better condition than the one that I have. Sooner or later one will turn up. One or other of the remainder are in use most days, either for errands or for my favourite pastime of wandering around the country lanes in my area and enjoying the sights.
Over the past year or so visits to the Council Tip with garden waste have not proved very profitable. However a week or so ago I was fortunate to see under a pile of old cookers and fridges something which looked vaguely familiar. It turned out to be the rear wheel of a 5000 which happened to have excellent chrome but, more importantly from my point of view, an almost new white-wall Michelin tyre. Thinking or hoping that the companion front wheel was nearby, I carried out a further search and sure enough there it was. The chrome was rather tatty but again the Michelin tyre was in excellent condition, these two white-wall tyres compliment my 5000 very well.
As every enthusiast will already know, sixty years have passed since the prototype VéloSoleX was manufactured and to celebrate the occasion various events have been arranged throughout France, Europe and other countries as far apart as Japan and the USA. Many photos of these events are displayed on various Solex websites and are well worth a visit. While studying the photos I noticed some riders were wearing cycle-type helmets, probably more comfortable in hot weather but are they legal?
Amongst the many scooters up for sale in the local paper have been several Solexes, but I have long since ceased to enquire about details as I have discovered in the past that seller's descriptions seldom match reality. For example, at a recent boot-sale a 3800 was offered for sale. It was fit for only one purpose - scrap - but the stall-holder was asking 250 euros. I just smiled and passed by.
Whenever I get a query from someone saying that their Solex is lacking in performance even after they have checked timing and compression, I suggest they check the state of the exhaust system for carbon build-up. Yes, I'm aware this is common knowledge to the great majority of Solex owners but it is nevertheless worth repeating. The bend in the pipe between cylinder and exhaust is a common source of carbon build-up and is simple to remedy with little effort. The exhaust pipe and silencer are somewhat more difficult, the best option is to buy a new system from Marc Deschamps, the cost is a modest sixteen Euros for most common models and 21 for the 5000. It takes very little time to decarbonise a Solex and well worth making sure the quoted 0.8bhp (or 0.596kw if you prefer) is always available.
This raises the question of how the eSolex will be classified. As it is broadly similar in size and performance to the conventional Solex will it be classified as a moped or an assisted bicycle, which would need no test certificate, insurance or licence to ride?
The weather is fine, the sun is shining, the sailing boats are out in the bay and the holidaymakers are enjoying thmeselves. I think I'll join them and take the 330 out for a spin. Why not do the same?
Bonne Route
---
Chers Amis,
Judging by the reports in August's Buzzing, it seems that many members have taken advantage of the spell of warm and dry (at least in this part of the world) weather to give their machines an outing on club runs or just any excuse for a ride. I certainly have enjoyed my almost daily jaunts, short runs to the shops or longer excursions into the countryside during the evenings. I admit to being fortunate in that I do not have to navigate busy roads to reach the country lanes of which I am so fond, a big advantage. As I sit writing this 47th Les Amis, the rain is falling quite heavily, so I'm beginning to wonder if this is the beginning of the end of a glorious summer.
Probably the highlight of the summer was the Rencontre Internationale à Beauvais, which attracted no fewer than 511 Solexistes from many different countries, as far apart as the USA and Japan. Included among the entries was VSX 3478, reputed to be the oldest Solex actually in use. Unrestored, it completed the Rally after receiving a little servicing at the mid-point from its owner and Franck Meneret.
The concours d'élégance attracted some thirty entrants, including Spiderman, a doctor, a midwife, two Breton ladies in traditional costumes, two hippies and Caroline, wearing a dress as bright as her Solex, which is totally chrome-plated. I'm not sure I like it, but it certainly caught the eye.
In June our local paper published an invitation for any Solex owners to take part in an informal get-together in the small town of Cavan, in the Côtes d'Armor, about 30kms from where I live. Due to the short notice given, only seven riders were able to take part, but it is hoped that future meetings might take place. Machines taking part were mostly 3800s, including one Super Luxe model with chrome plated exhaust, and a 660. Riders were asked to wear period 1950s clothes and most did so.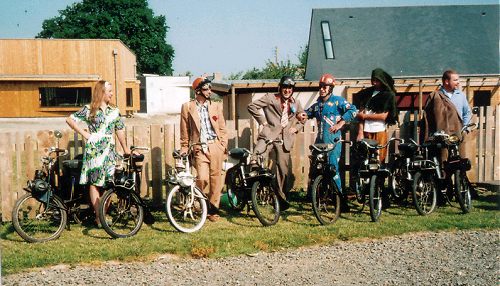 Solexistes gathering at Cavan, Côtes d'Armor, in 1950s period clothing.
In a previous Les Amis I mentioned a competition, the aim of which is to remove and replace a Solex crankshaft in the shortest time. The winning time on that occasion was between 12 and 13 minutes and the engine had to be running before and afterwards. Now, at the Beauvais meeting, Monsieur David Danes from Dunkerque completed the task in five minutes fifty-one seconds!
One final tip on the subject of disassembling a Solex engine: NEVER remove the ignition and lighting coils prior removing the stator plate with an extractor. These coils contribute to the rigidity of the stator assembly and their removal could result in distortion of the backplate.
Tony Twycross recently sent me some photos of his early 45cc SoleX; built in 1950, it was obtained by Tony in 1980 with only 250kms usage and is totally original, right down to the red and white lining. Tony plans to use it and is in the process of rebuilding the engine. He already has a new piston and rings but is experiencing some problems with the fuel pump. Judging from the photos I have never seen a better one - it puts mine in the shade.
I also received a letter from an enthusiast living in Chicago, he told me he regularly visits the NACC website and wished to be added to the club mailing-list. I advised him to become a member, which he will probably have become by the time you read this.
If you own an early model SoleX, from the 660 to 220, and have problems with wear in the centre-stand pivots leading to the possibility of the bike falling over - help is at hand. Marc Deschamps has remanufactured the stand pressing and sells them at 30€. Problem solved. Marc also offers for sale a wide range of new and remanufactured parts which will be of use to Solex enthusiasts. Contact him at www.lesolex.com or 87 avenue Charles de Gaulle, F-92270 Bois-Colombes, France; or tel +33 1 46 52 12 85.
Summer is over and winter approaches - dig out that rusty old wreck that you've had for years and get to work restoring it. Don't ask me what I shall be doing, I haven't decided yet.
A bientôt
---
Chers Amis,
Well, it has finally been published. A comprehensive book on all aspects of the VéloSoleX written jointly by Sylvie and Franck Méneret. This book is a 'must' for all lovers of La bicyclette qui roule toute seule in that it covers the history, development, restoration and servicing of all models including the Micron, Flash and Ténor. The book is very well produced and contains a mass of photographs. Of particular interest are the text and photographs relating to the disassembly and assembly of the actual motor and the use of special tools. Although written in French the details are easily followed using the photographs. The book is available in bookshops at a price of 33€.
One point that I would take issue with is in the assembly of the motor. The author states that jointing compound should be applied to the paper gasket between the crankcase cover and the case itself. My experience has always led me to believe that only a thin smear of grease applied to the gasket is necessary to effect a perfect seal providing that both faces are in good condition. It is also suggested that jointing compound should be applied to both faces of the cylinder base gasket. Again with a new gasket this should not be necessary. I have asked the opinion of several mechanics who have experience with the VéloSoleX and they agree with me that jointing compound should not be required.
Recently I had an e-mail from someone who was enquiring as to how he could tune his Solex in order to increase its speed. In his e-mail he said that he was somewhat disappointed in that he could only reach a speed of 20mph which he considered to be rather on the low side. I pointed out that normally the maximum speed of a Solex in average condition was 25kph so, as 20mph works out at some 33kph, he wasn't doing too badly. Yes, the Solex can be tuned to give top speeds greatly in excess of this, particularly in prototype class racing, but this entails considerable modification to the engine involving special cylinder heads, strengthened crankshafts, Del'Orto carburettors and tuned exhaust systems all of which would be quite expensive and completely imparctical for normal use. A company under the name of Tabouret Accessories based at Saint-Yrieix marketed such items at one time but to the best of my knowledge they are no longer available.
The prices of the Cucciolos sold at auction on eBay recently should come as no surprise to those who buy or sell items using the Web. I have noticed, over the past year or so, the increase in the prices asked for even the most mundane items for the humble Solex. This particularly applies to the accessories such as nourrices (containers for carrying reserve fuel), porte-bidons for a similar purpose and the enjoliveurs in polished aluminium which were so popular in the days when the Solex was king and are now so sought after that they have become almost unobtainable. For example, several years ago I was fortunate to find two new Jerry Baby containers which I bought for 20 francs or £2 each. Recently one was advertied on ebay for 50€!
Returning from Chamonix via Paris recently I noticed the usual collection of Solexes standing on the pavement outside the MBK premises on the Boulevard St Michel. All except one or two were in need of complete restoration although there was a 1010 and two 1700s which were complete and would perhaps form the basis of a rebuild if the price was right. Jean-Pierre has several for sale in this workshop including a 2200 complete and in reasonable condition but nothing which would tempt me.
Heavy rain and the autumn gales have restricted riding recently and although there have been no untoward problems with any of the bikes during the summer months it will soon be time to carry out the usual routine maintenance. However, that will have to be delayed for several weeks as we shall be taking an extended holiday in the UK. Anyone who needs to contact me during this time can do so by e-mail as I shall have my laptop with me. Meanwhile my sincere good wishes for the festive season to Solexistes everywhere not forgetting those whose chosen mount is some other marque.
Bonne Route
---
Chers Amis,
Having spent five long weeks in England over the Christmas and New Year period, I suffered withdrawal symptoms through being deprived of my 'toys'. They are my principle means of relaxation and are always available to be ridden should the mood take me. Not that riding them in England would have given me much pleasure, the traffic-choked roads around Brighton do not compare well with the relative calm of back roads in rural Brittany.
However, I had time to study Frank Meneret's excellent book "VeloSolex" (reviewed in January's Buzzing) in more detail. When I bought my first Solex ten years ago I knew next to nothing about them and although I learned a lot in the following years, the book has shown me that there is still a long way to go. I have on several occasions mentioned with envy the number and variety of accessories which were available in the heyday of the Solex; it is amazing how, for example, a few pieces of polished aluminium can have a striking effect on a black machine. Good news; various pattern parts are becoming available but I have no experience of them and cannot comment on their quality.
Photos of many such items illustrate Frank's book and, whilst some items such as engine guards are relatively easy to track down, others, such as alloy footrest covers and carrying handles are much more difficult to find. One item which particularly attracted me was a saddle adaptor, allowing a 3300 or 3800 saddle to be fitted to models from 660 to 2200. I have never seen it but would very much like one, as saddles on both my 1700 and 220 are in poor condition and uncomfortable.
Writing in October's Buzzing, Stuart Hall has confirmed my view that prices asked for Solex parts and complete machines have increased considerably over the past few years, thus making it all the more necessary to hang on to all your bits & pieces. On matters mechanical, I heard on good authority that it is most unwise to use anything other than ribtread tyres on a Solex front wheel. Block tread tyres can apparently cause vibrations which result in damage to the main bearing of the engine. 19" tyres are readily obtainable but those for other models are not, thereby creating a problem not so easily solved.
I have at long last found new piston rings and a better barrel for my 45cc model, now the rebuilt engine sits on my bench, awaiting reunion with the cycle parts. As if to counteract this recent source of pleasure, the frame from saddle to rear wheel on my 1700 has broken where the spindle passes through, seemingly from metal fatigue. It means the 1700 will be out of use until I can find another.
Will the increasing number of regulations soon make it difficult for us to keep our bikes legal? I found out by chance that, from New Year's day, it has been obligatory in France for all sub-50cc motor cycles to have dipped headlights switched on in daylight. This is laughable, given that on my 330, 6 watts or so of power is fed into a headlamp of 5cms diameter - it is hardly going to be seen by a car driver travelling at any speed.
Another Solex has surfaced in the village where I live - a young man with a holiday home less than a kilometre from my house has acquired a white 5000 in original and very good condition. It goes well and, if I invite him round for a drink, I might try it out myself.
A note of caution: a message sent to me and others from a Solex enthusiast in France complains of having ordered a pair of crankshaft bearings from "Willysolex" on eBay. In spite of several requests for delivery, only evasive replies were received. Caveat emptor.
This is Les Amis number fifty. Doesn't time fly? It seems only a short time ago that Dave Beare asked me if I would carry on where he left off - eight years on and I must confess I still enjoy writing these notes and, judging from responses which I get, some Solexistes enjoy reading them.
Bonne Route
---
Chers Amis,
Over the past 2 months the performance of my 330 has deteriorated, especially when climbing hills. As cylinder compression, ignition timing exhaust, carburettor and fuel pump had all been checked, my diagnosis was the crankcase seal. This requires a complete strip-down, so on a recent holiday in Millau I took advantage to visit my friend and Solex expert Marcel Juilliaguet to seek his advice. He showed me the special tool used to heat the crankcase and at the same time withdraw the bearing. I had heard of this tool but never seen an example before, so put the question as to whether the bearing could be withdrawn without it. "Weeeeeell yes, but I would not advise you to try it. Next time you come in this direction bring the bottom half of your motor and we will do it here". Sound advice!
Marcel also stressed the importance of the front tyre always being centralised on the roller, otherwise sideways pressure can cause the crankshaft to move laterally and damage the seal. You can verify this by removing the crankcase end-cover and look for signs of the crankpin rubbing against the cover. His final piece of advice was that carburetion could be improved on deflector piston engines if a 1.5mm hole is drilled longitudinally through one of the screws securing the transfer port cover to the cylinder, the hole being drilled through the cylinder wall. I no longer have access to a lathe to drill accurately, so will forgo that one for the present.
Long-time readers of "Les Amis" will recall me mentioning M. Juilliaguet some years ago. He has an old-fashioned workshop near the centre of Millau and, although he is officially retired, he can be found there most days, talking to his old friends and anyone else with a love of the SoleX. His collection, comprising examples of all models in original condition, still takes up most of the available space and he is naturally very proud of them. So, if you happen to be passing through the area, maybe to visit the new Viaduc du Millau, why not look him up?
On the subject of my 330, I have long been aware the rear light was incorrect, coming from a 1010, but, not being a stickler for originality, this did not worry me unduly. I always hoped one day the correct one would turn up. Well, at last, it has - lying in a skip between a discarded fridge and part of an iron bedstead, complete and undamaged. Cleaned and polished, it now adorns the 330.
Simple things often give one a great deal of pleasure.
Two recent adverts in local papers have been for buying Solexes, rather than selling them - are times changing perhaps or maybe just nostalgia for the past? Well, there you have it. Summer is almost with us. Time for riding and for me, once again, to wish you...
Bonne Route
---
Chers Amis,
There is an old saying that goes "you can't have too much of a good thing", or maybe it is "you can have too much of a good thing". Whichever you choose, I found myself in such a position when I recently visited Jean-Pierre's workshop to check on the address of the nearest bearing supplier. "Do you want a Solex without a motor?" I was asked. "Yes" I replied, knowing full-well there was a rebuilt motor ready and waiting on my bench, "but I'm on my way to the airport, so it will have to wait until tomorrow when I bring the trailer".
The bike in question turned out to be a 3800 in a very rusty state, but it was free. The chrome parts are in good condition, it has an almost new tyre on the rear wheel and - surprise, surprise - a complete tool-kit, which is something not often present in old Solexes. First thing to do I thought would be to give all the rusty bolts a good soaking in WD40, then completely disassemble the bike, examine all the bits and then see from my stock of spares if I have the necessary bits to build up a complete bike. As the cost of restoration will certainly end up being more than the value of the Solex the question must always be: "How much pleasure will it give me?"
Still they turn up - since the previous Les Amis I've received news of three more Solexes that have arrived in the UK from their native France. These are two 3800s, a 3300 and a 2200, all in running order and in need of certificates from David Casper for registration. In the same vein, I received a pleasant e-mail from Geoff Scott far away in Melbourne, Australia. Geoff, another Solex addict and owner of a four bike collection, is in the process of compiling a register of Solex owners in his area, with a view to establishing an informal group along the lines of NACC Sections. There will be no committee or formal meetings but simple gatherings for sorties around the area. He sent me a copy of his first newsletter, which contains some interesting information, such as he has already located ten 1700s, two in his collection. He is of the opinion that a batch of 1700s were sent to Australia in the early sixties and these survivors are part of that batch.
A Jerry-Baby for carrying extra fuel makes a nice addition to any Solex and is preferable to a Solexine can clamped to the front forks. Even these are hard to find and one was recently offered for sale on the internet for eighty Euros no less, and, being without fixings, this makes it a very expensive buy. I was fortunate to be able to buy, five or six years ago, two in unused condition for twenty francs each. They were without fixings, which I had only seen in photographs, but these were not too difficult to make. Because of the risk of having them 'liberated', I never leave them on the bike unattended. If you are offered one of these accessories, remember they come in two sizes: the smaller for 1400, 1700 and 2200, the larger for 3300 and 3800.
I didn't get to see the Tour de Bretagne this year but by all accounts it lived up to its reputation. There are some good photos of two and four-wheeled vehicles on www.e-monsite.com/solex/album; it's well-worth a visit as there are pictures of an enthusiast's construction of a triporteur using a 3800 as a basis.
Summer, as we like to think of it, has not yet arrived. Although it is not actually raining there are very high winds which, together with the hills, tax the ¾hp of my Solexes to the limit. I've managed a number of pleasant rides in the past few days and look forward to more as the weather improves. Well, it can't always be this bad, can it?
Bonne Route
---
Chers Amis,
One of the advantages of owning a Solex is the availability of spares. I've mentioned before that accessories are becoming increasingly difficult to track down and for which high prices are asked but engine parts, particularly for the later models, are still readily available if you are prepared to look for them. Like most others who dabble in the restoration of old vehicles I've learned to throw nothing away no matter how useless it may seem at the time.
As an example readers may recall that I recently wrote that the performance of my 330 had deteriorated to the point that it needed a complete rebuild but that I was unable to carry this out without risk of damage to the cases without the special tool for removing the sealed bearing. However, looking at the bits and pieces that I had accumulated over some ten years I decided to try and build a motor from the bits that were under the bench. This I did and was surprised that it worked, not all that well but enough to get the 330 up and running until my next visit to Millau when I can prevail on Marcel to use his expertise to change the main bearing for me. Maybe I should take both engines with me and ask him to change the bearings of both. This would not be an imposition on him as the Solex has been a major part of his working life and even in retirement he can't leave them alone. The trouble is that the tyres on the 330 are coming to the end of their life and, in spite of searching, I haven't been able to find replacements.
A neighbour who owns a holiday home nearby came over last evening on a 6000, which is something of a rare bird as comparatively few were built. That is, only about fifty-five thousand compared with the millions of the conventional models produced over the years. I have never had thc opportunity to examine one of these - something which will be rectified this evening when we visit his home for an aperitif. The top speed is quoted as 40kph compared with the 3800's 30kph and its increased power output should be an asset. It would be interesting to have a look inside the engine to see how this increase in power has been achieved.
Now, two hours further on I have some knowledge of the capabilities of the 6000. There is a shortish but quite steep slope near our respective houses which I use as a test piece for my bikes. Whereas all my Solexes need considerable LPA, the 6000 is able to complete the climb with only a few turns on the pedals near the summit when the engine drops out of the power band. At a price of 200 Euros, which was what my neighbour payed for the 6000, he has obtained a bike that is running well and not in need of even a cosmetic restoration, unlke a 3800 Lux that I recently saw in a Depôt Vente. The asking price for this was also 200 Euros but this would need a complete restoration before it could be classed as roadworthy. All things considered the 6000 would be a practical proposition for everyday use. Maybe I should look out for one, although the spares situation might not be very good and I've heard that there are weaknesses in the shaft transmission assembly.
John Famon paid us a visit the other day and we had lunch together. He has now ironed out the snags in his first Solex, which is a 3800 and is now a regular sight in the village in Normandy where he has his holiday home. Evidently he has caught the Solex bug as he is thinking of making an offer for another example that has come to light locally.
Bastille Day in New York was celebrated with a parade jointly shared by the VéloSoleX and Citroën Clubs. Judging from the photographs that appear on the Solex Mililenium website, the weather was kind and there was an excellent turnout of both marques including some fine examples of the four wheeled equivalent of the Solex, the 2CV. Brian, the American who sent the photographs, tells me that he has a collection of fourteen Solexes including one of 45cc that he believes to be the oldest example in the United States. Lucky man.
Almost at the end of a somewhat disappointing summer, nothing further remains for me but to wish you once again...
Bonne Route
---
Chers Amis,
Ignition faults are annoying particularly so if they occur some distance from home and you are not carrying the necessary spares and tools with you at the time. It happened to me one evening last month when the 3800 that I had chosen for that particular ride developed a missfire that gradually became worse until the bike finally came to a halt. Fortunately I was only some three kilometres from home and Solexes have pedals, so it was no real inconvenience.
The trouble was soon rectified as it was because of a faulty condenser and this brings me to my point. The condenser in question was one of several which I bought some two years ago and this is the second which has failed after very little use. Also, in the course of my correspondence with other Solexistes several have experienced the same problems with similar condensers. The items in question contain no clue as to the maker's name nor place of origin but evidently their quality is in question. If anyone knows of a source of branded condensers I'd be grateful for the information to pass on to others.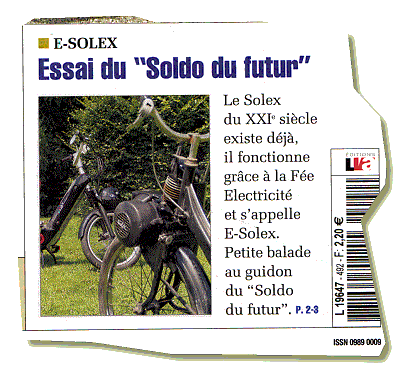 Clipping from La Vie de la Moto
A rare Solex has come to light: a 45cc of the early 1950s, manufactured in England. There can't be too many of these about so it could be considered an important find. I've been fortunate to have seen a photograph of the bike which appears to be complete but in need of some TLC, which the present owner promises that it will receive during the coming months. The question is, as always, whether to go for a full restoration or conservation, which is a difficult choice to make.
I have restored the motorless 3800 that Jean-Pierre gave me three months ago, fitting it with a motor built up from bits and pieces and now it is performing quite well. I did intend to make it a winter project but became impatient so I just got on with it. Since then I have been offered another 3800, again without a motor, but I turned it down, partly because of lack of space. However, I've had second thoughts as for some time I've been toying with the idea of building a Super Luxe model.
I already have many of the more difficult parts to find, notably the stainless steel mudguards and the white tank and sufficient bits to build another motor. Probably the most difficult item to find would be the chromium plated exhaust.
A recent edition of La Vie de la Moto (No 492 - 4 October 2007) contained an interesting article comparing the new e-Solex with the S3800. The e-Solex weighs 35kg compared with the S3800's 28.5 kgs. Also the eSolex delivers only 400 watts of power as against the 590 watts of the conventional model. On the plus side the e-Solex has the choice of two speeds, 25kph or 35kph, but the use of the higher speed has to be set against the lessening of time between battery charges. The e-Solex scores on comfort and braking with telescopic forks and disc brakes. The choice of which to buy would depend on the type of use that you visualise for it.
On your next visit to France, when you are buying your wine to take home, why not choose your favourite wine in a pack of six bottles contained in a nice wooden box with the label of the vineyard printed on the side? Drink the wine and give the box several coats ofvamish before mounting it on the carrier of your Solex. I've done just that on my 330 and it gives the outfit an authentic touch reminding one of the days when much of the family shopping was carried home on a Solex.
The Club Solex de Belgique held a rally at Chimay to celebrate the fifteenth anniversary of the club. Some hundred and sixty Solexistes turned up including a group from Holland, some of whom were mounted on Solexes manufactured by Ven Der Heem. Judging by the photographs which accompanied the text in La Vie de la Moto, the rally must have been a success.


Solexes in the courtyard at Chimay (Photo: LVM)
A welcome change from a rather indifferent summer has been two weeks of fine weather without rain und with very little wind. This has given me a chance to give the bikes an airing. Most have performed well with the possible exception of the red 3800 Luxe, which has had very little attention and much use for the past four or five years. Clearly an engine overhaul is required, which it will receive before next summer.
And so another season has drawn to a close. It is to be hoped that it has been an enjoyable one which has provided you with many miles/kms on your favourite machines. As you prepare to undertake another restoration, repair or general service I wish you well.
Bon Courage
---

Go to the Archive index
---