It was suspended NACC member Frank Brzeski who instigated the first big run when, in 2008, he organised the Lands End to John o'Groats run. For 2010 Carl Squirrell stepped up and organised the Side to Side when we rode from Lowestoft to St Davids Head and again in 2012 Carl organised Lands End back to Lowestoft. Carl did his own LEJOG in 2013 and didn't want to commit to another big run in 2014 so I stepped up and we did Yar to Bar; to avoid the logistics of getting bikes to the start or returning from the finish, we also rode home. The run was extended by a day in 2015 to include a visit to the Isle of Wight. For 2016 it was me again for Head to Head, as per Carl's runs and my two previous runs, accommodation was to be in Travelodges which work well and are reasonable priced when booked early. John Burgess was unable to attend this year but Michael Barrel was up for another, having done Yar to Bar, but this time not with his van and father-in-law as back up; Luke Booth offered his services and Clive and Anne Fletcher were also to be in attendance.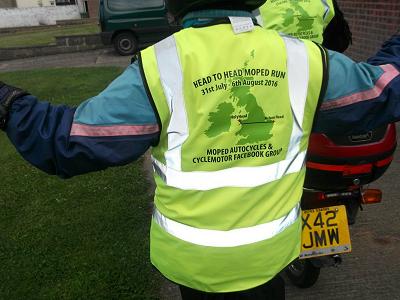 It's good when everybody commits early and no problems are encountered. First arrival on the Saturday was Luke and back up van, Clive and Anne popped in on their bike as they were booked in at a camp-site in Great Yarmouth, Jim Davies arrived with his two bikes, Dave Wickens and his wife were staying at a very nice hotel in Great Yarmouth and joined us for a meal at my local.
Day 1: Nelson Head to Colsterworth, 124 Miles.
Phil Chenery was first to arrive with his two bikes then Clive and Anne arrived with the mighty camper and trailer then Michael Barrel with his two bikes. All the loading was done and we departed from Martham at the planned time of 9 o'clock for the short ride to the Nelson Head (pub), Horsey to meet up with Dave Wickens.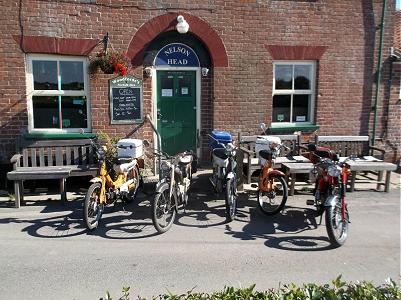 Just a short ride to Stalham for breakfast (where I noticed a very bad oil spot below the PC50), through the 'road closed' sign and on to Booton for the first leg stretch and a visit to the Church.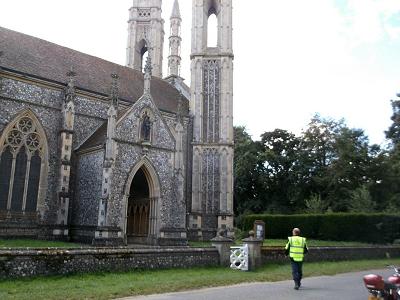 Then on to our first planned stop with the support vehicles at Bawdeswell and a top up with petrol and check on my oil (no more about that as it gets boring and it was said that I used more oil than the two-strokes). From there it was quite a haul to Kings Lynn and the challenge of getting through the town and over the old Ouse Bridge. Just a quick stop to buy a bottle of drink, about 80 miles done, and we were still in Norfolk. Next scheduled stop was Sutton Bridge where we rode over on the footpath thus avoiding going onto the busy A47 and A17 at any point. A quick phone call to EACC member Jim Stuttard at Long Sutton and he got the kettle on and made us all very welcome.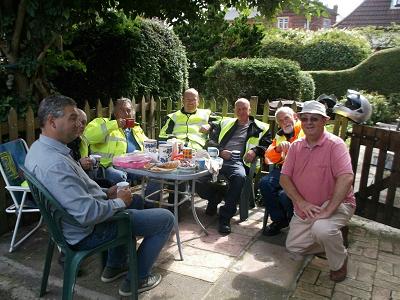 Jim then joined us for a ride to Cowbit saying he would not have come that way himself! However it was my way of avoiding Spalding which we did and on to Bourne where we again met up with the vans and refuelled. The leggings were put on and it was a wet ride along the busy A151 to our first Travelodge at Colsterworth. Clive & Anne had dropped the bags off and gone to their camp-site and Luke was waiting. Out of our wet gear and it was soon time to walk to the local pub where we had a lovely meal with John and Cherry Truluck and Jill Spencer (RIP Harvey, miss you mate).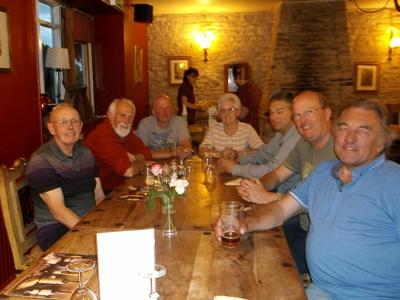 Day 1 Pictures at: https://www.flickr.com/photos/40103650@N04/albums/72157672002436226
Day 2: Colsterworth to Shrewsbury, 127 miles
Dave Wickens kindly agreed to be our route master for this section and had already done an 'over and above' recce for us. Breakfast was taken in the nearby transport café which had a selection including drink for £4.75; there were also larger options available! Clive & Anne were waiting for us to finish and transport our luggage again and meeting points were arranged. Our first leg stretch was Belvoir Castle where there were good views over the surrounding countryside.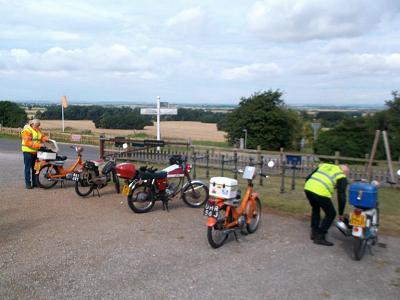 First meet with Luke was to be East Leake but Dave had mistakenly told him West Leake; that soon sorted we had coffee and topped the bikes up, then on to The Sump a pub with a view just before Burton upon Trent.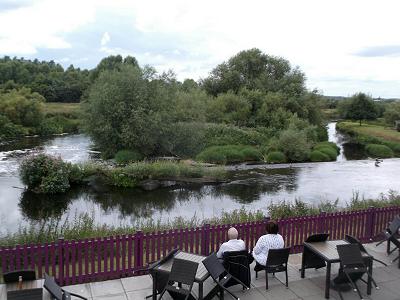 Next stop was for ice-cream at Amerton working farm, followed by some green laneing and on to Stone where it was leggings on again.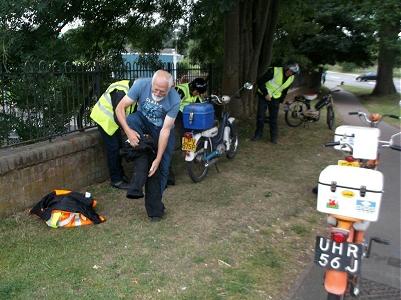 Clive & Anne had gone on ahead and dropped our bags off at our Travelodge and had set up camp and started to ride out to meet us but noticed the black clouds and turned back. Wet gear off again and a bit longer to dry out this time before dinner in the adjacent Two Henrys.
Day 2 pictures at: https://www.flickr.com/photos/40103650@N04/albums/72157671263157761
Day 3: Shrewsbury to Caernarfon, 105 miles.
Back in the Two Henrys for breakfast and guess what? Yep, Clive & Anne were waiting for us again.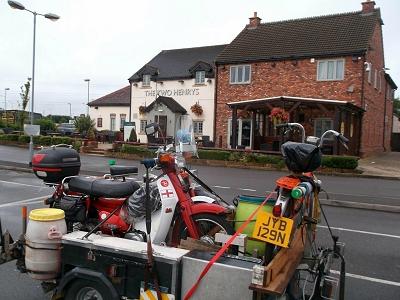 This was going to be a bit of a 'suck it and see' day for routing but Dave Wickens, knowing how crap I would be, sorted something out for us. Basically we were heading for Porthmadog where we had returned from two years earlier but with a detour to Portmerion. Leggings went on for the start today, we crossed the border at a small village and carried on some demanding roads at times to meet up at Bala where we had a wander and got something to eat & drink, then on through the rain and wind to Portmerion. Doh, should have done my homework on that £11 to enter.
We passed and went on to Porthmadog for a break.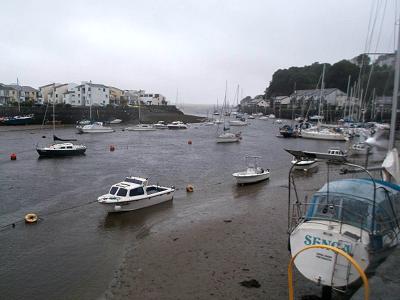 From there it was on to Caernarfon where we stopped at the Castle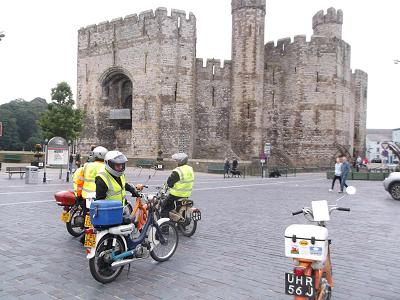 And then on to our Travelodge, no parking here so the van was on the pay and display and we were allowed to leave our bikes by the hotel entrance. Clive had dropped our bags off and left a copy of the next day's run on each bag, what a star! We walked into town to find an eatery when I remembered why we were staying here! We played find the Wetherspoon's (which was actually quite near the Travelodge) steak club night, six meals and a pint for £47.00 has to be a bargain.
Day 3 pictures at: https://www.flickr.com/photos/40103650@N04/albums/72157672013833136
Day 4: Caernarfon to Holyhead and back to Caernarfon, 74 miles
Back to the Wetherspoon's where you could have a pint of Abbot (£2.10) with your breakfast! Clive and Anne were waiting again, this time with their bike, and Luke had been to the camp-site for his bike as we were all to be riding today. Clive had sorted a route from a cycle map and was to be our leader for the day. Weather was a bit damp and the wind was gusting quite hard. Out of Caernarfon and onto the Express Way and over the busy bridge was not what he was expecting the sat nav to say, then onto quiet lanes to arrive at LLstationwithalongname.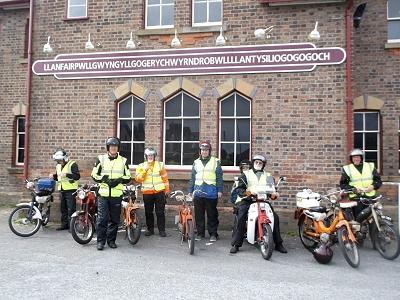 We carried on on mainly quiet roads with strong head and side winds to arrive at the Holyhead sign the day before the press were due to take pictures of the freshly painted Buoy (was red!)
We then had a lunch break at the Harbour café and rode to the end of the road at the West point for more photos and a look around.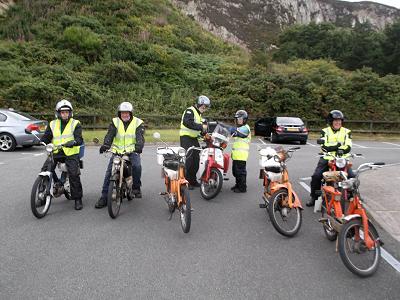 We called into a garage for fuel and started our return. On arriving at a small town the leaders were waiting for the others when a driver tells us there has been an accident, we return and unfortunately Luke had an off; Dave had already called the emergency services, the ambulance arrived very quickly and checked him over and said he would have to go to hospital. Clive & Anne headed off to get the camper and trailer and we waited for their return to collect the Ciao. (Something you don't need on these or any run but does show how vulnerable we are and thankfully, after stitches, Luke was discharged and we were lucky to have the Fletcher recovery service at hand.) The five riders carried on to the old Menai Bridge where we stopped for a leg stretch and pictures when Dave's bike fell over, only damage being a smashed top box.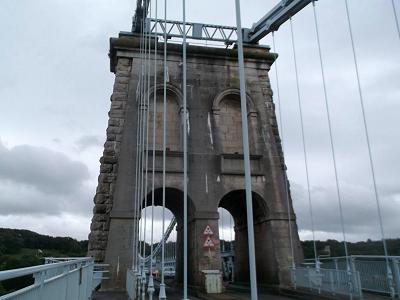 Over the bridge and back to the Travelodge and a return to the Weatherspoon's for chicken club night where all sorts of worse case scenarios were discussed. Mike managed to contact the hospital for updates and messages where left for Luke if discharged to get a taxi back. Although with a badly battered and bruised face and stitches including inside the lips, Luke was back at the Travelodge just before us and hopefully will soon be back riding again.
Day 4 pictures at: https://www.flickr.com/photos/40103650@N04/albums/72157672109707655
Day 5: Caernarfon to Shrewsbury, 107 miles.
Back to the Weatherspoon's for breakfasts for us but not Luke who was visibly shaken and in pain. Clive & Anne were again waiting for us to transport our bags and the next meeting point was arranged. Big thanks again to the other DW for agreeing to lead again. First stop for us was a pretty village nestling in a valley that we sped through on our outward journey.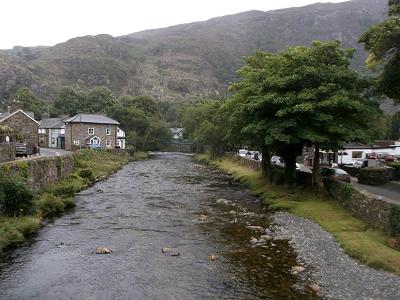 Next stop was to meet up with the vans at Bala where Jim replenished our oil supply. Coffee break in the town next to a sign for the Hair Lounge! It made me smile.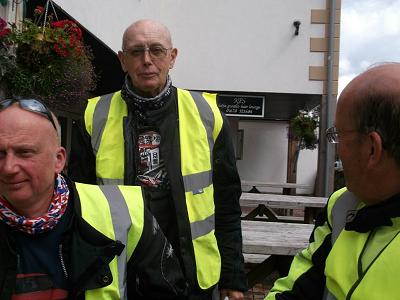 We set off again heading for Llangollen but turning off before then at Cowen on the scenic route as advised by Clive who had been with the Wirral Wobblers on the Welsh Mountain marathon just the previous weekend. We passed Llangollen and carried on to the Pontcysyllte Aqueduct where we all met up and the leggings came off for the last time. It's amazing to think it is over 250 years old!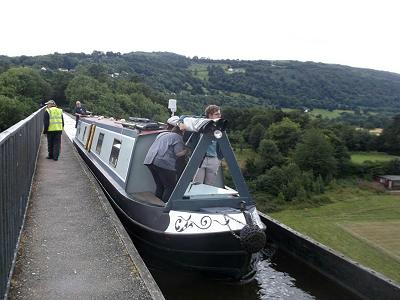 Did I mention thanks to Dave, who again lead us (through uncharted territory) back to Shrewsbury?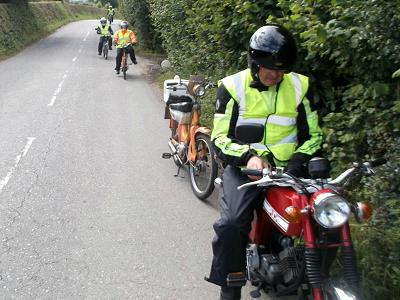 We returned to the Two Henrys for another nice meal, Thanks Phil.
Day 5 Pictures at: https://www.flickr.com/photos/40103650@N04/albums/72157669091506533
Day 6: Shrewsbury to Colsterworth, 121 Miles.
Breakfast in the Two Henrys again and then it was time to say bye to Dave who was leaving the group and making his own way home to Brighton via a stop in Newbury: 234 Miles.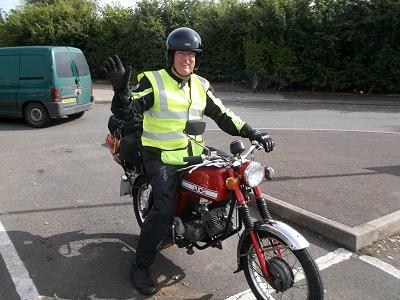 It was good of Mike to take on the job of route master for the day, he had planned the route using a cycle app on his I-phone, which was mounted on the handlebars complete with additional power pack and a map just in case (the technology to attach the map to 50 year old tank didn't work).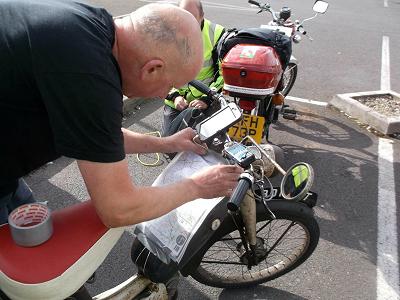 Not long into the run it sent us down a private road, at the first coffee stop there was nobody serving so we carried on and stopped at an adventure centre in Cannock Chase and then on to Rugeley where we had a quick photo at a pub where we stopped two years ago. We had an off main road cycle section then through the busy Burton Upon Trent and Jim's exhaust was parting company with the cylinder head so we stopped on a hill section through a housing estate and fixed that. That was followed by a country hill section the likes of which we hadn't seen in Wales.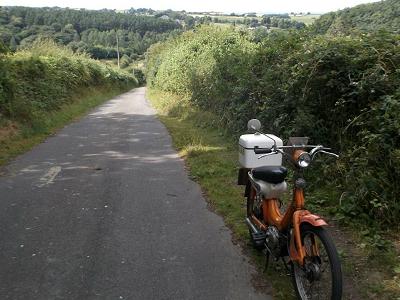 Just before the Leicester border we met up with the very patient Clive & Anne but Luke, thinking we possibly had a problem, was out looking for us; a welcome stop where we chatted to the farmer and waited while he brought the cows home to milk. Another off road section and it was Jim's turn to have an off with a soft landing into some thistles! Thankfully only a grazed leg and a broken mirror.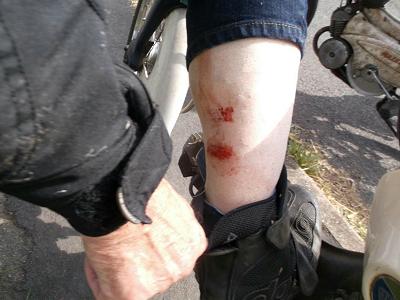 Then my bike pulled up with no throttle, a small screw had come out within the twist grip; we still had the screw and thankfully Mike sorted it for me, it happened again this time we wrapped it with insulation tape and made it back to Colsterworth Travelodge to 'chill' and a walk back to the local for another lovely meal.
Day 6 Pictures at: https://www.flickr.com/photos/40103650@N04/albums/72157672022730146
Day 7: Colsterworth to Nelson Head, Approx 124.
Another transport café breakfast and we were set up for the day but not for Luke who was still suffering. I was thinking of a way that we could stand him down early, saving him having to go over to the Far East. Phone calls were made and he could head home from the Dereham area. As normal Clive & Anne were there for the bags and we headed for Bourne, a much better run this time without the lorries and rain. At Bourne I contacted Jim S and we had a plan! Luke would be able to go home from there. We backtracked across the Lincolnshire flatlands and headed for Jim's where Luke's van was unloaded (ironically none of the spare bikes had been used).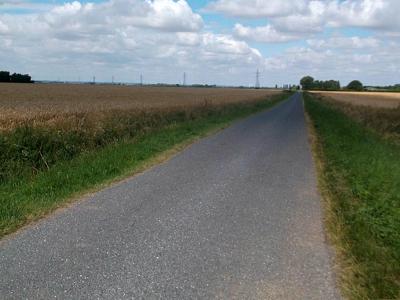 Two bikes went on Clive's trailer, one inside the camper, and my Easy Rider was left with Jim. After tea and biscuits we bid Luke farewell and a safe journey home. Back to the busy Kings Lynn (not as busy as on the A47) we visited the Quay and old town area.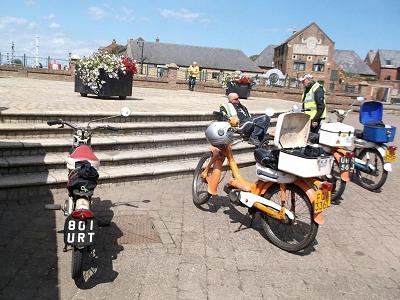 Out of town on a northern route then a bit on the busy A149 then the quiet rural road all the way to Litcham for a short break. We then headed to Swanton Morley and a welcome break to visit Keith '7 Sheds'.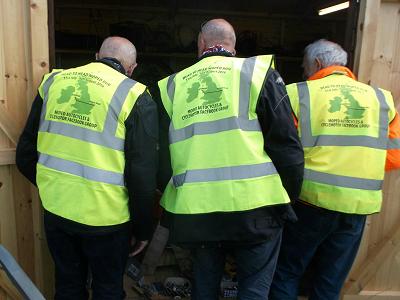 Thanks for the teas Pat, then on to Bawdeswell to the meet up with the super patiently waiting, ever present and very helpfully Fletchers for a fuel top up. Next meeting point with them was to be Martham. A quick stop on the coast for ice creams and the next stop was the Nelson Head.
We made it! 782 miles in total.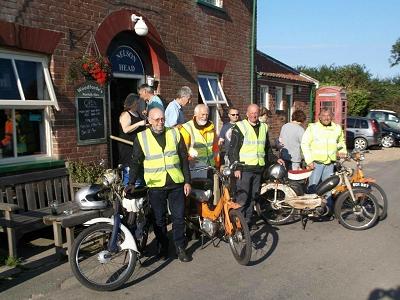 No drink! (I will make up for that later) as Clive & Anne would be waiting for us at Martham and Jim, Phil and Mike would all be driving back to Suffolk. Happy Days.
Day 7 Pictures are at: https://www.flickr.com/photos/40103650@N04/albums/72157669079439284
Conclusion
My fifth big ride now and possibly the best! Thanks to my fellow riders who all committed early and Jim and Keith for making us welcome as we passed their homesteads. Thanks to John and Cherry Truluck for bringing Jill Spencer along for an enjoyable evening meal. Thanks to Luke who did back up for us but unfortunately had an off and was in a lot of pain for a couple of days. Biggest thanks must go out to Clive and Anne Fletcher who were with us for the whole event; the plan was for them to go on ahead and do a bit of riding each day but due to the weather they just joined us for one day and then having to recover Luke's damaged bike they then became our main support and I doubt if anybody else would of provided the service they afforded us with never a moan of any kind.
I was thinking of calling it a day at one stage but … Well, Well, Well … there could just be another run!