DON'T MISS THE NEW AGENDA OF PAWS AND EUROPAWS ACTIVITIES ON SCIENCE AND TECHNOLOGY IN TV DRAMA AND OTHER GENRES OF TV AND AUDIO-VISUAL OUTPUT

Welcome to the PAWS/OMNI Communications website with links to all PAWS and EuroPAWS activities and initiatives.

The PAWS Drama Fund offers scientific and engineering contacts, events and funding for writers and producers within the UK. It runs a major Awards day in London each autumn to recognise the best in science based drama and other TV and AV genres. In 2007, the Awards evening is on Tuesday 4 December at the Institution of Engineering and Technology (IET) in central London, featuring a state of the art discussion on Technology and Society with a keynote address from John Simpson, BBC World Affairs Editor. This is preceded in the afternoon by a seminar on interactive TV.

EuroPAWS, the European arm of PAWS, works with organisations across Europe to offer a number of similar activities. These include an annual festival for the best Television bearing on science and technology in Europe, financial support and a science and engineering contacts service for writers and producers Europe-wide, as well as events featuring science and technology across all broadcasting and Audio-visual output. There are events this autumn in Berlin, Paris and Strasbourg.

PAWS Support for Writers and Producers 2007/8

PAWS provides writers and producers, with TV drama scripts, research and development support, through its science and technology contacts and information service, linked to finnacial support of up to £5,000 for selected TV drama ideas. PAWS is currently working with several major collaborators on a long term Women in Science and Engineering Project. Further information is available via the Grants tab (top of page).
Science, Arts and the Public - Bridging the Cultures
We are increasingly aware of the importance of science, engineering and technology in all our lives. Every day news bulletins carry items in which science features prominently. The general public is anxious to know more about the impact on daily life of new scientific developments. The result is that many more opportunities are opening up for TV drama involving scientific issues, including new format variations using drama as a major ingredient.
PAWS categorises TV drama either as factually based science or technology stories (pure drama or docu-drama) or fiction, drawing on real science or technology. In addition to historical stories, there are contemporary scenarios where issues in modern science can have great bearing on current political and social questions. There is also the interesting genre of "future real" where predictions based on trends in current science or engineering can offer intriguing insights into the near or medium term future. Many apparently difficult subjects can be brought to vibrant life through the medium of drama.

Awards Results December 2007

The winners of MIDAS Prizes 2007, announced at the PAWS/EuroPAWS Awards Evening on 4 December, were:
Best European TV Drama featuring Science and Technology

ANIMALS
A docu-drama produced by BLAST Films for Channel 4, UK.
Best Science and Technology Presentation in General TV Programming in Europe

Chronique d´en Haut
Le Magazine de la Montagne
Produced by France 3 Rhone'Alpes/Auvergne and Mecanos for FR3
Episode: Une Montagne d´Energie (A Mountain of Energy)
Best Presentation of Science and Technology in a European New Media Production

Tomorrow's Climate Today's Challenge
A general Awareness DVD produced by the Department for Environment, Food and Rural Affairs, UK.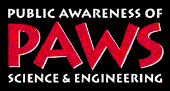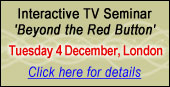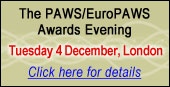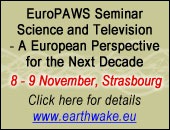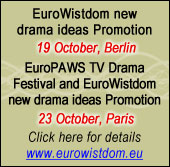 Contact Us:



PAWS and Omni Communications
First Floor
155 Regent's Park Road
London NW1 8BB
Tel: 020 7483 4545
e-mail: pawsomni@btconnect.com
Website developed
and maintained by
Big Time Pictures