WARWICK BRIDGE GUN EMPLACEMENT.
Although defence of this vulnerable crossing-point over the river Eden is described on record as a machine-gun emplacement with an anti-tank trap (June 1941), it looks to have been built for something more substantial than a machine-gun - even a Browning gun. I am of the opinion that it would have housed a 2-Pounder anti-tank gun, a weapon developed in the mid-1930's and used throughout WWII, but retired from service by 1945. Some 2-Pounders were issued to the Home-Guard early in the war.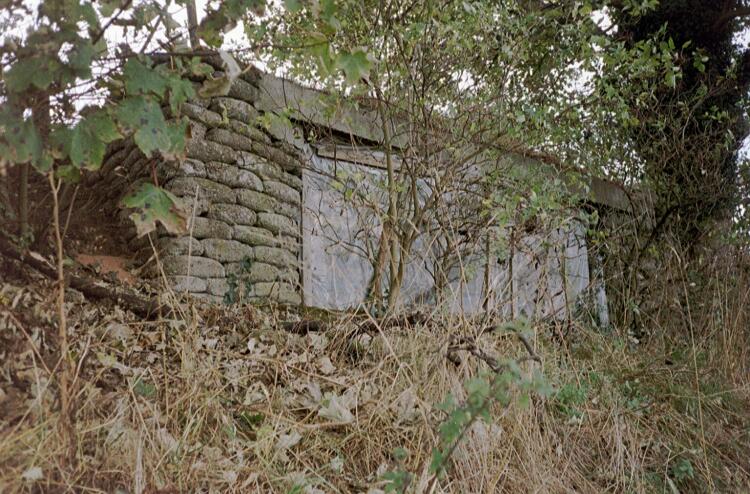 Set high up an extremely steep embankment overlooking the river Eden, and about 450 metres from the bridge, this concrete-filled sandbag gun-bunker is largely buried beneath the earth. The foliage is thicker now with the passage of time, obscuring what would have been a camouflaged but perfectly visible view of an invading army massing on the Eden flood-plain below. I made a rough sketch - which depicts my interpretation of how it fits in with the embankment. It is similar to the gun-pit at Lazonby, which also guards a bridge over the Eden - part of Western Command Stop-Line No: 18.
ABOVE:
The view from outside. Typically of 'Cumberland' manufacture, using concrete-filled sandbags as a quick, ready and substantial building material. The front opening is as wide as the emplacement's internal width, and there are no loopholes.
BELOW:
Looking inside. The concrete slab roof has been shuttered with corrugated iron sheeting, as is evident from the pictures. A rear entrance - narrower than the wide front opening - is currently boarded up and back-filled with earth, as seen on the middle picture above. It would probably have been a sloped road in. There was enough room to gain access for photography between the roof-slab and the earth.
---
Home | Contents | Workington | Links | E-Mail
---