CHAPEL BANK FOUNDRY AND INDUCTION FURNACE PLANT.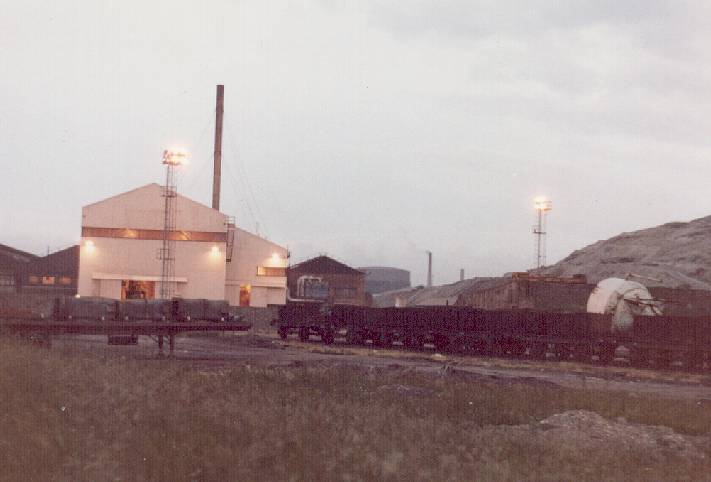 The induction-furnace plant at Chapel Bank. Constructed in the late '70's to replace the cupolas (which had been banned by H.M. Factories Inspectorate in 1976), and finished in 1980, it was due to be officially opened by HRH Queen Elizabeth II. It never happened.... The plant was shut down and dismantled before becoming fully operational, due to re-structuring and a shift in policy by the British Steel Corporation.
The bay on the extreme right was "Bay 1", the Pattern- shop and Foundry Maintenance bay, including the Electrician's shop. In the foreground is a trailer load of cast-Iron Ingot-moulds, a regular job for the foundry. They were used to mould steel Ingots at other B.S.C plants. To the RHS of the picture is the slag-bank, now landscaped.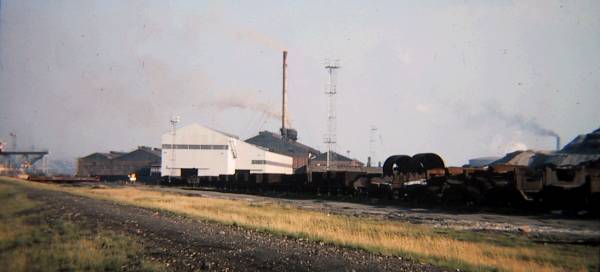 The image left shows clearly the sulphrous red cupola discharge, familiar to generations of Chapel-Bank workers as the powdery-red dust which settled on cars parked in the company car-park! A general waft of heavy industry can be seen floating towards the populace from cupolas, sinter-plant, blast-furnaces and coke-ovens....
The plan was to bring molten Iron down from the blast-furnaces at Moss Bay in Kling ladles, pour it into the induction furnaces, and re-heat it. New rail tracks were laid between Moss Bay and Chapel Bank for this purpose, and some hot-metal transferral took place prior to de-commissioning..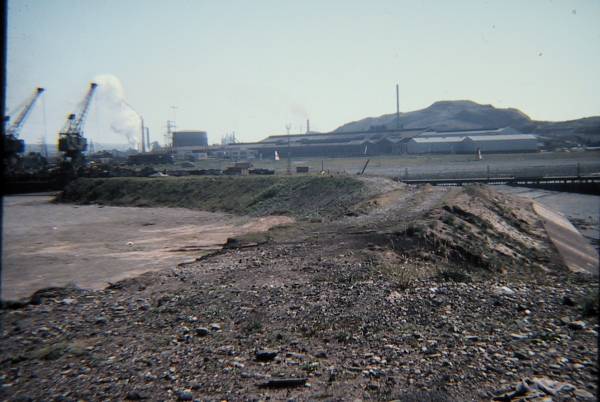 Above:
Chapel Bank - and industrial Workington in general - from the site of the old WWII coast-battery. The coke-ovens have just damped a charge; Blast-furnaces are visible, as is the gasometer on the "Combine", and the sinter plant chimney is releasing a nice, reddy-coloured plume of smoke. The barren area to the left of the photograph is now occupied by dockside buildings, and was originally the site for the coast-battery power-plant and oil-tank. Note the voluminous shape of the slag-bank, distorted in this fashion by mass removal of slag for - among other projects - the road-bed of the then-new A66.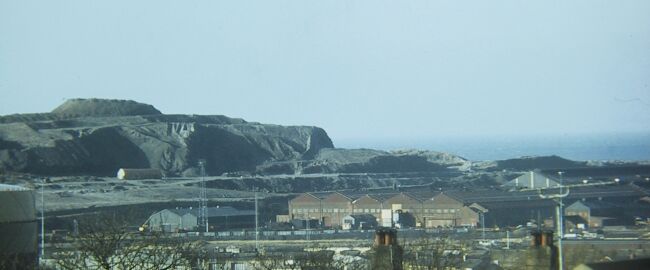 The foundry end of Chapel Bank was demolished in 1982. The other end remains, and is an engineering and fabrication plant (above photograph). More pictures of Chapel Bank can be seen by clicking here to look at some Chapel Bank people, or here to see inside the foundry.

---
Home | Contents | Defence Architecture | Links | E-Mail
---