WORKINGTON MAIN GOODS YARD.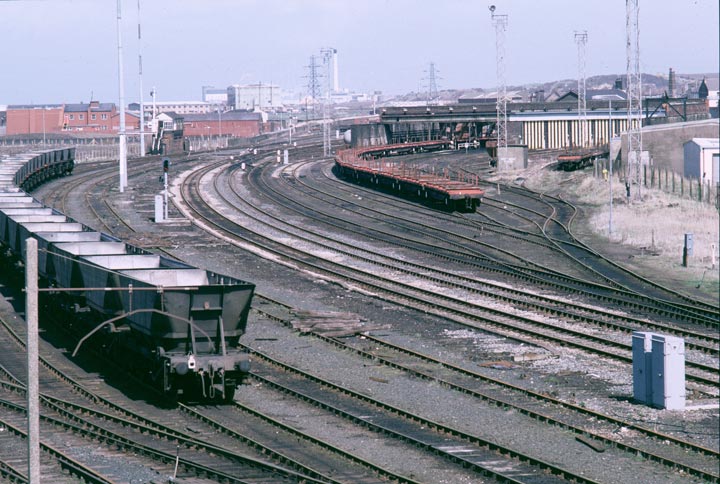 A string of hopper-waggons awaits collection south of Workington Main No: 2 box, on the opposite side of the through-roads to a group of empty rail flat-beds. Note the loading gauge, left-foreground. The goods-yard is pretty run-down at this time, and the road next-but-one to the hopper-waggons seems to be piled high with sleepers, blocking it!
The bright yellow-and-black engine-shed doors still gleam, and Joseph Pirt's ancient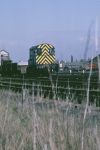 telescope-like chimney is visible in front of the cutting which carries the old Cleator and Workington northern extension to RNAD, Broughton Moor.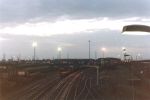 The 'Marsh' has been cleared, and the new commercialism of Workington's west-side has yet to be built.
No wind-turbines grace the skyline, and the 'Iggesund' plant and the 'Pentagon' chemical works form the backdrop to this ever-changing and diminishing industrial scene. Twenty years on and the engine-shed is being dismantled brick-by-brick to be rebuilt near Leicester by a group of rail enthusiasts. A busy by-pass cuts a swathe through the redundant railway land being bathed here in the warm mid-day sunlight.
RIGHT: A shunting-engine toils away in front of Workington Main No: 2 signal-box, as seen from the 'Black Path', which ran from Harrington Shore to Havelock Road.
---
Home | Contents | Defence Architecture | Links | E-Mail
---