Tour of Somerset by folk ensemble VLCNOVJAN, signing of twinning charter in Sydenham manor Bridgwater.


Tour of Czechoslovakia by Bridgwater folk-rock group THE SKA CATS.


Civic visit to Uherske Hradiste by Sedgemoor dignatories.
3 Annual football tours by Sedgemoor Unison to Prague, Uherske Hradiste,Bratislava & High Tatras


Czech business delegation to Sedgemoor Euro-Trade fayre & Carnival.


Formal annual exchange between Richard Huish school Taunton and Czech English High school,Ceske Budejovice established.


Visits to the former Czechoslovakia by KING ALFREDS BURNHAM, BRIDGWATER COLLEGE, FROME COLLEGE, SOMERSET COLLEGE OF ART AND TECHNOLOGY,KINGS OF WESSEX, CHILTON TRINITY, YEOVIL COLLEGE


The CZECHOMANIA project-whereby Czech and Somerset students created a musical based on changes in the Czech Republic here in Somerset and then toured it around both countries.


Tour of Somerset by Moravian folk group KUNOVJAN -includes performance at Towersey festival.


Tour of Czech Republic by Somerset rock-ceilidh band CHANGING FACES, the King Alfreds Youth orchestra and Wells Blues school band.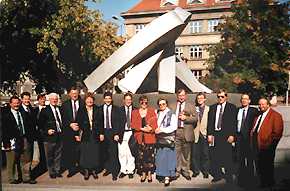 A business delegation to the Czech Republic filmed and televised by West Country TV.


Trip by members of the Iris Society to Prague linking up with Botanical gardens in Pruhonice and Brno.


Visits to Sedgemoor by Czech schools, from Prague, Ceske Budejovice, Uherske Hradiste, Olomouc, and Volyne.


Exchange trip between Bridgwater Young Farmers and Uherske Hradiste Agricultural college students.
Exhibition in Bridgwater Arts Centre by Czech artists from Uherske Hradiste.


2 x Study visits to Prague (also Poprad) by 140 Educationalists from Somerset, Devon and Cornwall


Visit to High Tatra mountains Slovakia by Young Somerset organisation.


Visit to Bridgwater by the Uherske Hradiste Childrens Choir to celebrate the 50th anniversary of VE day.


Tour of Czech Republic by Frome College drama department production of 'All You Need Is Love' based on Beatles songs.


Tour of Sedgemoor by South Bohemian bagpipe band 'Mala Dudacka Muzika'.


Tours to Prague, Uherske Hradiste,Ceske Budjeovice, High Tatras, Bratislava,Sumava,Krkonose,Olomouc by various UK groups.


Students from Alkana Dance company in Bratislava,annual tour of Sedgemoor now in reciprocal exchange with Chilton Trinity School, Bridgwater,


Tour of Sedgemoor by Duncan Dance Centre Prague.


Tour of Czech republic by Frome College Production of 'Marina Blue'-a sixties musical.


Tour of Czech Republic by Bridgwater rock bands HARSH & RELIC *Tour of Czech & Slovak Republics by Sedgemoor rock bands THE VISITORS,BIKESHED, 2 PENNY TRASH, ROB PERDRIX. also STUPIDICUS, JUDGE JOE YODA,


4 Round Britain Trips involving 70 people from Prague and Uherske Hradiste


Tour of Czech republic by Bridgwater College Photography students


Exchange between Bridgwater College and SPSST school Prague-includes early morning Czech TV interview.


Formal exchange set up between Emy Destinova School, Namesti Svobody school, Prague 6 and Kings of Wessex school ,Cheddar.
Dance tours of Prague by Danzatak & Kazdance


10 Bridgwater people have chosen to live in the Czech/Slovak Republics -
Much of this has been home hosted and unpaid, demonstrating the people of Bridgwaters continued devotion to the cause of Internationalism that remains at the heart of our twinning.


Origins

, Programme, Round Britain Trips, Business opportunities, English courses, Application form, News, Contacts, Home,
Bridgwater

, Somerset, Prague, High Tatras, Uherske Hradiste, Ceske Budejovice, Bratislava, Links