Wolfenstein 3-D Page
(for Acorn/Archimedes users)
---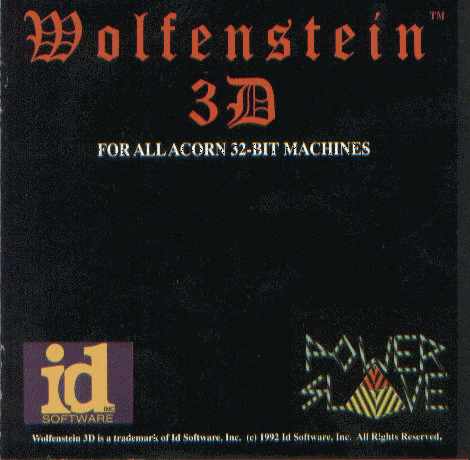 About WOLFbel
These new levels were primarily made because as a mainly Acorn/Archimedes user, I was concerned that there were so few levels available for these machines. Although some, such as WOLF316, played reasonably well - most did not. The famed e-nite was virtually unplayable, and WOLFen60 hardly fared better.
I believe that WOLFbel was the first 60 level set (apart from the original Wolfenstein 3-D) to play completely bug-free on Acorn machines.

The levels, on the whole, are more difficult than the original ones. PC users, in particular, will probably welcome that (they've had the game since 1992).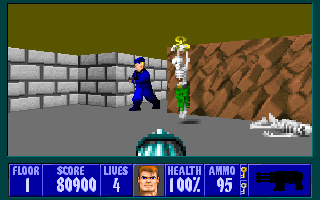 There are few mazes (WOLF316 has several, if you like them), and there's a chapel on every level. (Sorry, I'm into religion as well as being a Wolfenstein-3D fan).
I did not attempt to change any of the guards, objects or wall designs. I feel that one of the reasons why the game remains so compelling is the atmosphere it creates of the Nazi era. (Now that it's gone, that is - it obviously wasn't very nice at the time).
For Wolfbel files: Download here.
---
WLFbel2 - download it here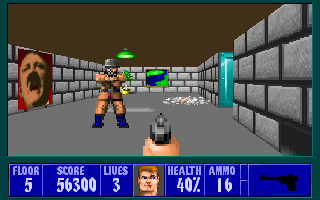 WLFbel2 contains 60 new levels. It's Acorn compatible, though Acorn users will also need the VSWAP.WL6 file available from WOLFbel.
Format is similar to the first WOLFbel. Difficulty level is difficult, and the objects, guards and walls remain the same.
Click here for WLFbel2
---
WLFbel3 - 57 levels now completed - download it here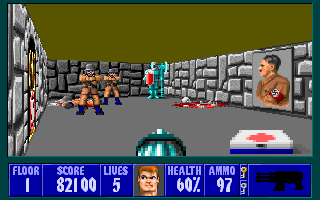 WLFbel3 contains 57 new levels. It's Acorn compatible, though Acorn users will also need the VSWAP.WL6 file available from WOLFbel.
My thanks go to Bill Hough who made the first 14 of these levels, and Thomas Hubert who made the 45th. Format is similar to the first WOLFbel. Difficulty level is difficult, and the objects, guards and walls remain the same.
Click here for WLFbel3
---
Escape From SS Prison - 10 new levels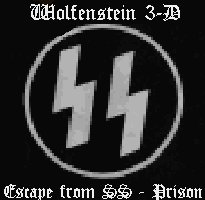 Special Acorn version which uses the original Vswap (included). All levels have been tested on Acorn and play OK.
Difficulty level is similar to my Wolfbel sets.
---
Other Acorn-compatible Levels
There are still many FTP sites where extra levels can be found. The cc.umanitoba.ca site alas, no longer has a Wolfenstein 3D section, but some others, along with a large number of web-sites, are listed in the links section on my main page.
However, you'll find most Acorn compatible level sets listed on this page.

Cheat modes
Some Acorn-compatible sets listed below do have odd levels where part or all of it is corrupted, which prevents access to the next level. Where this happens, the cheats will usually allow the player to get to the next one.
For those who have the version released by Risc User, the cheats will already be enabled. If you have an original Powerslave copy then you'll have to put a 'debug' code into the game first.
This is done by loading Wolf from the desktop, clicking menu over the icon on the icon bar (the one with a swastika over an old Archimedes sign) and selection Options/Choices. In the bottom right is a text bar. Type into this
(without the quotes) '-legalize_marijuana'
Then load the game in the usual way, and it's just a case of holding both Alt keys and pressing what you want (C for no clipping, etc.).
Thanks to Rob White for providing the 'debug code' info.
Here are the main cheats available:
Press the following (using the left-hand Alt key):
Alt-N Jump to the next level
Alt-X Full health, both keys, all weapons etc.
Alt-C Clipping on/off (walk through walls)
Alt-G God mode
Alt-H Reduce your health
Thanks to Eddie Edwards, and Risc User for this information.

Other 30/60 level sets
Astrostein Was to be a 30 level set, but only a 3 level demo is available in the PC format. The first 2 levels play OK (mostly). Acorn users' can get to the 3rd level from the 2nd level entrance elevator. Download it from here.
Behind The Lines Two level demo (level 1, and the secret level) by Thomas Hubert. Both levels play OK. A ten level set is planned. Available here.
Beltran A 60 level set. (I've been told the creator is 10 years old). Most, if not all, levels should work OK. Find it here.
Chokage This is a very good set, with 30 continuous levels. Only the first 10 play on Acorn. However, level 3 plays only partially, and level 4 not at all (use Alt-N). You can download the Acorn version from here.
Final Battle is a 10 level set which will be expanded at a later date to 60 levels. Those that I've played work OK on Acorn. Add the VSWAP file from WolfBEL to play. Made by Chris Gordon. For the download, click here.
From Schabb's Hand Four new levels (including the secret), which plays as Wolfenstein 3D episode two.Well designed and nicely decorated. The set could easily be called episode two - part two, and would certainly please those who prefer original graphics. By Pablo Dictter. All levels play OK on an Acorn. Requires the original VSWAP which is included on my first WolfBEL set. Available here.
Gorenstein All ten new levels now play OK. The new levels are on episode 3. Some modified graphics which are quite effective. At least one boss on most levels (Hitler is on the final one), but there's usually plenty of ammo/health around. Find it here.
Gravenstein This is a 4 level set which is totally Acorn compatible. It was made by Thomas Hubert, who was 9 years old at the time. Click here for further info and the download.
Gravenstein 2000 Thomas Hubert's second set. Twenty levels, and all should be Acorn compatible. Click here for further info and the download.
Gravenstein 3000 Thomas Hubert's third set. I made the last 10 levels. Unfortunately, there's a pushwall on the PC version which doesn't work on Acorn (Episode 6 Level 7), so I've had to issue an Acorn compatible version yet again. This version should be completely OK. Download it here. Screenshots available here.
new30 Available here, this is a 30 level set. It works fairly well on Acorn - so long as the VSWAP file supplied is replaced with the original one from my WolfBEL set.
Oceanstein Now has 3 new levels, and they all play OK. Two of them are on episode two. Available here.
Spicestein Only a few new levels, but some sounds and the boss actors have been changed. Find it on MH's Wolf3d add-ons.
W3d_cc1 A 60 level set which plays reasonably bug-free on Acorn and can be found at Easyspace.

Wolf_Run Available here, this is a 60 level set. Original graphics. The first level from each episode plays OK on Acorn (this is all I've tried thus far).


Wolf_Run contains a number of extra files. These are not required for play on Acorn machines. Simply drag the GAMEMAPS and MAPHEAD files to a new folder, rename them without the suffix, and add (to the same folder) the VSWAP file from WolfBEL.ZIP.
WOLF316, This 30 level set is available at Easyspace. There's at least one level which doesn't play well.
WOLFm2 A 60 level set. Modified graphics (similar to those in Lost-Ep). I've not played it all on Acorn, but all that I have played - around 20 levels - works OK. Available here.

10 level shareware sets
10levels Available here. I've played the first 3 levels which are bug-free on Acorn. The set is quite difficult, virtually mazeless, but has lots of ammunition and first-aid to compensate.
Barney No new maps, but the graphics are superb. Click here for the shareware 1.4 version.
Blakewlf Excellent graphics, actors and sounds, and now with 10 new levels made by me. For more info, and the download click here. This set was recently sent to me by A. Nonymous.



For those who already have the earlier version and just want to update the maps, please click here.
Bunker11 Available from Easyspace. This 10 level set has original graphics. It comes with its own VSWAP file, which is required to play it on Acorn. I've only tried out the first level on Acorn thus far, and this works OK.
Castle The original PC version was by Daniel Patterson. Some levels have been slightly modified, and all 10 are now totally Acorn compatible. This is a very good set. Click here to download it.

Hlloween Another very good shareware set with modified graphics. The eerie Halloween atmosphere is outstanding, but it manages to retain much of the atmosphere of the original game too.


The original PC version of Hlloween is not suitable for Acorn machines. However, I've edited the original maps - and the modified version now runs OK on Acorn machines. Click here for the Acorn version. Thanks to Mike for his permission to distribute this.
Lost-ep Click here for an Acorn friendly version. This set has quite stunning graphics, which is why I modified it for Acorn users.
MrWolf1 thru MrWolf8 These 8 sets from Quazi require the original VSWAP.WL1 from shareware v1.4 to play. I've only played a few levels thus far, but from the size of them - most if not all should play OK on Acorn. Find them on Quazi's Wolfenstein 3D Levels page.
The Nazi's Ride Again My favourite shareware set, and a specially edited compatible version is now available for Acorn users. Click here for more info and the download.
Neowolf Stylish graphics. This slightly re-edited version works OK on Acorn. Download it here.
Operation Body Count Graphics conversion by A. Nonymous from the playable demo game (for the PC) with the same name. No new maps thus far. Available here.
WlfKosh Coloured spheres replace the guards. (They still shoot at you). No new maps. Download it here.
XMASwolf Totally Acorn-compatible. The modified graphics are excellent. Available from Easyspace Shareware.


For shareware sets to play on Acorn, they must have the GAMEMAPS.WL1 and MAPHEAD.WL1 file format, and not (as in very early versions) - MAPTEMP.WL1 and MAPHEAD.WL1. The VSWAP.WL1 file (it's in the SpDemAc shareware set listed below) is also required, unless one is provided in the ZIP set.
There are many shareware sets available from Mike's Wolfenstein Page. Not all of them will work on Acorn machines, even if they they do have the correct file format.

---
Spear Of Destiny Levels
SpDemAc This 4 level set contains the 2 Spear of Destiny demo levels, a secret level and a Boss level. Although it will play on a PC (with the shareware version 1.4 of Wolfenstein 3D), it has been put together especially for Acorn users. It's available here.

There are fuller descriptions of all the above level sets in the downloads section on my main page.
Sundries
Wolf3D - Frequently Asked Questions. Lengthy Wolfenstein 3D information file. Answers by Adam Williamson.

Buy Wolfenstein 3-D (Acorn/Archimedes version)


Acorn/Archimedes users will need their original 60 level version to play all sets. The Acorn version is available from RISC user magazine. Ask for magazine disc October 1997 (Volume 10 Issue 10). The price for non-members is £10 inc. VAT and p&p. (p&p £2 overseas).
As well as the original 60 level game, this 3 disc games set includes a complete additional Xmas scenario for the game, the AswapUtils Wolfenstein 3D file editor, and the massive Wolfenstein 3D FAQ which documents absolutely everything there is to know about the game. Now fully StrongARM compatible.
RISC user magazine is published by Beebug Limited - 7U The Enterprise Centre, Long Spring, Porters Wood, St. Albans, Herts AL3 6EN England - Telephone 01727 840303
LINKS FOR ACORN USERS

Don't forget to sign my guestbook. It's on my main page.
If any Acorn/Archimedes users have any further info on Wolfenstein 3d add-ons, please email me.
Site Search