The R. J. Waterhouse Web Site
D M Ss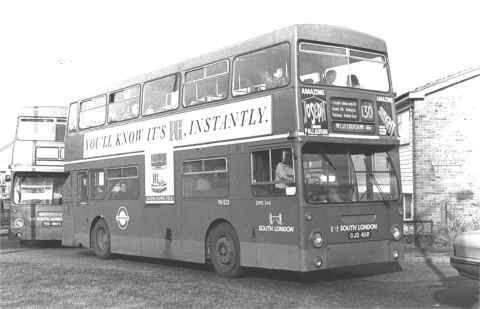 Typifying the class in its later years of operation, B20 DMS 2411 is seen on the 130 in Field Way, New Addington in March 1992.
'Seemed like a good idea at the time'. That could well be what London Transport bosses were thinking regarding LT's first major sortie into one-person operated double-deckers when it was announced that the 2,646 examples of the bus they called The Londoner, the DMS, DM and D-class Daimler Fleetlines, had proved to be not best suited to service in the Capital. Maybe 'should have bought Atlanteans' also occurred to LT.
After all, crewed XAs did all right on the likes of the 24, 67and 76 before condemnation to mediocre OPO duties in the suburbs (mainly Croydon) and eventual premature sale to China - well, let's put it this way, I haven't read otherwise in any enthusiast publication. But LT went for the Fleetline, London Country went for the Atlantean and the rest is history.
But was the DMS all bad? It might have been the original London 'box bus', but the design was recognisably London and not at all like the rather uglier bodywork to be seen on Fleetlines in Manchester, the West Midlands and just about everywhere else in Britain.
DMSs were being disposed of left, right and centre by London Buses Limited when they suddenly realised 'hey, if we're going to get rid of Routemasters, we'll need some buses to replace them' and the later 'quiet' version of the type - officially known as the B20 - gained a reprieve, as well as greater reliability and new Iveco engines, in the mid-to-late 80's. They were the dominant type at garages in the south and south west of London.
And the earlier 'standard' version of the type didn't disappear either. Many reappeared in other operators' liveries, notably those of London Buslines and Ensignbus, operating routes put out to tender by LT. The standard DMS also experienced a resurgence within LBL in 1987/88, several being restored to service to operate routes won by them on tender from Norbiton and Bexleyheath (the legendary 'Bexleybus' operation) garages. Some of the Bexley DMSs were even re-acquired from Clydeside Scottish having been sold a few years back!
Indeed, when the last DMSs were withdrawn from normal service at the end of 1992, one could still argue that they were being got rid of ahead of their time. First impressions last among some bus enthusiasts, though, and the dislike of the type that many cultivated went through to the end. I was probably the only contributor to Buses magazine remotely interested in reporting the end of the class in normal service.
Here are some memories of the latter years of the class that influenced the London buses of today - and, in my opinion, what superb memories they are.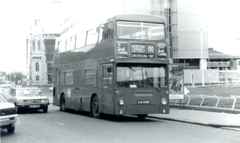 By the mid-80's, the only standard DMS in regular normal service was DMS 2205, which survived because it was fitted with an experimental Maxwell gearbox. Here it is operating from Croydon garage on the 190 on 7th February 1987, in London Road.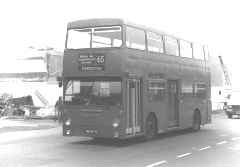 Later in 1987 standard ex-driver training DMSs made an appearance at Norbiton garage to operate routes 71, 85 and 213 alongside Metrobuses. The tenders for these routes had been won by London Buses, but the operation that was to become known later on as 'Kingston Bus' endured much controversy, principally over drivers' increased hours and pay cuts. After a while they were cleared to operate the 65, which they didn't originally because of doubtful clearance in Kingston Bus Station. DMS 1477 arrives in Kingston in October 1987.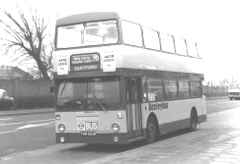 Even more standard DMSs entered service in the blue and cream livery of 'Bexleybus' in January 1988. Included amongst these were some buses re-acquired by London Buses from Clydeside Scottish, which had been converted to single door. DMS 1683 (Bexleybus no. 87) is at Woolwich on the first day of Bexleybus, 16th January. Go to the Leyland Nationals photo-feature to see a Bexleybus LS, and a couple of the Bexleybus midibuses can be viewed on the 'Midibus' page (links at the bottom).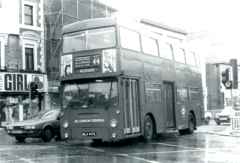 Some DMSs from both the Norbiton and Bexleyheath allocations ended up at Merton in early-to-mid 1990 to alleviate a shortage at that garage, a DMS stronghold within London General. DMS 1447 photographed at Tooting Broadway in February 1990 was one of the ex-Norbiton vehicles. It's working on the time-honoured Sunday mornings-only extension of route 44 to Aldgate for the Petticoat Lane market, which was withdrawn either later that year or in 1991.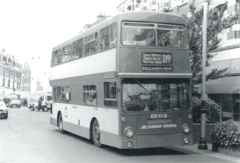 The ex-Bexleybus DMSs that were allocated to Merton (none of which were ex-Scottish) received front-only red repaints (with the then familiar white tape) in anticipation of their stay at Merton being short, as illustrated by DMS 2112 seen here near Clapham Junction. This bus appears to have been given a grey skirt all round, however. Photographed in May 1990.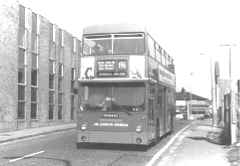 Another garage with a strong allocation of B20 DMSs was Stockwell, whose D 2644 is seen here passing Norwood Garage. Tendered route 196 was lost by Cityrama to London Buses (London General) from April 1990, but the new Volvo Citybuses that were to operate it hadn't arrived by the start of the contract, hence the temporary use of DMSs. This was only the second day of Stockwell's operation of the 196 and was the only Sunday on which DMSs were used.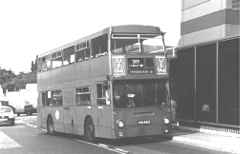 An unusual service here - tendered route 389 operated by Thornton Heath garage, a peak-hours-only deviation of route 289 which required only one bus. Until the allocation of a new single-deck Scania to Thornton Heath for evaluation (later superseded by an Optare Delta) this bus, D 2642, was the only one that could work the route by virtue of it being the only tachograph-fitted bus allocated to the garage. It's at West Croydon Bus Station on the first day of the route, 6th May 1988.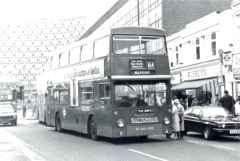 Another of the 'local operations' to use DMSs was 'Suttonbus' - basically everything from Sutton garage - which started in November 1988. This was the original Suttonbus livery, seen on D 2589 - the only bus to carry it (correct me if I'm wrong) at Morden on 3rd December that year. The name, 'phone number and relief band are in yellow and the skirt 'mushroom'. The relief band wasn't persevered with but everything else was. The livery lasted for as long as the DMSs did at the garage until replacement by Metrobuses in 1990 /91. Sutton garage was an intended location for a batch of new Olympians in 1986 but that never happened.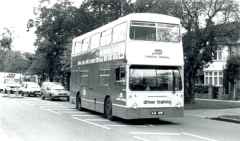 12 'lucky' DMSs in London General, once withdrawn from service, became driver-training buses, recoded DMT and painted in this red and yellow livery. DMT 2413 looks fresh and well here as its novice pilot takes it steadily along Coombe Lane, near Raynes Park, on 8th October 1992.
Sign My Guestbook
View My Guestbook <
GO TO:
E-mail R.J.Waterhouse| Routemasters 1 | Routemasters 2| Leyland Nationals | Night Buses
Bristol LHs | Midibuses | Buy Books and Videos | Back to 'Links' on the front page