The R. J. Waterhouse Web Site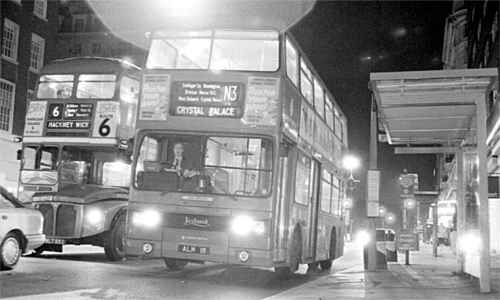 Half a second of time captured in Oxford Street late on Saturday 28th October 1989. Accompanied by RML 882 working probably the last 6 of the day, Leyland Titan T 1000 - with the registration from RM 2001 - works on the second night of new route N3.
Yours truly fell out of 'Hotshots' in Minories, between Aldgate and the Tower, at around 2.00am or something like that after a good night out in June 1996. I caught an N50 to Trafalgar Square, walked to the Cockspur Street stop for northbound/westbound buses and, after waiting for around 45 minutes, stepped onto a Titan - one of Camberwell's 'standby' allocation for use on any night route if required - on route N89 (now the N207) in place of the then-usual Metrobus, going all the way to my beloved Uxbridge.
Pleasureable though it was to ride on that Titan, I wish I could have clapped bleary eyes on such an event when I was the active bus photographer of a few years previously - a Titan? Going to UXBRIDGE? Just the sort of thing that would have had 'R. J. Waterhouse Photograph Subject' written all over it. Fair game indeed for my half-second exposure.
In order to take publishable night photographs, I decided that I should practice timed exposures. So in Autumn 1987, armed with 'the travelling tripod' and a flashgun as well as my trusty Single Lens Reflex, I went to Trafalgar Square and took a few. To say that I was pleased with the results is an understatement, and I settled on 0.5 seconds with the aperture at f4, using 400ASA film as I usually did, for night shots. Amazingly versatile, 400ASA film - as photographers know, it's probably the best film you can use for 'freezing' the movement of something travelling at speed, as it is for use at night or in poor daylight. What really makes it is, if you develop your own, using a 'fine-grain' film developer - your prints will look for all the world as if they were from a 125ASA film.
There are two logical places for the night bus photographer: Trafalgar Square and Victoria Bus Station. The former is usually very busy, and mildly congested, on Friday and Saturday nights (the changes which were implemented on the night of 29th April 2000, removing 14 routes from the Square to start at other Central London locations, no doubt make it marginally less so), and if I was photographing there nowadays I'd have to exercise a little patience and choose the right moment for the shot very carefully. Victoria isn't so crowded obviously, the only problem you'd get there probably being when your object bus is parked tight behind one in front.
And then there were the New Year's Eves. With Trafalgar Square closed, Aldwych was the place where it was all going off, with some strange sights, particularly in 1988/89 when Thornton Heath DMSs operated on route N98 out to Romford. In recent years only some of the action has happened at Aldwych, with the night buses at the turn of the year split up to depart from either Aldwych or Haymarket. How would you keep an eye on what was going on, whilst finding time to kiss any (female) strangers who approach you (not the other way round) and wish them Happy New Year?
I have great memories from New Year's Eves and all other night bus photography trips, and I'm pleased to be able to post some of them on the site for you to see. (No girls, just buses.)
One of the large contingent of 1986 Leyland Olympians based at Plumstead garage, L 98, once carried 'Autocheck' pass-reading equipment, as advertised by the front posters. This was an experiment aimed at speeding up boarding times in the Bexley and Woolwich areas, which lasted into the 'Bexleybus' era. No doubt the equipment proved unnecessary here, as it loads up outside Canada House for a run to Thamesmead on the N82 on 13th June 1987.
The DMS made its indelible impression on the night network before premature withdrawal in 1992/93. Left: The class took over from Metrobuses on routes N68/88 when Wandsworth garage closed in June 1987, and Sutton's DMS 2345 works an N88 journey to Banstead - the route was extended there at the same time - on 11th October '87. Middle: Thornton Heath's DMS 2425 works on the second night of new route N69 to Norwood Junction on the morning of 29th October 1989. Right: On New Year's Eve 1988 DMSs provided by far the strangest sight of that year - and 1989 too, seeing as the operation illustrated spanned the years. An allocation of Thornton Heath (in Surrey) DMSs accompanied Romford North Street (in Essex) Titans on route N98 via Mile End and Ilford to Romford! DMS 2307, having dodged the revellers, takes passengers in Aldwych for its long journey into strange country.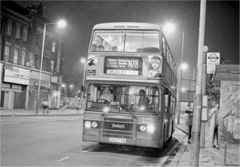 If any of you were wondering what Brixton looked like at around 03.30 in the morning in 1990, this is the answer. L 183 is the bus in the middle of it all on 20th October that year, following the replacement of DMSs on Thornton Heath's night routes N69 and N78 by Leyland Olympians.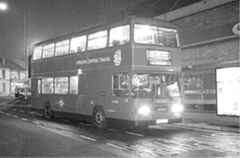 Further evidence of the 'stand-alone' nature of London Buses subsidiaries' new operations was London Central's introduction of the NX1 in October 1990, an express night service connecting Trafalgar Square with the Medway Towns in Kent. On the early morning of 20th October coach-seated L 261 of New Cross garage was caught at its Gillingham terminus, having just completed the first ever journey.
Pre-empting calls later on for a 24-hour service on the Underground, a night 'Northern Line' was launched in October 1989 from Trafalgar Square to Edgware (route N5) and High Barnet (N1). The latter is illustrated at Trafalgar Square here, M 1284 on duty on 29th October 1989.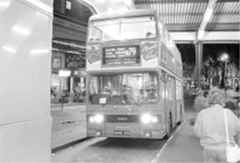 Victoria at night, with T 949 about to work an N79 journey to Hither Green on 29th October 1989.
Three less-usual types of bus that worked on the 'nighters' here. The three evaluatory Hestair-Dennis Dominators, once they'd finished their time at Stockwell, went to Brixton garage and saw regular use on night route N78, and it's on that route that H 1 loads up outside Canada House on 13th June 1987. Come 1992 a lot of the night routes were being shortened and split into two, like many day services, so it was against the grain that route N92 was extended from Trafalgar Square to Kingston that summer. Potters Bar had an allocation on this route, and that garage's Scanias, delivered in 1989 for tendered route 263, were used on the N92. The decidedly odd sight of a Potters Bar bus at Kingston's Fairfield Bus Station, in the shape of S 4, was recorded on film on the night of 25th July 1992. Lastly, in the early hours of New Year's Day 1993, an Olympian from Leaside Buses' Alexander-bodied batch allocated to Stamford Hill - L 342 - works on the N83 at Aldwych.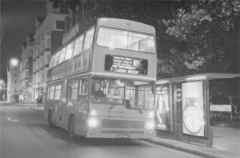 Amongst the day routes covered at night in the October '89 changes was the 19, with the permanent introduction of the N19, which appeared for a night on New Year's Eve '88/'89 originally. M 846 is at Sloane Square on the second night/morning of operation on 29th October.
The 'standby' buses, for use on any night route when required, were actually called upon quite often. The first garage to provide the standbys was Victoria, whose Metrobus M 1354 works on route N47 to Bromley South, normally operated by Titans, at Trafalgar Square on 28th October 1989. Camberwell garage later took over from Victoria and their T 929, fitted with what, at night, is a barely-legible dot-matrix blind display, prepares to work on route N90 to Hammond Street in place of a Ponders End (Enfield) Metrobus at Victoria on 25th July 1992.
More from the New Year's Eves. Left: With a paper-sticker covering the number 6 on the blind, Ash Grove's T 99 spends the night on the N11 here at Aldwych in '88-'89. Middle: Victoria's 'stand-by' buses comprised a sizeable allocation on the N68/N88 in '89-'90, one of them being M 863 pictured here taking plenty of passengers on the Strand side. Right: The N100 conveyed passengers from Aldwych to Victoria via Oxford Circus and Knightsbridge for the night in '92-'93, and here it is with Holloway garage's M 921 in Aldwych.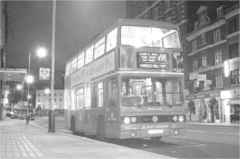 The reallocation of the first London Buses Titan, Hornchurch garage's most well-known bus, to Romford North Street upon the closure of its original home in September 1988 meant that it frequently ventured into Central London on night route N98, having worked no further west than Romford on the likes of the 165, 248 and 252 for the first ten years of its life. So, we end our pictorial of London's buses at night with the one and only T 1, resting between journeys at Victoria in December 1992.
Sign My Guestbook
View My Guestbook <
GO TO:
E-mail R.J.Waterhouse| Routemasters 1 | Routemasters 2 | D M Ss | Leyland Nationals |
Bristol LHs | Midibuses | Buy Books and Videos | Back to the front page