The R. J. Waterhouse Web Site
Leyland Nationals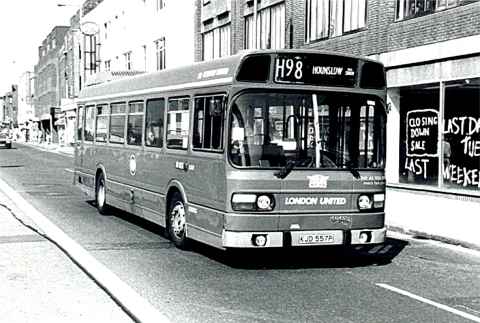 Probably the most famous batch of Leyland Nationals with LT /LBL were the 51 examples allocated to Hounslow in 1976, which were originally to be exported to Venezuela. These were originally intended as a short-term measure while the shortage of available AEC Swifts (the SMSs) persisted. In the event LSs were allocated to Hounslow for 23 years, twice the lifespan of the unreliable Swifts. LS 57, the last of that batch, makes its way along Hounslow High Street on 29th July 1991.
Reliable buses were very hard to come by since London Transport started ordering large quantities of driver-only vehicles in the late 60's and early 70's, with the Merlins, Swifts and DMSs all suffering regular failures and getting lots of bad press. Then the Leyland National came along.
Following the operation of the six prototypes on route S2 at Dalston alongside Metro-Scanias, 51 of the type were ordered and allocated to Hounslow as described in the caption above. LT were most taken with their greater reliability.
Originally designed for the National Bus Company, the LS was the first London bus class of the modern era to be ordered in bulk not to have any London influence in its design. Indeed, probably the only thing about them that was in any way 'London' was the DMS blue/green seat moquette used on the class.
But what they looked like didn't matter. The simple truth was that the National performed in London conditions: the other types didn't. 380 more Nationals were delivered to replace DMSs and SMSs fleetwide, and a further order of 69 Leyland National 2s replaced the last Merlins (MBAs) on the Red Arrow routes, bringing the type to Central London. London Transport had a total of 506 Nationals in stock.
The commencement of route tendering saw a surplus of Nationals occur in the mid-80's as London Buses lost some routes, most notably those operated by Loughton garage, whose allocation was 100% LSs. But, with routes being converted from crew to one-person operation, LSs were needed to replace OPO double-deckers on certain routes, Cricklewood and West Ham garages receiving more Nationals inparticular.
This era also saw LSs appearing in liveries other than the normal red, usually in connection with area route tendering schemes, such as Harrow Buses and Bexleybus. The expansion of Mobility Bus services for the disabled resulted in several Nationals being fitted with wheelchair lifts for use on these schemes, and as deregulation kicked in LSs were also used on commercially-registered competitive routes introduced by London Buses, such as the 310A.
Unfortunately, during the latter part of the 80's, the midibus boom happened. The LSs were affected adversely and the vast majority had been withdrawn by 1992. Apart from the National 2s, only the Hounslow and Westlink (Kingston) allocations survived much into the 90's, the refurbished ones at Hounslow surviving until July 1999.
Only the National Greenways on the Red Arrow routes, converted from the National 2s, serve as a reminder of the once large number of Leyland Nationals to be seen in London. Funny how most of today's Dennis Darts are, for all intents and purposes, 'big buses' - such as the ones now operating from Hounslow. . . .
Here are some of the many and varied routes and liveries of the LSs in the mid-to-late 80's.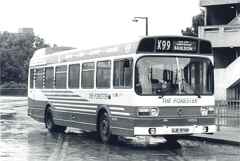 None more varied than the red, green and white livery carried for the short-lived route X99, "The Forester", which ran between Harlow and Basildon from August 1986 to February 1987. Six LSs allocated to Hornchurch garage, in addition to receiving the new paint scheme, were refurbished with coach seating and converted to single-door to operate the service. After a frenetic fares-free first day which saw packed buses, it was downhill all the way as the route carried little more than fresh air. LS 76 is seen on a typical summer's day at Harlow Bus Station on 28th August 1986.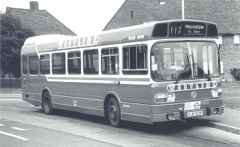 One of the best-known LS operations in later years was Stanwell Buses, trading as 'Westlink' which operated tendered routes 116, 117 and 203 from some industrial estate or other near Hounslow starting in August 1986. Westlink later expanded into Kingston. This was the second Westlink livery, seen on the 'Westlink Diplomat' - so the name above the cab door on LS 13 says - composed of red, white and turquoise. It's at Lower Feltham on 25th June 1987.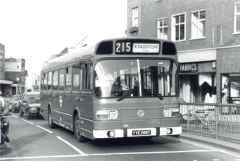 Mention of Kingston leads us onto our next shot. Although Kingston has always been associated with single deckers, Leyland Nationals wouldn't immediately spring to mind, more so BLs and, before them, RFs: however the 215, before it was renumbered K3 and transferred to Westlink, saw LSs for its last few years and the 216 (itself latterly a Westlink route) saw them into the 90's. LS 268, photographed in Kingston on the last day of the 215 in June 1987, had for some years been fitted with a dot-matrix route display which was removed in either '86 or '87.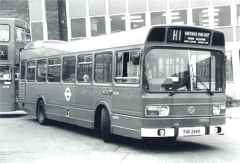 A shot taken before the introduction of what the local press, and some passengers, called 'Harrowing Buses' - there's nothing in any way harrowing about the Leyland National of course, at least in my opinion. LS 246 is seen on the last day of route H1, 13th November 1987, at South Harrow.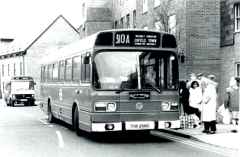 Route 310A was introduced by London Buses with deregulation in October 1986 to compete against London Country (North East)'s route 310 between Enfield and Hertford. Potters Bar garage's LS 258 is seen on the route at Hertford Bus Station on 11th December 1987, sporting a board just underneath the windscreen advertising a 15p (15p!!) Flat Fare between Hertford and Ware. You'd be hard pressed to find a bus journey that costs 50p nowadays. In the background (picture left) can be seen a LCNE Dodge midibus on a Hertford local service.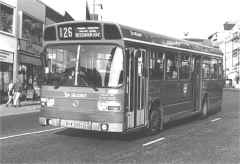 Two LSs were fitted with DAF engines in 1989, one at Westlink (LS 195) and this bus, Bromley garage's LS 393, seen approaching Bromley South Station in November 1989.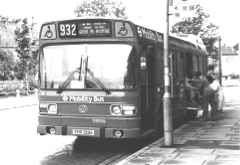 LSs used on Mobility Bus routes were fitted with wheelchair lifts in the centre doorway, seen in use here as the crew of Peckham's LS 139 assist a wheelchair-bound passenger alighting at the Riverdale Centre, Lewisham, in July 1987, shortly after the commencement of a network of Mobility routes in South-East London.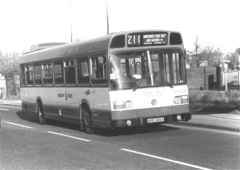 'Harrow Buses', to give it its proper title, commenced on 14th November 1987 from Harrow Weald garage and an outstation in North Wembley, with second-hand Volvo Ailsas, hired Manchester Daimler Fleetlines (until new MkII Metrobuses arrived), Metrorider midibuses and LSs in this red and cream livery. On the first day LS 325 operates what used to be the H1, renumbered 201 (clockwise) or 211 (anti-clockwise), as it passes Northwick Park Hospital.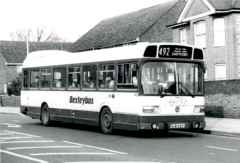 'Bexleybus' commenced in January 1988 with new Olympians, DMSs, Metroriders, Iveco Dailys reallocated from Orpington - and, of course, Leyland Nationals, all in their blue and cream livery. LS 21 carries a Bexleybus fleet number of 42 as it operates ex-Kentishbus route 492 near Sidcup on 30th January 1988. See a Bexley Fleetline on the DMS photo feature (link at the bottom).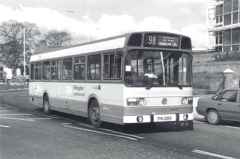 Yet another livery sported by the LS class was this red, yellow and grey get-up for the three vehicles which were appointed to take over from BLs at Uxbridge garage on the Hillingdon Local Service 128. After two new Leyland Lynxes arrived in 1989, the Hillingdon LSs frequently worked other routes. LS 236 is seen here on the 98, now better known as the H98 illustrated at the top of this page, in Vine Street, Uxbridge, on 26th April 1989, a month before the route was withdrawn between Uxbridge and Hayes End (now part of the U2).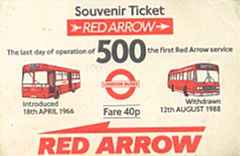 The 69 Leyland National 2s, delivered at the beginning of the 80's, replaced one-for-one the MBAs on the Red Arrow routes. The maximum requirement on the Arrows slightly dwindled as the 80's wore on, and some of them were upseated and used on conventional routes. Left to right (depending on the width of your browser as you are looking at them) - LS 502 is seen at Old Street on 28th March 1989: the very last journey on the original Red Arrow route, 500, has just been worked by the LS of that number, seen at Victoria on the evening of 12th August 1988: and on more mundane duties, LS 451 operating from Potters Bar garage is seen in Borehamwood on 28th January 1989.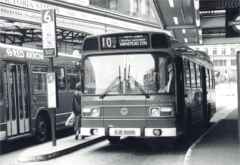 Withdrawn in January 1988, perhaps the better-known version of route 10 - between Victoria and Wanstead - was basically mixed LS and Titan operation at the end. One of West Ham's enhanced LS allocation, LS 100, is seen at Victoria on 24th February 1987.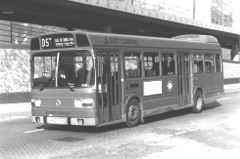 Our final National shot perhaps illustrates the faith kept in the type, albeit at the eleventh hour in the case of London Buses subsidiary East London. They had a number of Nationals refurbished with coach seating and repainted in red with gold relief in 1990, with the idea that they would operate then new route D1 from Westminster to the Isle Of Dogs. However the route was put out to tender and won by the long-defunct London Forest subsidiary, and these refurbished LSs were used indiscriminately on other routes. LS 35 passes the London Arena at speed here in October 1991.
Sign My Guestbook
View My Guestbook <
GO TO:
E-mail R.J.Waterhouse| Routemasters 1 | Routemasters 2| D M Ss | Night Buses
Bristol LHs | Midibuses | Buy Books and Videos | Back to 'Links' on the front page