The R. J. Waterhouse Web Site
Midibuses (or Minibuses)
This page is best viewed with an 800 x 600 pixels or greater viewing area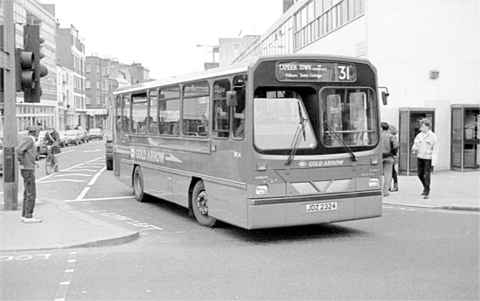 After just two years of midibus operation on busy routes 28 (Golders Green to Wandsworth) and 31 (Chelsea to Camden Town), two of London's best-known bus routes, the buses on what became the 'Gold Arrow' routes started getting bigger. One of a large batch - large by early 90's standards, that is - of Dennis Darts bodied by Wright Brothers of Ballymena, Northern Ireland, DW 24, turns out of Kensington Church Street into Notting Hill Gate on 2nd March 1991 on the 31.
The midibus, as in single deckers less than 30' long (or the size of a Bristol LHS), seems to have taken a back seat on starting the new Millennium. The vast majority of single-deckers delivered to the London companies in 1999 /2000 were for all intents and purposes big buses, and now vehicles such as the Optare Star Rider, Alexander-bodied Mercedes 811D and MCW Metrorider are either rare or just not there.
It started out innocently enough, with 16 FS-class Ford Transits operating four new GLC-supported routes in 1972. Two Dodge 50s (the A class) arrived in 1983 and went to Potters Bar, while three new FSs went to Finchley in 1985. Then in August 1986 the Orpington network was implemented, seeing the entry to service of 24 Iveco Daily minis with Robin Hood body conversions and five Optare City Pacers on Volkswagen chassis - the start of the 'boom'.
The Central London minibus routes C1 and C2, with more Optare City Pacers, happened next: then it was the Kingston scheme, which saw the introduction of the Metrorider, then Harrow, then Bexleyheath, Peckham, Uxbridge and so on.
Along the way came probably the most controversial midibus conversion of them all. 70 Mercedes vehicles entered service at the CentreWest subsidiary's Westbourne Park garage on routes 28 (from March 1989) and 31 (from April), replacing Routemasters at an increased frequency. The MAs, the 43-passenger vehicles that took the place of the 69-passenger RMs, found it tough going and bore many dents and scratches by the time they were replaced by Wright-bodied Dennis Darts (DWs) just over two years later. The DWs, which also ended up looking like they'd gone a few rounds with Mike Tyson, have given way to dual-door DM-class midis since. At least the MAs had their engines in the right place, i.e. at the front - did anyone give that a thought when they were introduced? Probably not . . .
The next generation of midis had their engines at the back, and it comprised the various permutations of the Dennis Dart, which made their presence in the Capital felt in a big way from 1990 onwards. Included amongst them were the Wright-bodied DWs mentioned above: these buses had a split windscreen arrangement which had many traditional bus enthusiasts drooling, labouring under the misapprehension that their windscreens made them look a bit like RFs. Not so, I'm afraid - look at an RF, then look at a pre-1992 Leyland Lynx, then look at a DW as delivered, and you'll see that the Lynx has more in common with the RF than the DW.
Over the last two to three years, the pre-Dart minibuses /midibuses have been largely phased out, as bus company bosses realised that, lovable vehicles though they are, they weren't much good at carrying passengers in London conditions. At least Uxbridge's MAs enjoyed close on ten years' service before replacement by long Dennis Darts.
Lots of 'hairies' hated them, but I never had a problem with minis and midis. Here's a selection for you to look at, with 24 pictures of no fewer than 18 different classes on this page.
Of course, you can hit the 'Back' button on the browser if you prefer . . .
Starting with two shots of the first minibus type to enter service in London, and no doubt that when the original 16 Ford Transits - like the 'white van-man' of the 70's drove - entered service in 1972, no-one imagined that it would be the first of many. One of the 1979 batch of FSs hung around at Finchley as late as 1989 to accompany the new batch of three acquired in 1985 on the Hampstead Garden Suburb route H2, by then the only route to be operated by the type. That one was FS 24, and you could have knocked me down with a feather when it turned up in service at Golders Green on 6th May 1989, just short of being ten years old. The three delivered in 1985 were 20-seaters converted by Carlyle Works of Birmingham, similar to the hundreds of Transits and Sherpas being converted for bus operators all over Britain at the time. FS 27, in original condition, is at Golders Green on 15th September 1987. The FSs ended their time when the H2 was lost to R & I Tours of Park Royal on tender during 1989.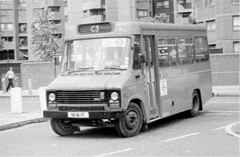 Two Dodge 50s replaced FSs at Potters Bar on the PB1 in 1982 and stayed on that route until it was tendered by Hertfordshire County Council and awarded to North Mymms Coaches from June 1986. A 1 subsequently turned up on route C3 between Earls Court and Chelsea Harbour, and here it is approaching the latter in Lots Road on 3rd August 1987. The letter 'A' was given to the class because the obvious choice of 'D' had already been assigned to some DMS-family buses.
Orpington was the place where it was all going off in 1986, the first London Regional Transport (as was) Area Scheme seeing London's first large-scale minibus operation, branded 'Roundabout'. 20 out of a batch of 24 Iveco Daily vehicles, the RH class, were painted in the maroon and grey Roundabout colours and started service on 16th August 1986.
RH 1, named 'Kestrel', is seen at Knockholt Pound on 19th. Two RHs received an all-over blue livery for 'Chelsea Harbour Hoppa' route C3, on which RH 22 (with a Sherpa behind on the same route) is seen at Chelsea Harbour on the first day, 13th April 1987. A dozen of the RHs were repainted in Bexleybus' blue and cream livery and were reallocated there from 16th January 1988, and RH 13 (locally numbered Bexleybus 67) is seen in Bexleyheath on 21st.
Quantities of the Optare City Pacer and MCW Metrorider were next to arrive. The Optares operated in Orpington, on two routes in Central London (C1 and C2, the 'Central Hoppas') and on the inter-station 'Carelink' service (the buses on the latter fitted with a wheelchair lift). Apart from those at Orpington, they were owned by London Regional Transport and leased to the operator, which in the case of the C2 was London Country (North West) at first. Their MBV 31, later OV 49 with London Buses, is seen at Camden Town on 13th April 1987: all were withdrawn by the end of 1992. The City Pacer was a purpose-built body on Volkswagen van chassis, whereas the Metrorider was the first totally purpose-built midibus of the time. From the first batch of 22 which went to work for Westlink in Kingston, MR 15 is seen in its home town on 29th June 1987. Metroriders, including many of the lengthened version (MRLs), were to be seen in many parts of London subsequently, among them Harrow, Bexleyheath, Orpington and Walthamstow.
New midi deliveries more or less concentrated on longer vehicles after 1988. The SR-class Mercedes 811D /Optare Star Riders were the same length as the RM at 27' 6", as were the long Metroriders, and over 100 of them were delivered to London Buses during 1988 /89. SR 31 from Walthamstow garage is seen at Waltham Abbey on Essex County Council route 213 on 22nd April 1989: the type was in the minority at Walthamstow, where Metroriders of both lengths were in residence. The biggest allocation of the type was at Catford, whose SR 75 is seen on the 181 in Lewisham on 29th July 1989 - this garage's midibuses carried the local shopping centre's 'pouncing cat' logo which can be seen above and to the left of the front wheel. Bexleyheath received an allocation for route B16, and SR 58 (carrying Bexleybus fleet number 112) is seen in Eltham High Street wearing the blue and cream colours, also on 29th July '89.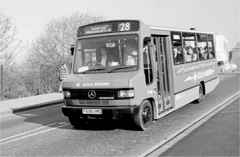 The most controversial midi conversion of all, as described in the intro to this page, was that of routes 28 and 31 from Routemaster operation to these things, Mercedes 811Ds bodied by Alexander. Of the 107 MAs received by the CentreWest subsidiary, 70 went to Westbourne Park garage for the purpose. They're standing all right on MA 96, seen on the 28 in Great Western Road on 15th April 1989, the date on which the 31 was converted - the 28 'went' on 4th March. The MAs also operated at Uxbridge, Alperton, Hanwell, Victoria Basement, Putney, Bromley and Plumstead garages.
Here are four less-common London midi-types. 90 Wright-bodied Renaults went to CentreWest for the 'E-Line' routes in Ealing, starting work in 1990. RW 19 and another were loaned to the East London subsidiary to cover a shortage at Bow in the Spring of that year, and here it is on Bow's route 276 in Mare Street, Hackney, on 31st March 1990. The reason for the shortage was probably failures of its own Renaults, bodied by Reeve Burgess. The RBs get a mention in the intro of my 'Routemasters 1' page - another chance there for you to get off this page if all these midis are boring you rigid - with regard to an occasion when a bolt fell off an RB, immobilising it. Hopefully RB 16 was still intact when finishing this S2 journey, seen in Urswick Road, also on 31st March '90. Wright, the Ballymena manufacturer, also bodied the MWs allocated to Selkent's Catford garage. 16 of these Mercedes 811Ds joined SRs there at the end of 1989, and a 1993 batch went to Potters Bar. MW 5 displays its electronic 'blinds' in Bromley High Street on 14th July 1990. Further illustrating the versatility of the 811D chassis, the five-strong MC class allocated to Orpington were bodied by Carlyle, bringing to five the number of different types of bodywork on the 811D with London Buses, the Reeve Burgess-bodied MTL class the fifth. MC 5 is in Orpington High Street on 1st September 1990.
'One-hundred-and-eighteee!' Actually the number of Dennis Darts ordered by London Buses ended up being rather more than that, and the total of Darts in London today - including 'big-bus' versions - is still growing in the year 2000. Here are the three standard types of 8.5 metre Dennis Darts that entered service all over London in the early 1990's: the Duple - later Carlyle - bodied version represented by Thornton Heath's DT 60 (a Carlyle bus) in Addington Road on Sunday 9th September 1990, working on then-DMS route 64; the Plaxton Pointer version in the shape of Stockwell's DR 47 in London General's 'Streetline' livery on its first day in service, 25th May 1991, photographed at West Hill, Wandsworth; and the RF - no, no, I mean the Wright (Ballymena)-bodied version, DW 49 of Wood Green garage taking time out from its usual 84A route to work a Summer Sunday service, 279B to Broxbourne Lido, at Waltham Cross on Bank Holiday Monday 30th August 1992.
These two shots are of buses that are around 30' in length, which ought not to be classed as 'midibuses', but as they are lengthened versions of midibus types they are included. By the time that 9-metre Darts arrived in London, some midibus routes had become known as 'Super Hoppas'. Now that they had reached the length of a BL, London's 'hoppas' were getting on for 'whoppa hoppa' proportions. Lengthened versions of the Wright and Plaxton Darts arrived in 1990 and 1991. The first batch of DWLs went to Westlink at Kingston for route 371, and DWL 11 - which carries the 'Super Hoppa' name - is seen in Broughton Avenue on 17th December 1990: a subsequent batch went to the East London subsidiary in 1993. The DRL type arrived at Peckham during Autumn 1991 where they took over from SRs, and also went to Chalk Farm and Wood Green garages, replacing route 84A's DWs at the latter. A Chalk Farm bus, DRL 32, crosses Marylebone Road here on the 274 to Marble Arch - midis in Central London were nothing new by this stage - on 7th October 1992.
Not forgetting the use of midibuses, or minibuses in the case of these two, on Mobility Bus routes, so to end our tribute to midibuses in London, we have a couple for you. A Reeve Burgess-bodied Mercedes 709D with wheelchair lift, MT 8 from Uxbridge garage, works its way to Hounslow on 2nd August 1991, photographed in West End Road, Ruislip: this was one of a batch of eight used on Southall Shuttle route E5, supported by the London Borough of Southall, from 1988 until replacement by MAs specially converted to carry wheelchairs, which released the MTs for Mobility routes. Many British operators bought the 709D, but the oddball contraption you see on the right was one of a less-popular type, this being the Land Rover-powered CVE Omni, which wouldn't have looked out of place in the popular cartoon series 'Wacky Races'. Of the four that operated for London Buses, three were used by Westlink on the Hounslow local H20 and the fourth - CV 4, the subject of the photo - spent some time alongside Optare City Pacers on the 'Carelink' service before working from Harrow Weald garage as a Mobility Bus, which is what it's doing at Kingsbury Station, on the Jubilee Line, on 6th August 1991. "Go to Platform 2, and a train to Canary Wharf should be along shortly."
Sign My Guestbook
View My Guestbook <
GO TO:
Back to the top | Routemasters 1 | Routemasters 2 | D M Ss | Night Buses
Leyland Nationals | Bristol LHs |Buy Books and Videos | Back to 'Links' on the front page