Altogether Adrian - 2
Here is the first of new 'Adrian' moments. This one comes from sunny (HOT!) Pompeii. To read more about our family trip to Italy go to:-

---
Salute from 'Up' Pompeii!
| | |
| --- | --- |
| In the theatre again. Wanna song?!!? | For those of you who are scratching your heads, there was a popular sit-com in Britain called 'Up Pompeii' starring the comedian Frankie Howerd, who played the slave Lurcio, set in Pompeii just before Vesuvius did its worst. At the end of every episode, he would do the rudeversion of the two fingered gesture, whilst saying "Salute!". Adrian does it the polite way (at least in public!) to mean peace, naturally! Remember the hippies (if you're old enough!). |
---
The notice on this says 'Viagra Naturale'. I rest my case!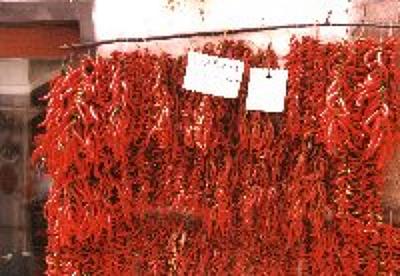 Hot stuff! As seen in Amalfi!
---
| | |
| --- | --- |
| | HERE'S A SCULPTURE THAT LOOKS LIKE SOMETHING TESSA MIGHT HAVE MADE. IT'S CALLED 'JOY OF LOVE'. |
---