Girls Centre of Excellence
---
Chesterfield Ladies F.C. Homepage
Centre news and views
Information
North Derbyshire Homepage
Coaching Staff
Squads

Womens Football Links
Match reports
Coaching Programme
Aims and objectives
Codes of conduct
---
last updated 20th September 2000
Broxtowe fixture
The Centre has fixtures arranged for the U14 and U16 squads in the coming weeks against Broxtowe coaching centre based in North Nottingham. The games are designed to provide their players with a challenging fixture following 8 weeks of hard coaching. We have recently taken 3 girls from the Broxtowe centre on trial. Their standard has proved to be excellent which is testimony to the hard work put in by their coaches in Nottingham. The girls concerned are Louise Naylor, Sophie Woolliscroft and Emma Taylor, they are also joined on trial by Jenny Bowmer from Matlock
FA Festival in Chesterfield
Following on from the sucess of the last Midlands festival at Holmebrook Valley Park in February, the FA have decided to use the venue again this October half term. The date of the competition is to be Friday 27th Oct and it is assumed that the day will run in a similar format to last February. Watch this space for details of Clubs that have entered.
Coaching Centre planned
The Centre is currently holding trials for girls between the ages of 8 and 12. The aim is to develop the U12 squad, and establish a Development Centre as a feeder for the squad. The Development squad is open to all girls over the age of 8 and has backing from the Football Association's Development Officer for the Midlands, Donna McIvor.
England U16 Training Camp
The Centre, yet again was well represented in the latest England U16 training camp. 31 players were selected from national trials to attend the week long camp at Warwick University and 4 of them were from Chesterfield. Quite a representation. The girls receiving call ups were Jo Potter and Sarah Smith, as well as 1st timers Beth Bailey and Claire Wallhead. Amanda Reeve was on the stand by list, whilst Amy Redfern and Lizzie Gomersall were with the U18 squad at the same camp.
End in sight
After all the problems at the Centre there was finally some good news in June. Chesterfield FC's new owner, Darren Brown reappointed Jane Ebbage as the Centre Director, and pledged his wholehearted support for the girls programme. Monday evening training subsequently resumed in July, and games are planned for August 2000.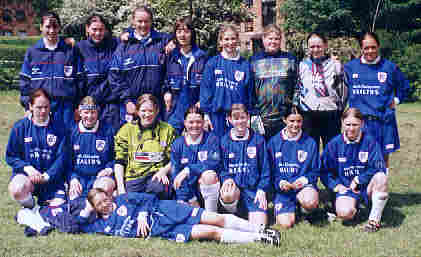 National Centres Festival at Warwick
Despite all the problems that we have had at Chesterfield this season we were able to make an appearance at the Centres Festival, and yet again showed just what a strong set of players that we have signed on for this programme. Results of course don't matter but all the teams more than held their own on the day. Particular mention must be made of the U16's who played 5 games overall, won them all and didn't concede a goal. This involved fixtures against teams like Arsenal, Fulham and Chelsea, therefore representing quite an achievement from a small town club such as ours. Surely Chesterfield Girls Centre of Excellence has to be maintained in the future.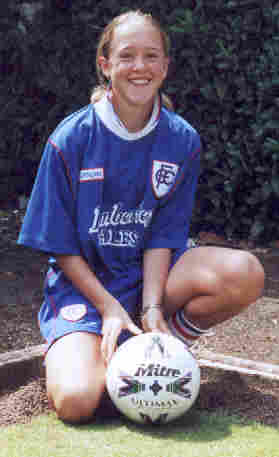 England U16 Easter Tournament
15 year old Jo Potter followed in Lizzie Gomersall's footsteps when she was selected for the England U16 Squad to play in a friendly 4 team tournament over Easter. She had a superb fortnight and played in all 3 matches. For the record England won the tournament in fine style beating Scotland 2-0, the USA 1-0 and Ireland 2-0. Lets hope that we see Jo's and others names appearing in future squad lists.
England call ups for Centre of Excellence players
Two members of our U16 squad received recognition this season when they received call ups to an England U16 squad training session in February. Jo Potter and Sarah Smith travelled south during the February half term to be with the 30 strong squad. They teamed up with former Centre players Amy Redfern and Lizzie Gomersall, who had also received invitations for the week.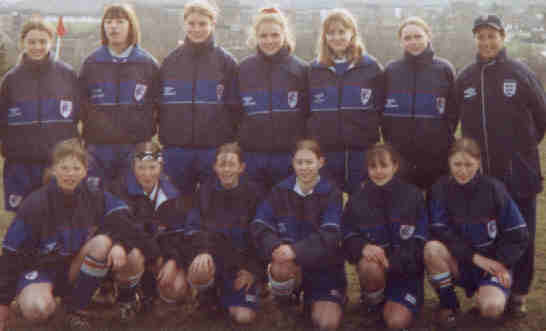 Centre's Festival for Chesterfield
Despite the turmoil regarding the future of the Centre, Chesterfield was chosen as the venuefor a one day Centres Festival last February. The FA organised the competition which Chesterfield entered along with 5 other Centres from the Midlands. England Manager, Hope Powell was in attendance and a superb day of football was had by all. The photograph rightshows Hope with our U16 squad.

County honours for Notts based players
A number of girls who attend our Centre were selected for the Nottinghamshire Schools Under 16 Representative side during 1999/2000. Congratulations, therefore to Jo Potter, Tara Madeley, Beth Bailey, Hannah Prescott, Sam Taylor, Hazel Wardle, Emily Fisk and Lyz Clerke who are all members of the Centre Under 16 squad. Central Defender, Lea Cobham and Angie Smith both members of our Under 14 squad also received call ups. The squad had an excellent run in the English Schools County Championships, reaching the semi final, where they were unlucky to lose out to Cheshire last April.
Matches against Yorkshire Electricity League Rep sides a great success
On Saturday 30th October all the Centre's teams were in action against the Yorkshire Electricity Ladies League Representative sides. It was an intriguing day with each age group acquitting themselves really well. For the new Under 12's manager, Stewart Rowley it proved to be quite an experience. After only two weeks at the Centre he was still struggling to fit names to faces and yet he managed to put out a team that not only played some of the days' most entertaining football, but also managed to beat their Yorkshire counterparts 3 - 2.
Meanwhile other results were, the Under 14's lost 2 - 4, and the Under 16's drew 2 - 2.
Click here for match report and photos from all the games