Contents




Introduction




Profile




Progress Report




Update 2000




Technology




Construction


Media Attention

Atlantic Challenge is the subject of three 30-minute broadcast documentary films produced by NGP Productions - a Merseyside-based company with international television experience.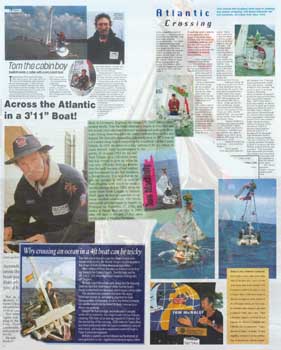 Given the phenomenal media interest in Tom's previous attempts, these films will be networked throughout Europe, North America, Australia and New Zealand on the completion of Tom's voyage.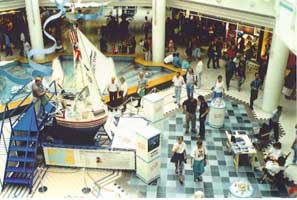 Vera Hugh I at an exhibition in Birmingham in 1994
After his last voyage Tom appeared on numerous television and chat shows in the USA and Britain, TV coverage was beamed throughout the world to Australia, Canada, Japan, Europe and coast to coast USA and major newspapers throughout the world covered Tom throughout and beyond the journey. Several International Magazines such as "Hello!" did substantial features on Tom and his accomplishments, further publicity was gained for his sponsors by his endorsement of their secondary merchandising.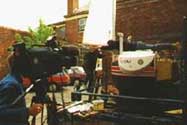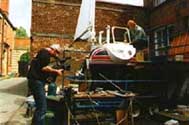 Granada TV News filming construction at Bridewell Studios 1997
This current project has already generated significant media interest, with items on: Granada TV; BBC; Channel One, UK; RAI - Italy; TVE and Sud Canal Spain; GBC Gibraltar. There have been feature articles in UK magazines: 'Loaded'; 'No Limits'; 'Yachting World'; 'Yachting Life'; 'Practical Boat Owner'; Sailing Magazine - USA and 'Motor Boat Monthly'. Newspaper articles have appeared in the Daily Mail; Mail on Sunday; Daily Telegraph; The Daily Express; Daily Star; The Times; The Mirror; Liverpool Daily Post and Echo; Gibraltar Chronicle; Insight and Sud in Spain and City Link in Florida.
The enormous advantage to sponsoring something like the Atlantic Challenge above all others is its' continual global exposure. His previous major sponsor admitted in a trade magazine to receiving in the region of £1 million worth of free advertising in the UK alone. We estimate the total world exposure could be valued at considerably more.
---