Progress Report
After some initial setbacks and delays in Gibraltar, and the long wait for suitable 'windows' of weather, the Vera Hugh II set sail from Cape Espartel, Tangier on the morning of 4th March 1998 on its first stage to the Canaria Islands. Despite the difficult weather conditions, the tiny craft maintained an average of two and one half knots for the voyage - far better than previously expected. Tom set a new record for small craft sailing in reaching Las Palmas, Gran Canaria on 24th March, a distance of 700 miles in just 20 days, achieved in extreme weather conditions.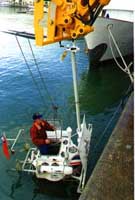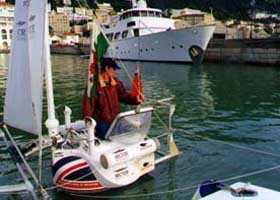 Vera Hugh II leaving Gibraltar

The voyage was not without incident. Two days from Tangier the tiny vessel became entangled in the nets of Moroccan fisherman off the coast of North Africa. Tom spent a whole night diving in and out of the freezing water using a hacksaw to cut through thick steel cables. He explained: "It was very hard work and I thought 'I could be a goner here'. I had no torch, no air supply and was only wearing thermals. The water was freezing and I had to keep bobbing under water to reach the nets. The nets were held together with quarter inch steel cables which took a lot of sawing through. There was a slight swell and I knew there was a storm on the way so I had to work fast. I started sawing at nine in the evening and didn't get free until eight in the morning. I was cold, wet through and totally exhausted."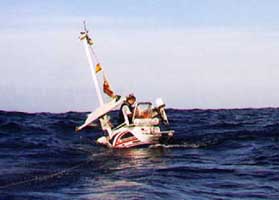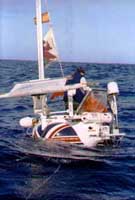 Vera Hugh II arriving in Gran Canaria 1998
After pumping out the flooded vessel Tom was confronted with a second threat - the Moroccan fisherman. Furious at losing a section of their nets they threatened him with knives, demanding payment for the damage. "I had no intention of paying them, so I battened down the hatch and got onto my base station via my Mobiq satellite phone. Thank God it was in a watertight compartment and was still working." A message was quickly relayed via Gibraltor to the British Embassy in Tangier and a Moroccan naval gunboat was dispatched almost immediately. "The gunboat must have been pretty close because she was with us in no time and gave me a safe passage out of the area. As a precaution I managed to film some of the action with my little Sony digital video camera.
"The rigging and stabiliser were damaged and it was tricky steering the rest of the way to Gran Canaria. It took me eighteen days and I had to pump water out all the time. A bottle of washing-up liquid burst and it was like being in a bubble bath for two weeks. The main batteries were ruined when the boat was swamped and all the electrical system failed except the Mobiq phone. This meant that I was able to keep in touch with the base station and they arranged for a support vessel to escort me into Las Palmas. It was only when we got into port that I realised how badly she was damaged."
Unfortunatley the damage was more extensive than first realised. All the batteries had to be replaced and the keel and stabilisers rebuilt. The navigation equipment had to be written off and will be replaced with a smaller system that utilises a Psion series 5 computer connected directly to the Mobiq phone, transmitting via the Inmarsat satellite. This uses far less battery power and takes considerably less room in a cockpit approximately the size of a domestic wheely bin.
Because the repairs took longer than anticipated, Tom has decided to postpone the second stage of the voyage until early January 2001 - the hurricane season starts in June and it would be "unprofessional and irresponsible of me to resume the voyage now", adds Tom. "To give myself every chance of success I need to wait for the best window in the global weather system and we've simply run out of time until early January. It's one thing having to cope with hurricanes when you have no choice but only an idiot goes looking for them."
For the latest information on Atlantic Challenge, photographic originals or live action Betacam SP video you can contact NGP Productions Ltd - telephone: UK 0151 647 5585 or e-mail: ngpdov@globalnet.co.uk.
---