Contents




Introduction




Profile




Progress Report




Update 2000




Media Coverage




Construction

A Technological Challenge
The voyage will be a test, not only for Tom McNally, but also for the equipment which will facilitate the project. Thanks to the co-operation and expertise of Thrane & Thrane, GEC Marconi, Telecom Partners, Icom, Atlantic Systems, ICL, Magellan, CAS UK Ltd and Psion, the Vera Hugh II has been installed with a customised satellite-linked communication system, which will relay still digital images to a land station in Merseyside. It will also track down his nautical position within thirty feet at any given time. Pictures from the Atlantic will be transmitted from a boat which is only three feet above sea level. The system was successfully demonstrated for the first time ever on the 18th December 1997 - almost one hundred years to the day of Marconi's first sea-to-land audio link-up transmission using Morse code. The image of Tom aboard Vera Hugh II with the Rock of Gibraltar in the background was transmitted by Immarsat to Goonhilly, Cornwall, then by land line to Marconi Marine in Chelsmford - another world's first in digital technology.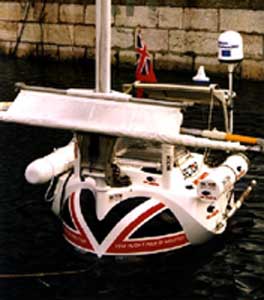 Vera Hugh II is equipped with Mini-M and SAT-C antennae
The communicating and on-board camera systems which are to be used for Atlantic Challenge have been specified by the ITC to be on Hi-8 format. This will add a further dimension to the media coverage since Digital still pictures can be beamed back, via sattelite, for regular news bulletins, newspaper articles and weather reports.
Due to the size of the boat, space is the most valuable commodity on board, so one of the biggest challenges has been to conserve space while making allowances for sophisticated equipment which is also durable enough to stand up to extremes of climatic and maritime conditions. The very large ocean going battery in the keel, which will power the equipment on board, has been ingeniously adapted to contribute to the balance of the boat. These batteries are powered by a combination of deck-mounted solar panels and wind generators. The cockpit will contain survival equipment, the Inmarsat transceiver, a video recording system plus the latest in laptop computer technology. The mast has been customised to house a digital video camera. The rudder system and furling gear, both constructed from carbon fibre, are two unique features about the boat.
The cost of the boat cannot be quantified, but as a guide if this vessel were to be solely constructed in a commercial boatyard it would cost between £80,000 and £100,000 sterling.
---