Contents




Introduction




Profile




Progress Report




Technology




Media Coverage




Construction
Update 2001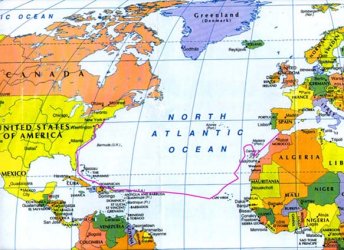 Proposed route from Gran Canaria to New York



Currently Vera Hugh II is stored near Las Palmas and is being prepared for teh second stage of the voyage in early January 2001. The next departure point will be Puerto Mogan, Gran Canaria. Given good prevailing winds Tom will arrive on the North American mainland in May.

The communications system will now also include a Mobiq satellite telephone connected to a Psion Series 5 computer so that emails can be transmitted back regularly to the base station in Birkenhead, Merseyside.

For the latest information on Atlantic Challenge, photographic originals or live action Betacam SP video you can contact NGP Productions Ltd - telephone: UK 0151 647 5585 or e-mail: ngpdov@globalnet.co.uk.
---