'CUMBERLAND' PATTERN PILL-BOX, NEWBY EAST.
This semi--demolished 'Cumberland' pattern pill-box stands elevated above the north-west bank of the river Irthing, just to the south of the village of Newby East. The 'Cumberland' pattern had either sitting or standing variations on two different types, and this example looks like it was built for standing - as opposed to the 'sitting' example at nearby Brampton.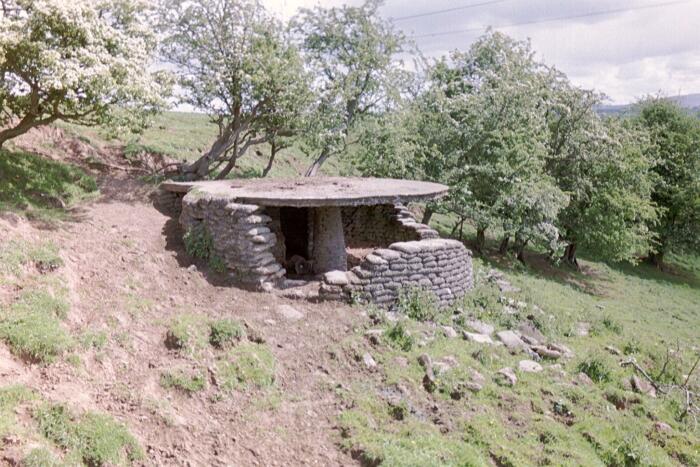 This pill-box - which guarded the narrow bridge over the river Irthing - was flanked by two trenches (now unrecognisable without prior knowledge) providing a formidable defence-line. Its location on the north-west side of the river suggests defence against an attack from the east, borne out by the location of the Brampton pill-box, and by defences on the western side of the river Eden (a natural north-south defence line, and part of Western Command Stop-Line No:18) at Kirkoswald and Langwathby, further south.
BELOW: Inside the pill-box. Despite its parlous state, it is still standing. Because of its parlous state, it is possible to gain an appreciation of just how it was constructed. Unfortunately, it is impossible to see which variant of 'Cumberland' pill-box it was, as the M/G loop-holes have been completely destroyed.
BELOW:
How the bridge looked from the Gunners' point-of-view. No doubt the close proximity of Carlisle aerodrome at Crosby-on-Eden would contribute to the reasons for a strong defence around the outlying area of Brampton (about three miles east of here).
---
Home | Contents | Workington | Links | E-Mail
---