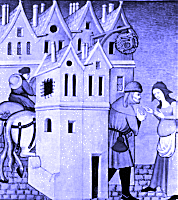 HomePage
Last updated: 02/06/98
---
Main documents on this site
Welcome to the Inns and Taverns of Hârn Page.
Due to demand to increase the scope of this project we are planning to include new pages, not just about the structures of the Inns, but who patronises them, what they drink, food, and informational articles on the workers and their techniques. An idea of the scope of the project is given below, but unfortunately many of the documents are still to be written. All the original "Inns of Hârn" material is still available.
We still hope to encourage everyone to submit their stuff for inclusion to this site, in any format and of any size. Guidelines for submissions, mainly concerned with inns, are available.
This is a "emailware" site - if you like what you see, or you intend to use it, please eMail us. It will encourage us, and others, to write more material :-)
This home page has now been divided in to two sections, Resource documents (Inns, Taverns, NPCs and Beverages) and informational articles. Cross-linking between documents and sections allow for the easy browsing of the site, until inspiration stikes!
Resources of the "Inns of Hârn" Project
| | |
| --- | --- |
| | Index of inns and taverns: This is a complete list of inns and taverns, both those published by Columbia Games Inc. and those submitted to this site. |
| | Index of NPCs: This list of NPCs includes all those listed in submitted inns, and those NPCs who are more generic in character. |
| | Index of Drinks: This list is in two sections; descriptions of fantasy beverages and recipies for home-brewing for the more adventurous. |
| | Menus: This page includes all the menu items that have been submitted, arranged by type (and location - a "Good Pub Guide" for the Hârnic Traveller). |
| | Links to others sites: A page of links to other sites of interest; a mix historical and FRPG sites on Inns and other related subjects. |
Articles of the "Inns of Hârn" Project
Brewing: A treatise on Harnic Brewing Practices by Arandir. Covers everything you need to know about beers and ales, who does it, how and where, what tools and ingredients are needs, and what the finished products are like. [Also available as a Acrobat (PDF) file]
Feasts: An article on the food of Hârn, concentrating on feast and inn fare.
Beverages: An overview of the other beverages of harn, including wines, ciders, mead, and liquors.
Inkeeper: An article on the Guild of Innkeepers.
Ostlers: A overview of the work of the Ostler, and the other trades associated with travelling on Hârn, such as the teamster, cartwright, saddlemaker and blacksmith.
---
All submitted materials herein remain the respective copyrighted works of the individual authors. The name "Harn" and all related names published by Columbia Games are registered or unregistered trademarks of Columbia Games, Inc. of Blaine, Washington, USA. No part of this site may be reproduced for profit without the express written consent of the author and Columbia Games Inc. (CGI), and Harn creator N. Robin Crossby. No intention to break existing copyright is intended by this site.
---
Copyright ©1997-98 Jonathan M.Davidson

and John Sgammato

, 05/05/98