What A Load Of Cobblers
An Alternative Look At Northampton Town FC

What A Load Of Cobblers is a fanzine dedicated to Northampton Town FC. WALOC (as it has become known) has been going since 1988 and is produced on six occasions a season. The editor of WALOC and of these pages is Rob Marshall.
On These Pages
(last updated on 12.11.98)

Why Not Sign My Guestbook While Visiting?

A Cobblers Chat Room

Much better than the last attempt
WEMBERLEEE Memories of that great day in May 1997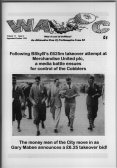 Snippets From The Fanzine updated 7.10.98

Teletext Chatter updated 7.10.98

The Pie Charts (ok I know it's a hot dog - didn't have any pie pictures!!)

The WALOC Fantasy League (updated 11.11.98)


Cobblers Strips


The Old Cobblers WALOC's unofficial history of N.T.F.C. (updated 30.11.97)

Something For The Stattos updated 12.11.98

Upcoming Awaydays updated 7.10.98
If there is anything else you would like to see on these pages, let me know, and I'll see what I can do.
Other Cobblers Pages On The Net (if you know of any more let me know and I'll add them to this list.)
The Official Cobblers Page
The Oz Cobbler (A Cobblers site from a Cobbler exiled in Australia)

Links To Other Footie Sites

-- Probably the best NTFC Fanzine
(Outside Northants)
You are visitor
since 02/11/97


If you want to know more about the fanzine, or would like to subscribe then contact me at:- waloc@globalnet.co.uk