Fun stuff to do around Khamis
As I mentioned earlier, we have a lot of free time to do with as we wish. There are certain restrictions on travel, but not many. The Nassim compound facilitates just about any sport you can think of. Personally I spend most of my time in the weight gym and/or pool or just travelling around the local area to see what's out there. There isn't much, a lot of dirt, rocks and sand. Pretty much as you would expect in the desert really. As for the wild life, well lets just say there is a lot of it. Most of it wants to eat, bite, sting, suck or generally just ruin my day. Those who know me know all about my snake incident. I wont bore you with the details here, but it resulted in my having four months off work. The snake got away, if it actually was a snake that is. I had my own little drama going on to worry one way or the other :o) I seem to remember a lot of screaming going on, not sure where that was coming from :o))
As I said, I spend most of my time in the weight gym and/or the pool. The gym is a Private club as we wanted more specific equipment than BAe would provide for us. That's the only reason for it being Private, but anybody can join. All ages and levels, we'll take anybody.
---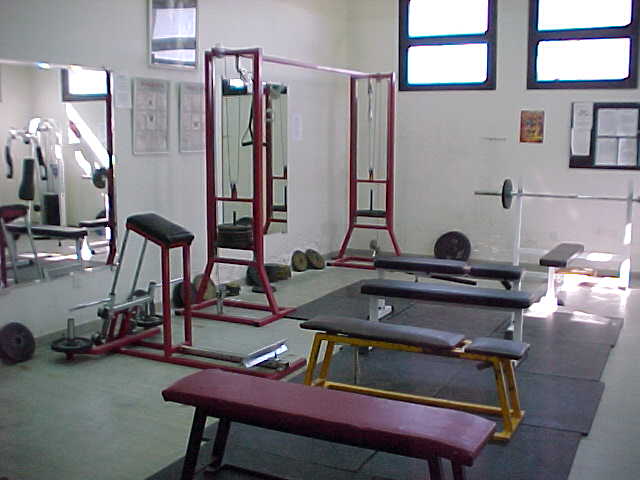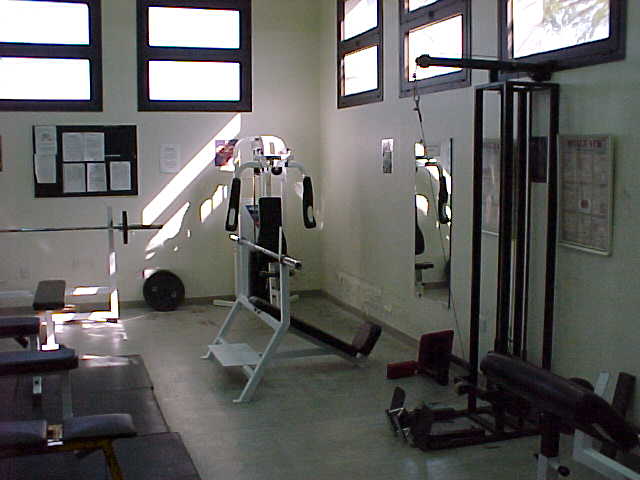 This is where I spend my time when I'm not on the computer. It's situated close to where I live and so I have no excuse really for not going. Anyway, those of you who have seen me will know that I like to train. I enjoy the pain :o)
We have machine weights too, but I personaly prefer the free weights as they seem to work better for me. I dare say that there are some out there who would disagree. So write and tell me about it :o)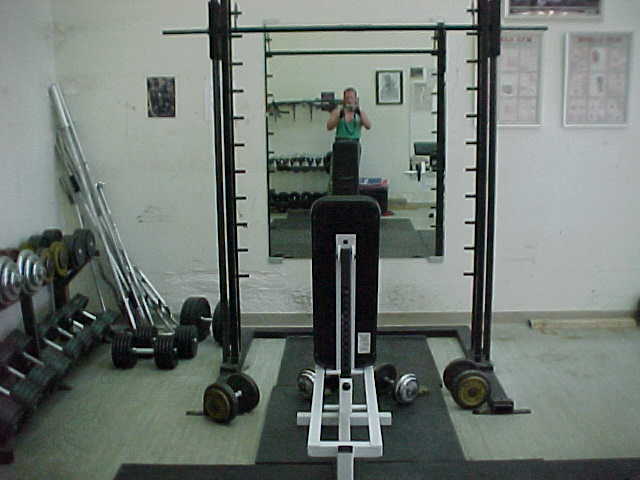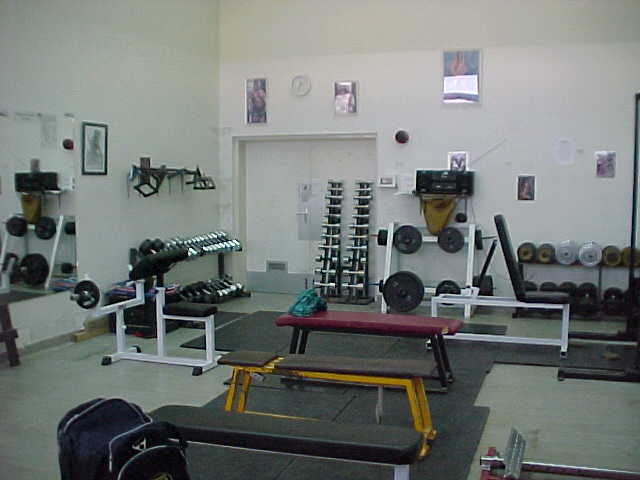 Yes, that is me in the reflection. Dah ! Never really thought about it at the time, but you get the gist of what I was supposed to be taking a photo of. Don't you ?
Anyway, as I said, we have most of the training equipment we could wish for. Some of it could be newer, but then any trainer would say that of any gym. Wouldn't they ? We have regular AGM's, well once a year actually, and we decide what new equipment we would like for the gym. We can obtain equipment easy enough, Its just getting it up the mountain. Usually it will be shipped from Jeddah which is an hours flying time from here and we will have to pick it up from Abha airport.


---
As you can imagine, the pool is warm enough to swim in at any time. I've actually had a little dip at midnight and it was great ! :o) Out door obviously, with diving board and just the glow from the BBQ night lights. The odd cat drinking the water at the side of the pool ?? It's true I tell ya ! :o) The pool is also used for diver training which is another sport I kinda fell into while out here.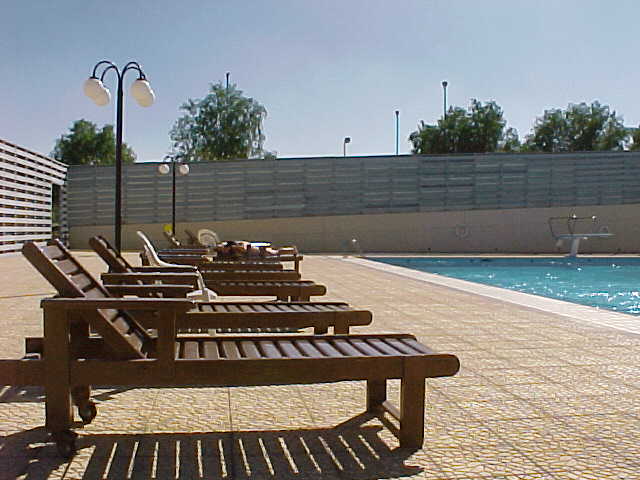 My other energetic past times include a little rest by the pool after a hard training session. Armed with my beach mattress, those wooden slats can be a bit vicious at times, I can easily plop down and chill for an hour or two. Well, when I say chill, I mean as far as you can with Temps around the hundred degrees mark :o)


---
When I'm not training or lounging around the pool, as the many who know me know, I do a lot. I get out and about in the car. Armed with my new digi camera, and have a look and see what's out there.
Being a Brit, I'm used to small cars. Small and highly efficient engines. Buying my 5Ltr GMC Blazer threw all that straight out of the window. The americans reading this are now wondering what I'm talking about. The Brits are thinking, what's a Blazer?? This is a Blazer...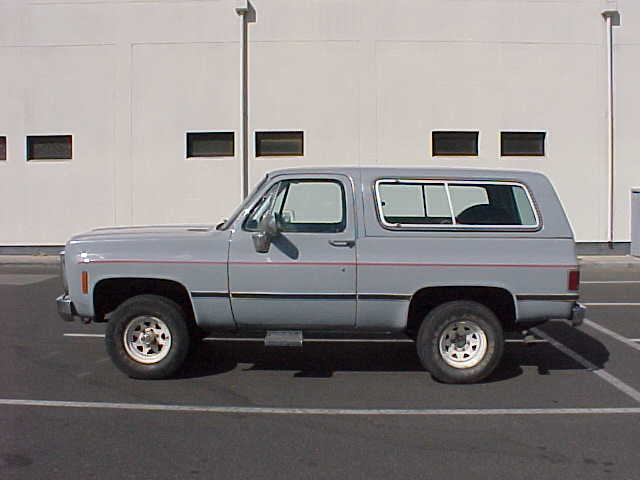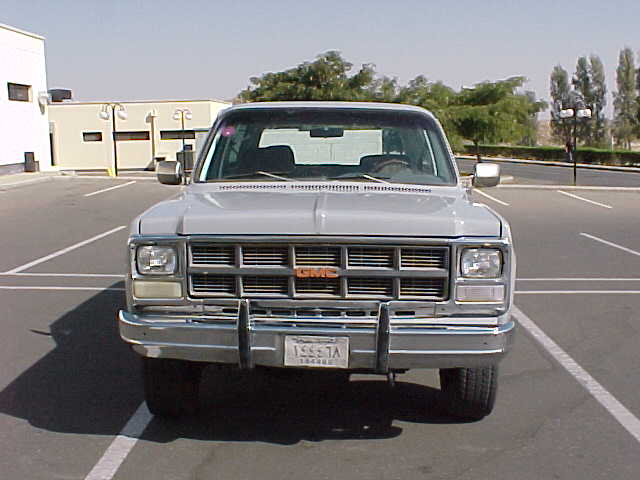 Compared to the cars I'm used to, this is a monster !! A 5ltr, 350 hp, air conditioned beast, who also has a selectable 4X4 drive and her name is "Bessie :o)".

Outside of the towns and villages there isn't much to look at. Just a lot of sand, rocks and garbage. The Saudi's have never heard of "Saving the planet". Not up here anyway. This is the kind of terrain I'm talking about...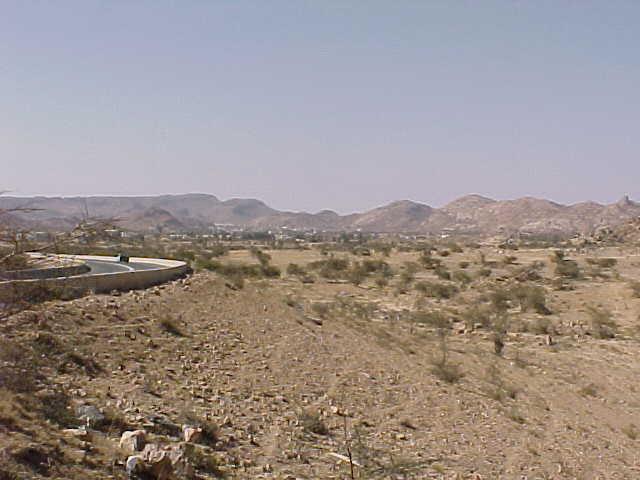 I just pulled off the road to take this. Oh yeah, we have mountains here too. Forgot about them.While I was taking this, I hadn't noticed that a Saudi goat herder had been watching and was coming over to see what I was doing. They are very suspicious of foreigners with cameras. I spotted him just in time, waved, mumbled a "bye" as best I could and floored "Bessie" out of there.
---
Where would you like to go now ?
---