This Gandalf's Garden site is run by Rosemary and Darroll Pardoe (e-mail).
If you were a contributor to GG, please contact us.
*****
News
(August 9th, 2007) More on the release of the wonderful Gandalf's Garden CD-ROM:
I've put my comments about the disc and its contents on a separate page here.
(July 7th, 2007) Very exciting news!
The CD-ROM of Gandalf's Garden is now out, and can be purchased on Muz Murray's web site here.
As well as all six issues of the magazine, the CD includes many extras such as contemporary photographs
and press cuttings, Gardeners' recollections, artwork, and a lengthy history of GG by Muz.
(May 26th, 2007) News from Muz added to the message below on Gandalf's Garden posters for sale.
(May 12th, 2007) More names added to the captions on the photo pages.
(May 10th, 2007) A footnote by Muz added to the mini-article on Gandalf's Garden and the Tolkien Society below.
(March 13th, 2007) Kit Hubback was at Gandalf's Garden from mid-September 1969 to mid-October 1969
and would very much like to get back in touch with any gardeners who were there at that time
(HubbackK@pbworld.com; tel: 01733 560 975). If anyone else would like to reach their old GG friends, let us know.
*****
Images of the covers of all six issues.
A list of the contents of each issue.
Colin Bord's photographs, taken during visits to Gandalf's Garden in the late 1960s and 1970.
Gandalf's Garden posters.
Read selected articles from Gandalf's Garden:
"Editorial" by Muz Murray (from issue 1).
"The Personal Garden" by Muz Murray (from issue 3).
"Atlantis Rising" by Mark Western (from issue 4).
"The Glastonbury Giants" by Mary Caine (from issue 4).
"The God'seye: The Aetherius Society" by Colin Bord (from issue 4).
"The Third Ear Band" by 'Legolas' (from issue 4).
"Why Not This Year?" (editorial) by Muz Murray (from issue 4).
"Mind Revolution" by Muz Murray (from issue 5).
"The Cosmic Continent" by Colin Bord (from issue 6).
"Quintessence" by 'Legolas' (from issue 6).
See below for:
The Introduction from the inside front-cover of Gandalf's Garden 1.
"Gardening in Chelsea" by Darroll Pardoe.
"Gandalf's Garden and the Tolkien Society: A Myth Debunked" by Rosemary Pardoe.
A message from Muz Murray about Gandalf's Garden posters.
Links.

YOU ARE NOW ENTERING
GANDALF'S GARDEN - FEAR NOT
(from the inside front-cover of Gandalf's Garden number 1.
Copyright © Muz Murray 1968. Reproduced with permission.)
Gandalf the White Wizard from the trilogy of THE LORD OF THE RINGS, by J.R.R. Tolkien, is fast becoming absorbed in the youthful world spirit as the mythological hero of the age, as graven an image on the eternal psyche as Merlin of the Arthurian legends. In the land of Middle Earth under threat of engulfment by the dark powers, Gandalf unites the differing races, mistrustful of each other through lack of understanding and communication, in a final effort to save the world. The crusader spirit in Gandalf is echoed in the cry of the Now Generation seeking an Alternative to the destructive forces of today's world, by spreading human love and aid, for the unity of all the peoples of the Earth.
GANDALF'S GARDEN grows in that same spirit. For GANDALF'S GARDEN is the magical garden of our inner worlds, overgrowing into the world of manifestation. GANDALF'S GARDEN is soulflow from the pens of creators - mystics, writers, artists, diggers, delvers and poets. A wellspring of love and anguish that those with searching thirsts may drink thereof. As in the Stone Gardens of the Orient, where Soul Wizards sit within the stimulus of their own silences, contemplating the smoothness of the million pebbles, so should we seek to stimulate our own inner gardens if we are to save our Earth and ourselves from engulfment.
Communications between people are slender. There are beautiful people everywhere in isolation, or in small groups, or new communes, but without communication. One has to rely on chance meetings. Between the leaves of GANDALF'S GARDEN, a focal point for creators and beautiful people can be attained, and a communication service evolved, whereby all those alone can get to know about each other, can be put in touch and visit each other's creative communes, becoming involved in joint ventures arts and crafts and musicwise.
The inner world of the Now Generation is a glowing stone dropped into a vast pool of greyness, and the warmth of its ripples is spreading in ever-widening circles. Newspaper sensationalism has swamped the underlying spiritual essence of change on the scene. Youth is tired of a mistrustful and aggressive society afraid of natural joy. A society which judges worth by wealth and appearance and not by what a person IS. The angry young men are still angry, but with the anger flows a new wave of gentle feeling, seeking expression in Self-realisation. The more self-knowing a person can become, the more beautiful he or she will become from the deep roots. We influence others by what we are ourselves. It is not even necessary to 'do' but merely to 'become'. In this way what we become will benefit the next person, you, me, humanity at large. Good vibrations are catching. And there is an under-current of something beautiful and mystical sweeping the spirits of the Now Generation. . The seeds of understanding sown in seasons past are growing greenly Under-ground towards the sun. The OVERGROUND MOVEMENT is imminent and overdue. Draw closer stranger and welcome. Can you not feel your world growing between your toes and bursting from between your brows like the fabulous beanstalk?
GANDALF'S GARDEN SEEKS THE SUN IN YOU.

GARDENING IN CHELSEA
by Darroll Pardoe
(This piece first appeared in Brand X, issue 11. Copyright © Darroll Pardoe 1997)
Gandalf's Garden was a shop down by the World's End in Chelsea, run by a commune of flower-children held together by Muz Murray. It flourished for a while at the high end of the Sixties, but eventually they found Chelsea too constricting and moved out to Norfolk or somewhere. For all I know they may be there still (see update below): there was a documentary on TV about them a few years ago. I never visited the shop (I was living in America at the time) but I did read the magazine. Gandalf's Garden - the magazine - was a fascinating mixture of way out and mystical stuff (which nowadays we would call 'New Age') with down to earth items and contact addresses. It was printed in different colours of ink and paper, and some of the combinations could have been better chosen (orange on gold, for example).
I imagine there was quite an overlap between the community of people who tuned in to John Peel in his Perfumed Garden, Radio London days, and the people who read Gandalf's Garden - they were both addressed to the free spirits. And so it is no surprise to find in issue 2 an impassioned plea by Monni Aldous for the perpetuation of the Perfumed Garden idea, coupled with a short nostalgia piece by John Peel himself.
The same issue had an enthusiastic write-up of a short lived group "Junior's Eyes", fronted by Mick Wayne, who did a couple of sets on "Top Gear" and then vanished into obscurity. Later issues featured the "Soft Machine", the "Third Ear Band" and "Quintessence" whose names have lasted rather better.
Everybody nowadays has heard about the Glastonbury Zodiac (the idea that the signs of the Zodiac were carved on the landscape in Somerset and survive in the field boundaries) but GG must have been one of the first places to popularise the theory. Among other mystical topics featured in the magazine were the Aetherius Society, Aleister Crowley, Atlantis, the Hari Krishna movement (which had only just started), and Selene (an early Pagan community). There was certainly plenty of variety!
One of the strangest things to appear in the magazine was an article (in issue 5) on trepanning, and the virtues of drilling holes in your own head. This was a bit much even for Gandalf's Garden - they put a disclaimer at the end urging readers not to actually try it but to take up some less demanding spiritual technique, such as yoga.
GG was very much a creature of its time. I can't imagine such a magazine having been possible anytime but then. Perhaps that's why it didn't last very long - only a half dozen issues. At the end of the Sixties the culture of the flower people, the Diggers and the free fragmented into the wider underground. But I still have a soft spot in my heart for Gandalf's Garden - and I imagine that so do quite a few other people.
*******
Update to "Gardening in Chelsea": I was delighted to get an e-mail from Muz Murray, bringing me up to date on where the GG people are now. Here's what he said:
"Although spread all over, the old Gardeners are all still into the same areas of expression. Gerry (Ananda) is a leading chiropractor in Mill Valley, California; Jaya Bear is living in New Mexico and taking groups to visit Shamans in the Peruvian jungle, Keri is in teaching Louise Hay workshops and fund-raising for the World Wildlife Fund, Lyn is a qualified aromatherapist, Cee Bee was with a Sufi community at last contact; Colin Bord is now a well-known author and photographer of 'Mysterious Britain.' Sadly, Smiley John died accidentally, while running a Babaji Centre in Potters Bar... I am living in the south of France at Nimes, and teaching Mantra, Meditation and Massage workshops all over Europe, as well as taking groups to study in the Ashrams of India. "

GANDALF'S GARDEN AND THE TOLKIEN SOCIETY
A Myth Debunked
by Rosemary Pardoe
(Copyright © Rosemary Pardoe 2007)
There is an idea which goes around from time to time, promulgated by members of the Tolkien Society and others, that the Society was formed as a reaction against the perceived 'hippy-fication' of J.R.R. Tolkien and The Lord of the Rings. Gandalf's Garden is often specifically mentioned in this context.
It's certainly true that Vera Chapman, the charismatic and likeable founder of the Tolkien Society, hated hippies (see for instance this page on the Tolkien Society site) and GG. I remember a conversation Darroll and I had with her in 1970, at what must have been one of the first Society committee meetings, during which she grumbled at length about Gandalf's Garden, and singled out for particular criticism the article in issue 3 on Aleister Crowley. Not, clearly, that she can have read it very thoroughly, otherwise she'd have realised that it's quite down on Crowley (so much so that it provoked an angry exchange in the letters page of the following issue). I don't recall what our response to her on that occasion was, but since we were both GG supporters - and I had bought every issue since #2 on publication - I can't imagine that we let her diatribe go unchallenged.
So Vera Chapman hated GG, but the much younger people who did most of the work in the Society back then were a broad church and some certainly came at Tolkien from the hippy angle. Darroll and I (we edited the first issue of the Society's journal, Mallorn) were by no means the only subversive elements - though it is, of course, equally wrong-headed to say "it was the hippies who founded the Tolkien Society", as was claimed in a London Evening Standard article in 2001 (this article was wrong on GG the shop and the magazine as well)!
It's also worth noting that Muz Murray had Tolkien's permission in writing to use the Gandalf's Garden name.*
*A note by Muz Murray concerning this: "Before we had scarcely begun the magazine, I had already written to Professor Tolkien, to explain the ethos of Gandalf's Garden, asking his permission to use the name of 'Gandalf' (and he had taken the name of Gandalf from a Dwarf in one of the Scandinavian sagas in any case). He gave us his wholehearted approval and sent me his photograph in a letter warmly endorsing the project. He also kindly wrote to me later, thanking me for his complimentary copy of Issue 1, which he 'enjoyed very much'."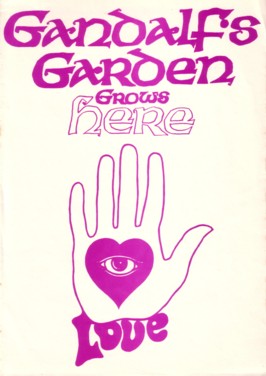 ***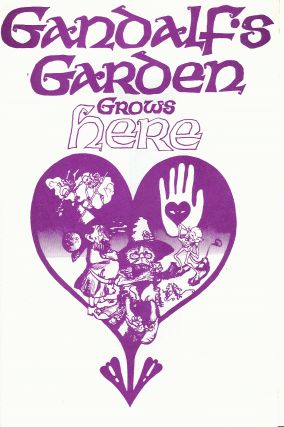 A Message from Muz Murray (revised 26th May 2007)
"Apparently posters from GG are now worth about £140 each (alas, I have none. I threw a whole load out at my last move!). However, I do have a number of the original small A4 size one-colour posters, depicting (1) The Hand, Heart and Eye motif; and (2) Leprechauns and Goblins [both reproduced above], which GG fans used to place in their windows to let fellow GG readers know they would be welcome to drop in and make contact. These are now available for only £6 each (+ £1.50 p&p)."
For more details, contact Muz at this e-mail address.

Colin and Janet Bord's web site
John Hurford's web site (GG artist)
Capall Bann Publishing (publishers of books by Mary Caine).
The Wikipedia entry for Gandalf's Garden.
The Sweet Floral Albion site includes a nice little article on Gandalf's Garden.
Christopher Evans on Gandalf's Garden (from Cults of Unreason, 1973).

Last updated: October 5th, 2010.
back to top
back to Rosemary and Darroll Pardoe's Home Page
back to Pigs Can Fly