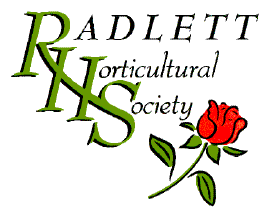 The editor's topiary welcome - euonymus through berberis
Welcome to the Radlett Horticultural Society based in Radlett, Hertfordshire, England. For over one hundred years since its first formation the society has been the focus for the gardeners of Radlett, providing advice, supplies, shows, talks and visits to gardens near and far. The Society is affiliated to the Royal Horticultural Society.
Reports on: Autumn Show held on 2 August; Day trip to Merriments and Great Dixter House & Gardens on 17 August; Talk 'Ding Dong Tours and the Cuddle Puddle - Adventures in Swaziland, Lesotho and South Africa' by Peter Hordern on 2 August; Members Garden Walkabout on Sunday 9 July; and 5-day holiday to Warwickshire, based on Stratford-Upon-Avon from 21-25 May.
Young Gardeners Page Report on the Children's Classes in the Autumn Show with all the results and photos of the exhibits.
Aims, officers, facilities, events, affiliations and location
How to contact us and how to join the Society.
Dates and details of Society and local gardening events
Reports of events and items of gardening interest
Facilities, sales and current offers
Comments received from and links to other societies and organisations
This site is usually updated at the end of each month. Comments on the site and proposed changes and additions should be made to the site editor, Peter Cushion.
Updated to 31st October 2017

News and advice for younger members
The only event in November is our AGM at 7.30pm on 15th in the vision Hall. It will be followed by a talk 'Transformation of an ordinary garden by plantaholics' by Kerrie and Peter Lloyd-Dawson.
Details of a proposed holiday in May next year will be given and a list for those interested opened.

There are no new reports this month.


The last opening of the Store before the Winter break is on Sunday 26 November. Don't forget to get all your supplies and enough food for the birdies by then. The Store reopens at 10am on 4 February.

Radlett Horticultural Society