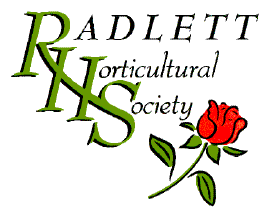 A fine pot of dark blue Agapanthus at Kelmarsh Hall
Welcome to the Radlett Horticultural Society based in Radlett, Hertfordshire, England. For over one hundred years since its first formation the society has been the focus for the gardeners of Radlett, providing advice, supplies, shows, talks and visits to gardens near and far. The Society is affiliated to the Royal Horticultural Society.
Reports on: day trip to Stamford plus Easton Walled Garden on 12 July; Members Garden Walkabout on 8 July; Mini Flower Show on 13 June; 5-day holiday to Instow Devon from 20-24 May.
Young Gardeners Page Children's clsses in this year's Autumn Show with exciting new classes and a new Section for younger children. Details of all the classes and link to the Show Guide. Advice for children entering the Show.
Aims, officers, facilities, events, affiliations and location
How to contact us and how to join the Society.
Dates and details of Society and local gardening events
Reports of events and items of gardening interest
Facilities, sales and current offers
Details about our forthcoming publications; and comments received from and links to other societies and organisations.
This site is usually updated at the end of each month. Comments on the site and proposed changes and additions should be made to the site editor, Peter Cushion.
Updated to 31st August 2018

News and advice for younger members
Events in September: The Autumn Show will be held in Christ Church Vision Hall from 3-5.30pm on 1 September.

New reports on: Day Trip to Kelmarsh Hall & Gardens plus Coton Manor Gardens on 8 August and talk 'The Edible Garden' by Tom Cole on Wednesday 1 August

The Autumn Show will be on 1 September at the Vision Hall from 3-5.30pm. Entry is £1, children free. Staging of exhibits is from 8.00am until 11.30am in the hall, where there will be committee members at the hall who can give you advice if you have not exhibited before. All details and Entry forms are in the 2018 Autumn Show Schedule, and should be handed to a member of the committee or put through the door of 8 Homefield Road before 7.00pm on Thursday, 30 August. Further information can be obtained from the Show Secretary, Amanda Harvell (telephone 07810 377257). Prize-giving is at 5.15pm and exhibits can be collected at 5.30pm or donated for sale with the proceeds going to charity.
There are new classes for children this year and a section for the young ones between 3 and 6. The adult Craft class which was very successful last year has been divided into more specific categories so maybe there is something that you would like to exhibit – an item of jewellery, some pottery for instance. All details in the Show Schedule do take a look. if you exhibit the fee is 10p for all classes except class 63 and the children's classes which are free.
I would also urge you to look at the novice classes. It is great fun to enter and even better if you win.
I know it has been a difficult year for growing what with the cold and then the extreme heat but I am sure you can find something in your garden or on your allotment that will be of interest to others even if it is not a winner.
If exhibiting is not for you, we also have tea, coffee and cake for sale which I know is greatly appreciated by many of our visitors.
We look forward to seeing you at the Show.


The Autumn Show Guide was distributed to all members with the Summer Weeders Digest in July. Copies are of this and spare Yearbooks and Weeders Digests are available in the Store.

Radlett Horticultural Society