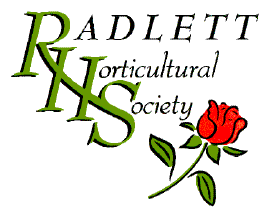 Rose 'flower carpet' at the end of June
Welcome to the Radlett Horticultural Society based in Radlett, Hertfordshire, England. For over one hundred years since its first formation the society has been the focus for the gardeners of Radlett, providing advice, supplies, shows, talks and visits to gardens near and far. The Society is affiliated to the Royal Horticultural Society.
Reports on: 5-day holiday to Instow Devon from 20-24 May; Spring Plant Sale on 5 May, Day Trip to Standen House & Garden plus Emmetts Garden on 26 April; talk 'Gardens with Wildlife in Mind' by Tim Hill on 21 March; Snowdrop demonstration and sale at the Store opening on 4 February.
Young Gardeners Page Show Schedule for this year's Autumn Show with exciting new classes for Children. Photos from last year's show.
Aims, officers, facilities, events, affiliations and location
How to contact us and how to join the Society.
Dates and details of Society and local gardening events
Reports of events and items of gardening interest
Facilities, sales and current offers
Details about our forthcoming publications; and comments received from and links to other societies and organisations.
This site is usually updated at the end of each month. Comments on the site and proposed changes and additions should be made to the site editor, Peter Cushion.
Updated to 30th June 2018

News and advice for younger members
Events in July: Members Garden Walkabout on 8 July; and day trip to Stamford plus Easton Walled Garden on 12 July - places available for booking at the Store; the coach will start from Radlett old post office at 9am.
Booking for our last Day Trip to Kelmarsh Hall & Gardens plus Coton Manor Gardens on 8 August will commence at the Store on 1 July. The coach will again start from Radlett old post office at 9am.

New report on: Mini Flower Show on 13 June.

The popular Members Garden Walkabout is taking place on 8 July from 2-5pm - the gardens and all details are given in the yearbook. This event is open to members and their guests. Tickets can be purchased on the day at any of the gardens and give access to all the gardens.


The Show Schedule for this year's Autumn Show is being distributed to all members with the Summer Weeders Digest in July, but copies are available in the Store. A PDF copy can be downloaded from this website.

The date of 1 August given for the Autumn Show in the latest issue of Around Radlett under 'What's On' is in error; be sure that our Autumn Show will be held on Saturday 1 September as stated in the Yearbook, current Weeders Digest and Show Schedule. The talk 'The Edible Garden' by Tom Cole will however be given at 8pm on Wednesday 1 August as shown.

Radlett Horticultural Society