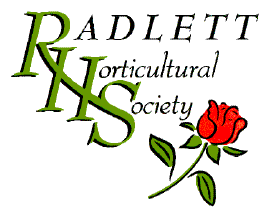 Winter Aconites - the first colourful carpet of flowers in the year
Welcome to the Radlett Horticultural Society based in Radlett, Hertfordshire, England. For over one hundred years since its first formation the society has been the focus for the gardeners of Radlett, providing advice, supplies, shows, talks and visits to gardens near and far. The Society is affiliated to the Royal Horticultural Society.
Reports on AGM and replacement Quiz on 16 November; 5-day holiday to Norfolk based on Overstrand from 25 to 29 September; Autumn Show on 3 September; Helpers social evening on 22 August.
Young Gardeners Page Report of the Children's Classes at the Autumn Show on 3 September, including photographs and results. Report with photos of the Scarecrow Competition held at the Radlett Carnival Fair on 26 June.
Aims, officers, facilities, events, affiliations and location
How to contact us and how to join the Society.
Dates and details of Society and local gardening events
Reports of events and items of gardening interest
Facilities, sales and current offers
Comments received from and links to other societies and organisations
This site is usually updated at the end of each month. Comments on the site and proposed changes and additions should be made to the site editor, Peter Cushion.
Updated to 28th February.
News and advice for younger members
Events in March : talk 'The Secret lives of garden birds' by Mike Logan Wood on 15 March at 8pm in the Vision Hall.
The Calendar page of this website gives the programme of all activities for 2017.

Mystery Dahlia. Young plants to grow on and enter the Mystery Dahlia (class 8 The Stanley Dark Cup) will be needed in May before general issue of the Schedule. They will be on sale in May for £1 each from Peter Hordern to whom telephone reservations can be made. Any surplus will be on sale in the Store in late May.
New report on the Society table at the Christ Church Open Day on 11 February.


The Show Schedule for the Autumn Show has been printed and copies will be distributed to all members with the Summer Weeders Digest at the end of June, but if anyone would like an earlier copy, they are available now in the Store or from the Secretary.
A PDF file copy of the Autumn Show Schedule can be downloaded by this link.

Radlett Horticultural Society