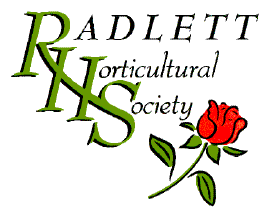 Frozen Tykeswater on 1 March 18
Welcome to the Radlett Horticultural Society based in Radlett, Hertfordshire, England. For over one hundred years since its first formation the society has been the focus for the gardeners of Radlett, providing advice, supplies, shows, talks and visits to gardens near and far. The Society is affiliated to the Royal Horticultural Society.
Reports on: Snowdrop demonstration and sale at the Store opening on 4 February; AGM on 15 November; Autumn Show held on 2 August; Day trip to Merriments and Great Dixter House & Gardens on 17 August; Members Garden Walkabout on Sunday 9 July; and 5-day holiday to Warwickshire, based on Stratford-Upon-Avon from 21-25 May.
Young Gardeners Page Show Schedule for this year's Autumn Show with exciting new classes for Children. Photos from last year's show.
Aims, officers, facilities, events, affiliations and location
How to contact us and how to join the Society.
Dates and details of Society and local gardening events
Reports of events and items of gardening interest
Facilities, sales and current offers
Comments received from and links to other societies and organisations
This site is usually updated at the end of each month. Comments on the site and proposed changes and additions should be made to the site editor, Peter Cushion.
Updated to 28th February 2018

News and advice for younger members
Events in April: Day Trip to Standen House & Garden plus Emmetts Garden on 26 April.
This trip is currently booking at the Store - the coach will leave from the old post office at 9am.

New reports on the Society Stall at the Christchurch and St John's Church Open Day on 3 March; and talk 'Gardens with Wildlife in Mind' by Tim Hill at the Vision Hall on 21 March

Peggy Sjoberg is running a 5-day holiday to Instow Devon from 20-24 May - details in More About page.
The party is currently complete but vacancies could arise - contact Peggy on 854337.



The Show Schedule for this year's Autumn Show will be distributed to all members with the Summer Weeders Digest in July, but copies are available in the Store. A PDF copy can be downloaded from this website.
The Spring Plant Sale will be from 2-3pm at the Scout Headquarters in Scrubbitts Park Road on 5 May. Donated plants are needed to make this a success and members are asked to bring them to the Scout Hut between 9am and 12noon. Teas will be for sale by senior Girlguiding members, in aid of overseas visits and community projects.
Radlett Horticultural Society