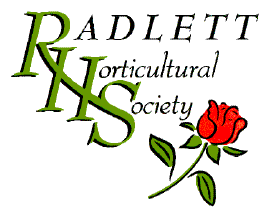 2018 has been a great year for Quinces which in the hot Summer ripened on the tree.
Welcome to the Radlett Horticultural Society based in Radlett, Hertfordshire, England. For over one hundred years since its first formation the society has been the focus for the gardeners of Radlett, providing advice, supplies, shows, talks and visits to gardens near and far. The Society is affiliated to the Royal Horticultural Society.
Reports on: The Autumn Show on 1 September; Day Trip to Kelmarsh Hall & Gardens plus Coton Manor Gardens on 8 August; and Members Garden Walkabout on 8 July.
Young Gardeners Page Report on the children's classes in this year's Autumn Show with results and photographs.
Aims, officers, facilities, events, affiliations and location
How to contact us and how to join the Society.
Dates and details of Society and local gardening events
Reports of events and items of gardening interest
Facilities, sales and current offers
Details about our forthcoming publications; and comments received from and links to other societies and organisations.
This site is usually updated at the end of each month. Comments on the site and proposed changes and additions should be made to the site editor, Peter Cushion.
Updated to 30th November 2018

News and advice for younger members
A very happy Christmas to all our readers.
There are no events in December and the Store is closed for its Winter break until it re-opens on 3 February for the 2019 season.
The first few events for 2019 events are shown on the Calendar of Events page.


New report on the AGM and talk 'Restoration of the Gardens at Wimpole Hall' by Philip Whaites.


The Winter edition of the Weeders Digest, covering events up to the AGM was published at the end of November and is now being distributed.

After the business at the AGM on 14 November, Peggy Sjoberg presented her plans for a 5-day holiday to Warwickshire in late May 2019 based on the Stratford Manor Hotel near Stratford-upon-Avon. This holiday is now fully booked but vacancies will most probably occur. For further information or to place your name on a reserve list contact Peggy on 854337.
She also offered to arrange an late September holiday to the Commodore Hotel in Instow, Devon if sufficient members show interest.

Radlett Horticultural Society