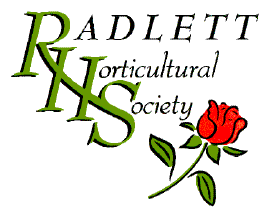 Fallen apples provide a great food source for wildlife
Welcome to the Radlett Horticultural Society based in Radlett, Hertfordshire, England. For over one hundred years since its first formation the society has been the focus for the gardeners of Radlett, providing advice, supplies, shows, talks and visits to gardens near and far. The Society is affiliated to the Royal Horticultural Society.
Reports on: The Autumn Show on 1 August; Day Trip to Kelmarsh Hall & Gardens plus Coton Manor Gardens on 8 August; talk 'The Edible Garden' by Tom Cole on Wednesday 1 August; day trip to Stamford plus Easton Walled Garden on 12 July; Members Garden Walkabout on 8 July.
Young Gardeners Page Report on the children's classes in this year's Autumn Show with results and photographs.
Aims, officers, facilities, events, affiliations and location
How to contact us and how to join the Society.
Dates and details of Society and local gardening events
Reports of events and items of gardening interest
Facilities, sales and current offers
Details about our forthcoming publications; and comments received from and links to other societies and organisations.
This site is usually updated at the end of each month. Comments on the site and proposed changes and additions should be made to the site editor, Peter Cushion.
Updated to 31st October 2018

News and advice for younger members
Events in November: The AGM will be held in Christ Church Vision Hall at 7.30pm on 14 November. The calling notice is given in the Yearbook.
Following the AGM business, there will be a statement about a proposed holiday next year with forms for members to express interest in joining the party. And after the interval we will enjoy a talk on the restoration of the Wimpole Hall Gardens by Philp Waites who has been Head Gardener there for 38 years. This will be of particular interest to those who went on our day trip to Wimpole Hall last year.

There are no new reports this month.


Spare copies of the Autumn Show Guide, Yearbook and Weeders Digests are available in the Store on request.
The Winter edition of the Weeders Digest, covering events up to the AGM will be distributed from the end of November

Note that the Store will close for its Winter break on 25 November, reopening for the 2019 season on 3 February. Sales of bird food to keep them happy over the Winter break are expected to be high, so please don't leave it to the last minute.

Radlett Horticultural Society