Here I am going to tell you all a little bit about myself and where I come from. You'll find out what I've been up to and what I hope to do in the future! There may be a lot here, then again, I may decide that I want to keep this section fantastically short! It all depends on how I am feeling at the time of writing, and whether or not I wish to disclose my glorious?! past! The trouble is where to start?! I guess at the beginning...
I was born on April the 21st 1979 at Doncaster Royal Infirmary. So I guess I am a Yorkshire man! For the few first years of my life we lived in a place called Hatfield. Obviously I don't remember very much about this time, but it was about 16months after I was born that my brother came along! When I was 3 years old we moved to Epworth, and this is where, I guess, I grew up. It was home for the next 7 years.
During this time I attended a variety of schools... certainly many nursery schools, and then several primary schools. The many nursery schools stemmed from several being closed due to safety concerns, one burned down and another was closed! The first primary school I went to was not particularly good for my brother who was lagging behind with his reading and writing. He had dyslexia but the school refused to acknowledge that fact. We were moved to a better school, but sadly I was only there for about a year, or just over a year. Why? Well this was when my parents divorced and we moved house to Brigg. And thus a large section of my life started...
It was hard at first to go from Epworth to Brigg. A lot stemmed from not wanting to leave, but also my family was no longer a family. Even now I find it hard going back to Epworth, and for the first year after the separation I could not stay there without being sick. Eventually things settled down though and I finished primary school, started secondary school, finished that - though with minor incidents, well if you can call 3 years of bullying minor?! That knocked my self-confidence greatly and I retreated, becoming very shy and quiet. It's not a subject I like to dwell on for long. Thankfully I had some very supportive teachers and other friends who helped me through it all. After finishing my GCSE's I chose to stay on at my school to do my A-Levels. This was when I met several of my very good friends.
Before my A-Levels started we moved house again from Brigg to err Brigg! Just down the road actually from where we were living. It was a move to a bigger house! *Yippee* It was a hectic time, but we survived! I started my A-Levels not long after moving home. This was Summer 1995. During my A-Levels was when I started to come out of my shell. As the 'Socials' ( please read Major Piss Ups!! ) came and went, I went to most of them, and usually got massively drunk! It helped no end! There would be a group of us who would sit and tell increasingly disgusting jokes all evening, and then stare at all the lasses! Yeah it was fun! During my second year of A-Levels I started to have difficulties again and it took a long talk with a teacher, a Dr. Stainton, to get things sorted. Dr. Stainton was and still is a great man! He taught me chemistry and made me the pyroman.. I mean great chemist that I am today! He was also the one who persuaded me to stay at Brigg Sixth Form. The second year was my better year. I met Helen and Sally, and their crowd and we somehow always got on amazingly well even though we were quite different!
Sadly all good things must come to an end, and so Sixth Form life ended and the saga of Uni. began... And god was I scared! Fortunately before we all departed me and my brother had a little party and I managed to get steaming drunk! *Cough* Drunk enough so that I can not remember about 3 or 4 hours of that night! Well Uni. started in Lancaster at the end of September 1997! So it was with trepidation that I set off and got to know people. Once again though, life was rather cruel to me. The first set of people that I took to hanging around with on my floor turned out to be not so nice. Luckily, Deb almost took me under her wing and introduced me to Snowplains. At first it took awhile for the two of us to trust the other. It's hard to say when things changed, probably when she found out I was a big computer user, and decided to corrupt me with the talker! Anyway, that is by the by. Deb helped me to keep my sanity during a very hard first term that saw me receive a lot of bad feeling and continual harassment from fellow students who were more interested in the social aspect, rather than the learning!
Fortunately the talker helped me to escape from that, and I started to get to know a large group of people and became quite a local. By the end of April I had been to my first meet and had met a load of people who I have continued to see frequently. I met Martyn shortly before heading of to the Coventry meet and we got on like a house on fire! He was the one responsible for my disgraceful 13hrs 10mins or so login to Snowplains!! It was through the talkers that I also met my girlfriend and future fiancée. It was a friends birthday who I had been chatting to since I was first made a resident, and I was invited along. That was when me and Em first met. I believe that it was Phil that actually made me a resident in the first place, so I guess it's rather fitting that he should introduce me to a very special person who has formed a major part of my life. Before we actually met there were several other meets including one in Cambridge, a friends gathering in Olney for Alton Towers, and a smaller mini-meet in Hull!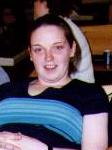 The first time I met Em was at York Train Station in the pouring rain at 3:30pm! I had come across early for the York Meet - Phil's Birthday, though I could not tell you why! I just felt that I had to be there early. Well, for the first half hour or so I didn't really look at Em. I was wet, tired and gagging for a brew! It wasn't until we arrived at her house and I had had the chance to sit down, that I properly looked at her. I had heard a lot about her from her friend Sara and from seeing photos of her, but really I knew nothing. We never really spoke much on the talkers, just the usual pleasantries normally. So it was with fresh eyes that we both got to know each other. And well, it soon became apparent that we liked each other. First we started with play fighting, then tickling matches, then pillow fights followed by chasing around and fooling about. By early evening, a few hours later, we had got to know each other much better and we went out for food, then drinks at a pub. It was then decided to return to the house and rather than go to sleep the three of us stayed up talking.
Well, actually I think I had better correct that. Me and Em stayed up talking. Sara fell asleep and eventually left us to it. During this time though Em had given me a wonderful foot massage that was very relaxing and had settled down next to me on the futon. Sara left and we were there alone. We continued to talk before deciding that the futon was far to uncomfortable to sit on, so we dragged the cushion on to the floor and laid there. I knew there was something that she wasn't telling me and before long Em cried on me. I managed to get her to open up a little and we hugged for awhile. I was cold so I went for the duvet from the downstairs bedroom. The two of us snuggled up together, well we cuddle up under the duvet facing each other. We ended up kissing after slowly moving closer to one another. For that weekend we sneaked about behind everyone hoping not to attract attention and to keep things secret. It was fun, made us both feel like little kids sneaking of for a quick kiss, or a quick hug! We spent that weekend, the next week and the following Saturday together. Em had to work so we parted company for awhile.
And that was that! After a month I went to Canada and missed Em a hell of a lot and when I got back she was waiting for me at the airport - all but with very short hair! By Christmas we were still together and I had suffered a major set back in the form of glandular fever. It struck me badly and I was off Uni. for about 7 weeks! It didn't help that I had also had tonsillitis twice as well. But come January after a bad New Year, we went to see my good friend Paul for his birthday! And well that weekend down in Coventry proved to be very special for us both. For this was when, in admittedly a bad night-club, I proposed to her! Yes 7 months earlier than planned, but I did not care! I have found the woman I want to be with! She accepted! It sobered us up pretty quickly too! I told Paul on Sunday, he guessed that I was going to tell him something like that. It was a good weekend though! Excellent infact!
Since then much has happened. I was forced to withdraw from Uni. because of illness and then months later had my tonsils out! Em panicked about her grades and I started work, stopped work because of being messed around, moved house because of inconsiderate house mates and started work again! I also upgraded my computer too! Paul came up to Lancaster to visit and there were more meets that I went to, namely the one in Durham. At the end of July 1999 myself and Em celebrated 1 year together! And how this year had gone! So very quickly! We are looking to the future now and depending on what happens will marry eventually!
---