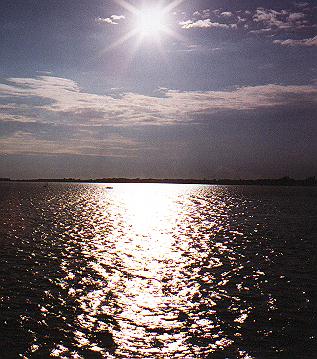 ---
TRANSPORT SYSTEMS IN THE ISLE OF WIGHT
---
4 RAIL SERVICES
4.1 Ryde - Shanklin
Running between the pierhead at Ryde and Shanklin, this service is the remnant of a widespread service on the Island closed in 1966. The current service is operated by ex-London Underground rolling stock dating back to the 1930's. The small loading gauge prevents normal British rolling stock being used. It is necessary to use whatever is available as a new build for the line would be uneconomic, costing some £12 million. A 20/40 minute service runs throughout most of the day and early evening, reducing to hourly in off peak and winter periods. The single track nature of the railway dictates the pattern of service. It is possible to increase the service to every 20 minutes, but presently the demand does not warrant this.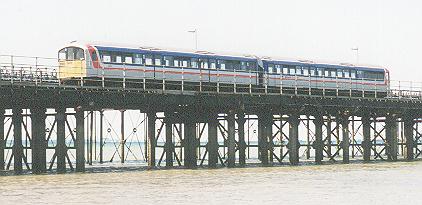 Ex London Underground 1938 Stock Train on Ryde Pier
In the privatisation of the UK rail network, the system is unique in being the only vertically integrated franchise, in that it includes both the operation of the trains and the maintenance of the infrastructure in one franchise which is held by Stagecoach. There are proposals to extend the line back to Ventnor, the tourist resort at the end of the original line. This would appear to be a useful extension, as access to Ventnor is currently poor. The proposals would cost about £8 million and appear to be realistic as most of the track bed is still intact. There is great opposition to the scheme from some people who live close to the route and do not wish their peace to be disturbed, even if it is to the benefit many others.
4.2 Smallbrook Junction - Wootton
A service of nostalgic steam trains recreating the Island railways prior to their closure in 1966 operates over a five mile section between the junction with the Island line at Smallbrook and the small village of Wootton on the former Ryde to Cowes line. The service operates about every hour on certain days. The service is operated using original rolling stock from the first quarter of the century. The line does not perform a great public transport role, but is a tourist destination which is easily accessible by public transport, and which is promoted by all of the other operators with combined ticketing. A vintage coach operates from Wootton to Cowes to connect with the Southampton ferries.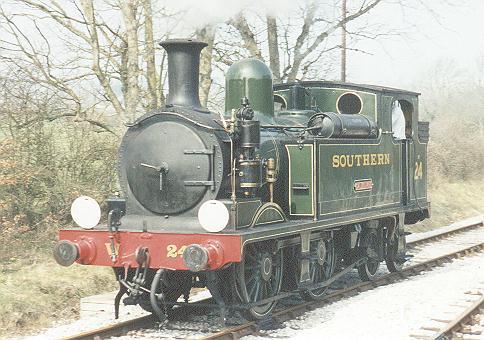 No. 24 Calbourne