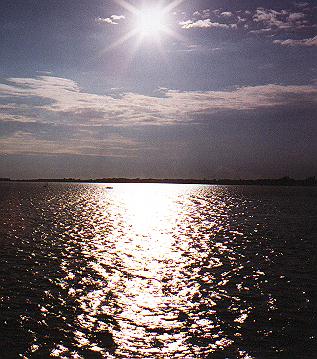 ---
TRANSPORT SYSTEMS IN THE ISLE OF WIGHT
---
5 BUS SERVICES
5.1 Southern Vectis
"Our 1950's and 1960's type vehicles with friendly conductors will transport you back to ..." says the advertisements for the Island,s main bus operator. The bus service on the Island is the transport system which changes most in the summer tourist season. The services on some routes is increased dramatically to cope with the influx of visitors. Services operate at regular, but infrequent intervals to most of the Island through the winter to provide services for those without cars. Some places can be very remote if you have no transport. The vehicles range from modern double deck buses to coaches and mini buses. Outside tourist seasons, the buses have very few passengers other than at the peak travel times, when people go to and from work. During the summer many extra services are run including those to the scenic, but remote parts. Some of these services are operated using open top vehicles. As the advert says, the bus company owns many elderly buses, which it operates on the tourist services in the summer. The nature of the roads on the Island is such that speeds are low and the vehicles can not travel far away from base, which has probably been the reason that the vehicles have been so long lasting. New investment is of necessity, confined to vehicles suitable for all year use, and the use of mini buses is attractive because of their low cost and the ease of use on the narrow road system, where even the main roads are only just wide enough for two double deck vehicles to pass. Many of the vehicles on the Island are decorated in all over adverts for tourist destinations.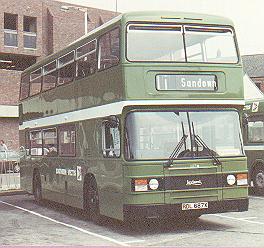 Ryde Bus Station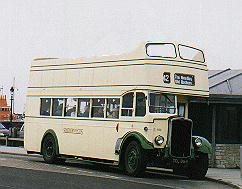 The open top bus to Alum Bay from Yarmouth
5.2 Taxi Services
With the limited public transport services, taxi services thrive on the Island. In fact many of the taxi services have developed into small local bus services, utilising small mini buses for the services. The minibuses also come into their own to transport small groups cheaply and efficiently in the evenings, enabling the locals to visit the many hostelries on the Island, without infringing the road laws. Nowhere on the Island is very far away from any other.
5.3 Other Services
There are a number of tour companies offering tourist trips to many destinations, operating in the main from the ferry terminals. Coach services are also operated in conjunction with specific holiday destinations and as transport for package tours to the Island. Some hotels also operate coaches as a service to their residents to facilitate their travel round the Island.