IMAGES of ROUTE 66
Taken by Jacky & Mike Smith in 2001
The State of Arizona

.
.
The Badlands
This desert was originally a lake bed in which layers of minerals
accumulated. With lowering water levels, the beds were exposed
and have been eroded over millions of years.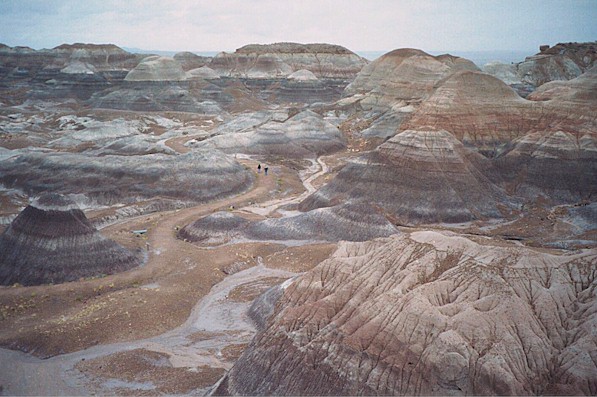 The Badlands are now part of a massive National Park, which includes the Painted Desert and the Petrified Forest
---
Winslow
Was established in 1882 as a railroad halt, and named after Edward Winslow,
president of the St Louis & San Francisco Railroad
Recent claim to fame was the town's mention in a line from the Eagles hit record of the 1970s,
"Take It Easy". The songs goes:
"Well, I'm standing on a corner in Winslow, Arizona
And such a fine sight to see
It's a girl, my Lord, in a flat-bed Ford
Slowing down to take a look at me"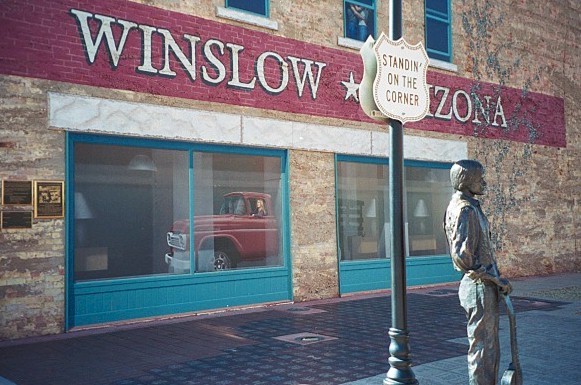 The citizens of Winslow have taken the lines of the Eagles' song and built this shrine.
The statue of the guy and the post are real, but the rest is a mural. The painting, on a
blank wall, shows a "reflection" of the girl in the flat-bed Ford slowing down to take a look.
It is a very clever concept, and the artwork is of exceptional quality.
It's right on old Route 66, and still brings in the tourists.
---
Williams
Founded in 1880. Important junction between the Santa Fe and Grand Canyon railroads. The line to the
Grand Canyon is now a preserved steam line, and takes tourists on the 3-hour journey and back every day.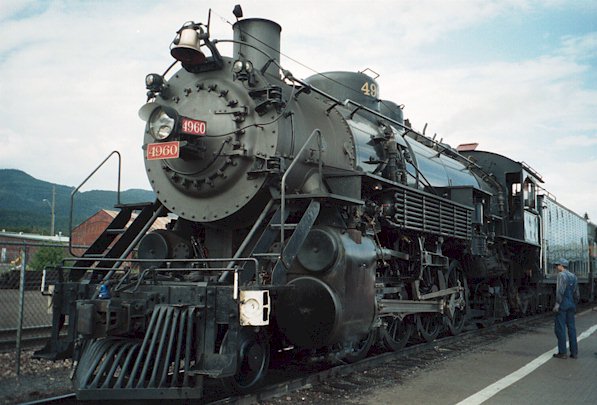 The Iron Horse waiting to haul the train to the Grand Canyon
| | |
| --- | --- |
| | |
| Two of the gunfighters who entertain | the tourists in a street shoot-out |
---
Hackberry
Former mining town, established in the 1870s. Now almost a "ghost" town.
Red roadster; part of a
static display at a former
store and gas station on Route 66
At the same location -
"one that didn't make it".
.
.
| | |
| --- | --- |
| | Typical Route 66 through the scrub land high plains of Arizona |
.
Click NEXT to continue the journey
ALL PHOTOGRAPHS COPYRIGHT JACKY & MIKE SMITH, © 2001. NONE TO BE REPRODUCED ELSEWHERE WITHOUT PERMISSION