IMAGES of ROUTE 66
Taken by Jacky & Mike Smith in 2001
The State of New Mexico

.
Tucumcari... tonight!
"the town of 2000 motel rooms"
(this was their slogan in the 1950s - sadly it no longer applies)
Tucumcari was founded in 1902 as a construction camp for the Rock Island & Pacific Railroad,
and was originally known as Six Shooter Siding. By legend, the name Tucumcari comes
from two Indian lovers, Tocom and Kari, who died tragic deaths.
.
Left: Signs on Route 66 in Tucumcari.

Below: The famous Blue Swallow motel - still in business.



.
.
---
Santa Rosa
Spanish town first settled in 1865. Even now, most of the population are of Spanish decent.
..
Santa Rosa
Car Museum

This is the display "sign" outside
the museum, right on Route 66.
It's about 20 feet up in the air!

It's a great museum with some fabulous
cars, and if you offer the right price, you can
buy any one of them!
One of the display cars
inside the museum
.
.
---
Santa Fe
Santa Fe was founded in 1610 as the capital of the Spanish colony of New Mexico. Mexico, including New Mexico won independence from Spain in 1821. By 1846, the USA was at war with Mexico. New Mexico was invaded by the USA, and declared a US possession, becoming a US territory in 1850, and a state in 1912.
Today, New Mexico, and especially Santa Fe, is an exciting mix of Native American and Hispanic cultures, with art in all its forms, an essential element of that culture.
:
Santa Fe was on the original alignment of Route 66 until 1937. After that, a new stretch of Route 66 opened, connecting Santa Rosa directly to Albuquerque, now covered over by Interstate 40.

Navajo artist selling his paintings
outside the old Governor's Palace

All the artists who sell their arts and crafts
outside the Governor's Palace
have to be native Americans.
Old Adobe building in Santa Fe

All buildings in Santa Fe have to be constructed in Adobe style, by decree.
:
---
Albuquerque
Established in 1706, and named after the 8th Duke of Albuquerque and Viceroy of New Spain.
The city is the largest on Route 66 between Oklahoma City and Los Angeles.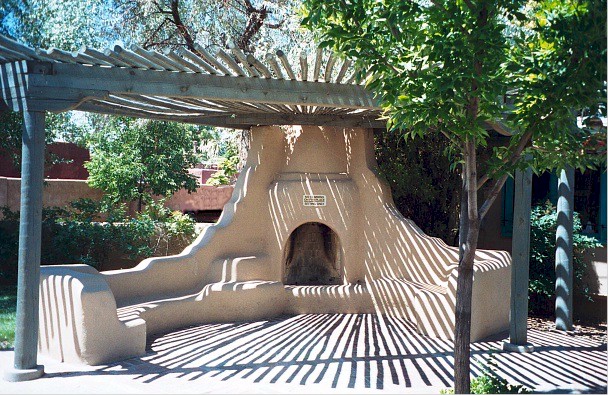 Adobe "Fireplace" in Albuquerque old town.
:
| | |
| --- | --- |
| | |
| Lindy's Diner has been serving Route 66 travellers with "the best chilli in town" since 1929 | Kimo Theatre right on Route 66 (Central Avenue through Albuquerque), opened in 1929, and was recently fully restored |
---
Click NEXT to continue the journey
ALL PHOTOGRAPHS COPYRIGHT JACKY & MIKE SMITH, © 2001. NONE TO BE REPRODUCED ELSEWHERE WITHOUT PERMISSION