IMAGES of ROUTE 66
Taken by Jacky & Mike Smith in 2001
The State of Oklahoma

Catoosa
The Blue Whale
at the Blue Whale
Amusement Park
(now closed)

Built in the 1950s.
Although the park and lido
are closed, the whale had
been newly painted when
we saw him in 2001.
Typical Route 66
though Oklahoma
---
Tulsa - Oil Capital of the World...
Vast area of oil fields in the area, led to the establishment of petroleum
company offices in the early part of the 20th century.
Originally established with the arrival of the railroad in 1882.
The Metro Diner, on Route 66, at dusk.

The Metro Diner is a 1950s eating house
which retains the original decor and styling,
with waitresses in outfits of that decade.
---
Stroud
Founded 1896 and boomed in 1923 with the discovery of the Stroud Oilfield.
Car on display at the
annual Stroud Car Fest
---
Oklahoma City... is mighty pretty
Established in the late 1800s, originally as a wagon train stop-over.
Later became an important railroad stop.
: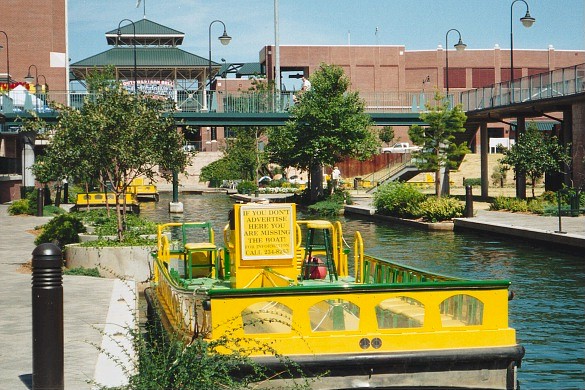 The Bricktown Canal
The canal was built over an old road as a millennium project in 2000. The old warehouses are now smart bars, shops and restaurants. The large brick building in the background above, is a base ball stadium.
---
Clinton
Established 1903 when the Frisco railroad built a depot there.
:
Clinton's Route 66
Museum.

The museum has many
large displays, a
running video of
Route 66 history,
and a well-stocked
souvenir shop.

Signs outside the
Museum at Clinton.

Oklahoma Highway Patrol
car at Clinton,
alongside Route 66.
Click NEXT to continue the journey
ALL PHOTOGRAPHS COPYRIGHT JACKY & MIKE SMITH, © 2001. NONE TO BE REPRODUCED ELSEWHERE WITHOUT PERMISSION