IMAGES of ROUTE 66
Taken by Jacky & Mike Smith in 2001
The State of Missouri

St Louis - Gateway to the West...
Largest city on Route 66 between Chicago and Los Angeles.
It was founded in 1774 by a French fur trapper, and named after French King Louis IX.
By the 1870s there were 300,000 living there, and it was a major transport hub on the Mississippi.
Most wagon trains with hundreds of people seeking a better life in the west, started from here.
It became a major stopping point for road travellers on Route 66.
:

Above: St Louis Arch of Westward Expansion
(with the Old Court House in the background)

Left: St Louis Arch from the Mississippi
It's 630 feet high, about two thirds the height of the Eiffel Tower.
It was built in 1966 from stainless steel, and has a "tram" system
inside to take visitors to the top for the view below.


Above: View of St Louis from the top of the arch

The interior of the Old Court House
(now the museum of St Louis' history)
:
Ted Drewes Frozen Custard, on 66 just west of downtown St Louis, was a welcome stop for travellers before the age of air-conditioning.

We stopped early to sample the "custard" (soft ice cream), but had to wait until opening time at 11am.
---
Springfield (Mo) - Queen City of the Ozarks...
The area was first settled in 1830, and from 1858 was a stop-off for the Butterfield Overland Mail.
:
In Springfield's main square, there is a plaque
commemorating the gun fight that took place there
in 1865, when Wild Bill Hickok shot Dave Tutt dead
over a gambling dispute.

There is still some interesting old architecture
in downtown Springfield, like this building,
built in 1879.
: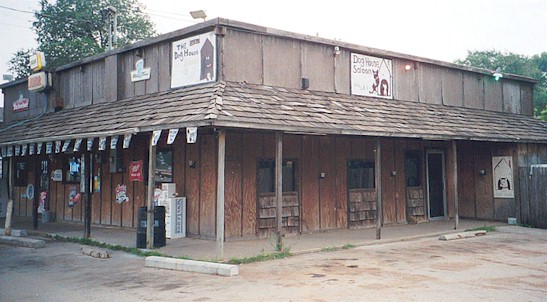 The Dog House bar, on the outskirts of Springfield.
We got some cold beers there, and an entertaining chat with the international occupants! The lady bar tender came from Germany, one guy at the bar originated from Zackinthos, Greece, and another guy, a Desert Storm vetran, insisted his ancestry was Scottish!
---
:
:
Click NEXT to continue the journey
ALL PHOTOGRAPHS COPYRIGHT JACKY & MIKE SMITH, © 2001. NONE TO BE REPRODUCED ELSEWHERE WITHOUT PERMISSION