IMAGES of ROUTE 66
Taken by Jacky & Mike Smith in 2001
The State of Kansas

Galena
Old coal mining town - now almost dead
Main street Galena - very quiet even at midday, mid-week.

There were a few shops still trading, like this car parts store, but the town had a dying feel.
Fading advertisement mural along the main street.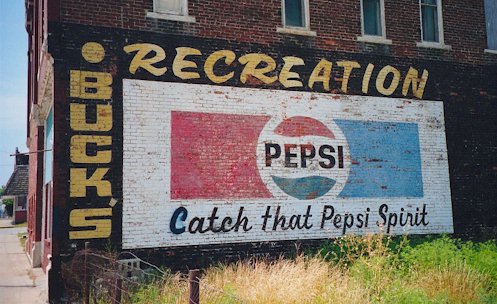 Rainbow Arch Bridge at Riverton, a few miles from Galena.

Unusually, this bridge is made from poured reinforced concrete, rather than steel girders.

There were a few in Kansas, but this may be the last.
.
.
Click NEXT to continue the journey
ALL PHOTOGRAPHS COPYRIGHT JACKY & MIKE SMITH, © 2001. NONE TO BE REPRODUCED ELSEWHERE WITHOUT PERMISSION