CARK AIRFIELD.
PHOTOGRAPHS: Dave Parkin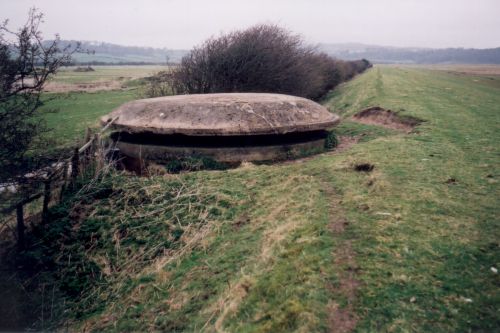 Cark was a wartime fighter aerodrome, opening in 1941. Once the threat of invasion had receded, it was used for Flying Training Command, and as a staff Pilot Training Unit. What we know today as the RAF Mountain Rescue came here in 1944 from around the corner at RAF Millom, seeking out those aircraft which had crashed on the lakeland fells. The M.R.U started life in 1942, moving when flying training ceased.
Cark closed when WWII ended in 1945, but re-opened in later years for private use. Much infrastructure stands today, as Dave Parkin's photographs show; a nice example being this cantilever concrete "mushroom" pill-box, which stands in the south-east corner of the aerodrome. Designed for all-round (360°) fire, it was designed by the F. C. Construction Company, Ltd., and was a feature of many aerodromes. A further example of this interesting type of pill-box - the concrete slab roof of which is supported on a central pillar within - can be found in the thumbnails below. A click on any of the thumbnails will reveal other photographs and further notes, where applicable.
It pleases me to report that many of the buildings extant today at Cark have been listed.
---
Home | Contents | Workington | Links | E-Mail
---