Introduction
Provincia do Brasil is the Brazilian settlement on Tirane, mostly located on the continent of Cabralia. Brazil took a conscious decision to treat their colony as an integral part of the Brazilian state, which has so far paid dividends as the Tiranista cause is relatively weak in Provincia do Brasil. Like most of the other colonies on Tirane Provincia do Brasil has a polyglot population with Greeks, Italians, Portuguese, Angolans in addition to native Brazilians in the mix. One over-riding factor in the cultural life of Provincia do Brasil is the influence of the Roman Catholic Church which has its Tiranean base here.
Acknowledgements
These articles were written by Ben Levy. Mapping is by Dave Malesevich.
Below: Clickable map of Provincia do Brasil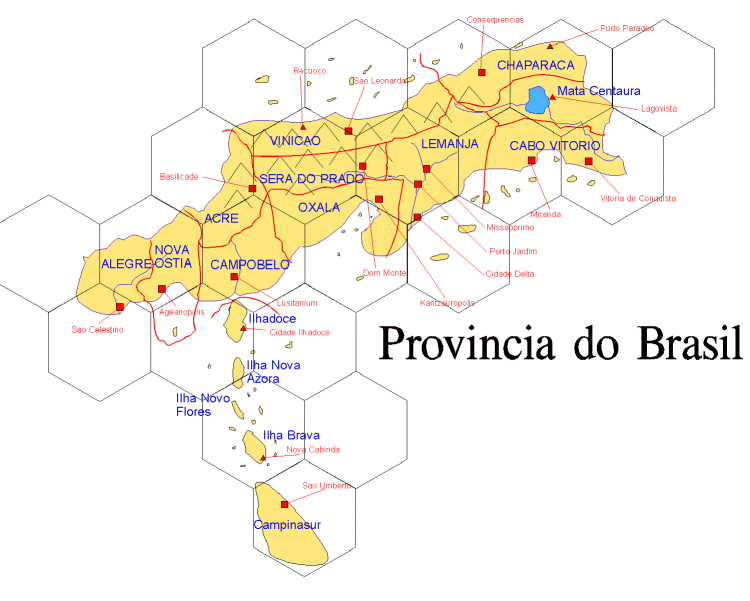 Articles
Provincia do Brazil

This article covers the introduction to PdB and national issues.
Visitor's Information
Religion
The Orbital Terminal and Starship Operations
The regions of Provincia do Brazil
PdB is composed of several distinct regions. These are covered in detail in the articles below.
Acre
Alegre
Brazilian Islands
Campinasur
Campobelo
Cabo Vitorio
Lemanja
Nova Ostia
Oxala
The North East
Sero do Prado
Vinicao