Ministries
The Hebrew word 'Bayith' can be translated in several ways but usually means 'house' or 'foundation'.
Our site aims to be a welcoming house that helps to provide visitors with foundational material to bless and encourage you.
There are five sections to our site:
Foundations
christian beliefs, teachings, doctrines, christian living, christian ethics
| | | | | | | | | | | | | | | | | |
| --- | --- | --- | --- | --- | --- | --- | --- | --- | --- | --- | --- | --- | --- | --- | --- | --- |
| | | | | | | | | | | | | | | | | |
| wholesome stuff to bless you and brighten your day | | | | | | | | | | | | | | | | articles offering a consistent world-view in an age of confusion |
Political Cultural and Social Issues
national and world political events, cultural and social dogmas and practices, and the ideologies behind them all
Health and Nutrition
maintaining physical, mental, emotional, and spiritual health

The Alpha Course
Online Versions of Our Books:
Alpha: New Life or New Life Style? | The New Age of Alpha
Alpha ~ The Unofficial Guide: World | Alpha ~ The Unofficial Guide: Church
Alpha ~ The Unofficial Guide: Overview


~~~~~~~~~~~~~~~~~~~~~~~~~~~~

**** LATEST NEWS ****
Mrs May Faces No Confidence Vote
"Pray into this no-confidence vote and the aftermath ... remind the Lord what he has done for us so far,
not because of our goodness - God knows our national sin - but because of his grace.
And perhaps he still has a purpose for this United Kingdom. Pray without ceasing"
"A man's heart deviseth his way: but the LORD directeth his steps" (Proverbs 16:9)
YOUTUBE: David Cameron:
"Your Decision. Not Politicians. Not Parliament. Just You"
"If we vote to leave, we will leave. There'll not be another renegotiation or another referendum"
("That is, if you vote to remain. Vote to leave and we will do everything in our power to nullify the vote")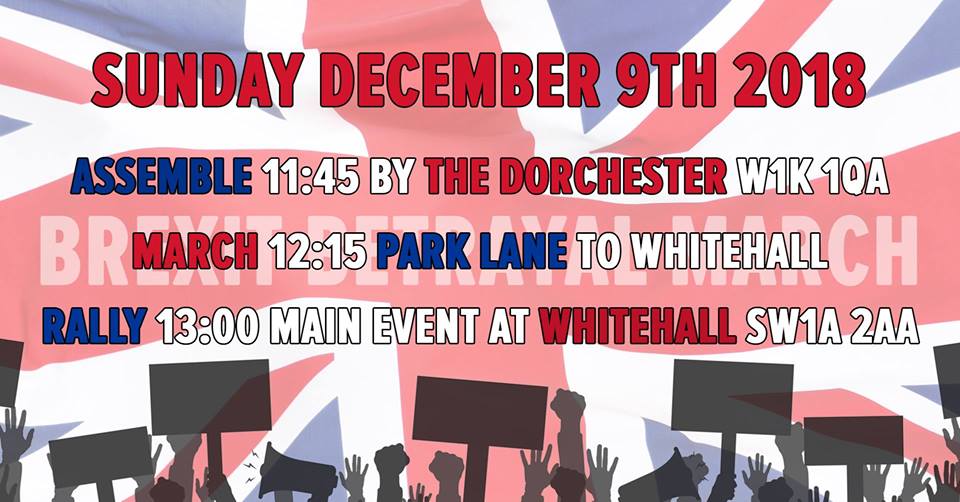 BREXIT BETRAYAL RALLY
BREXIT MEANS EXIT ~ DUMP THE DEAL!
Brexit Betrayal Rally - Brexit Means Exit!
"This is a cross-party People's Rally to show our MPs that the 17.4 million who voted Leave really meant what we said! ...
This will be a democratic and peaceful demonstration expressing the strength of feeling amongst Leavers
despite the torrent of anti-Brexit propaganda we have been exposed to for almost two and a half years"
UKIP Leader to Speak at Pro-Brexit Event
"I call on all Brexiteers across the nation to join us this Sunday (9th December) in London
to send a message loud and clear that the British people will not accept Mrs May's total capitulation to the European Union.
I and many other pro-Brexit voices from across the UK and internationally will be speaking at this cross-party event.
Let's show the establishment that democracy demands Brexit and that nothing short of the return
to Britain's total independence from the EU is what the people voted for on June 23rd, 2016"
[Gerard Batten, Leader of UKIP]
Everything You Need to Know About This Dog's Breakfast of a Brexit Fiasco
"Forget all the confusing details about the Single Market and the Customs Union and the Backstop, the bottom line is this:
if in March 2019, Britain finds itself 'leaving' the EU but still constrained by its court rulings
and unable to negotiate whichever trading deals it wants with whatever non-EU member states it wants,
then democracy has lost, the British people have been betrayed, and the Remain Establishment has won"
May's Betrayal Agreement Signed: Britain on the Road to Brexit In Name Only
"EU leaders have signed off on the Brexit agreement ... It isn't just Theresa May telling the little people to shut up and do as they're told.
European President Jean-Claude Junker took the opportunity this morning to warn British MPs to vote for May's deal..."

Briefing Paper on HM Government's Draft EU Withdrawal Agreement
"Dear Mrs May, The single most important task in your new role [as PM] was to deliver the decision of the Referendum.
That decision was very clear: to take Britain out of the European Union"
[Gerard Batten MEP, UKIP Leader, 9th July 2018]

Some Questions for Remainers
Concerning our Sovereignty, our Justice,
our Finances, our Guests.


---------------------------------------------------------------------------


DO YOU KNOW ABOUT THE...
UN Global Compact for Safe, Orderly, Regular Migration
To Be Agreed and Signed in Morocco, 10th-11th December 2018?
...BECAUSE IF YOU DON'T, YOU REALLY NEED TO!
The UN Global Compact for Safe, Orderly, Regular Migration
"The permanent normalisation of illegal immigration"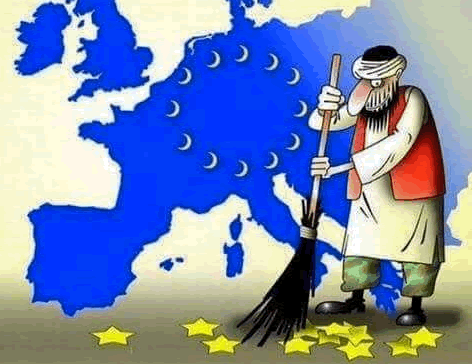 Traitor Theresa Signing Global Migration Pact
is Moral Blackmail and National Suicide
"Theresa May has decided to sign the UK to the UN Global Compact ...
this coincides with [her] attempt to put a permanent end to the UK's Sovereignty in the HofC ...
She has hailed her terrible Withdrawal Agreement as delivering an end to free movement of people from the EU,
but has agreed to sign the UK to the UN Compact which regularises mass migration from the whole world"
PETITION:
The UK Should Not Agree The UN's Global Compact for Migration
"The UN's Intergovernmental Conference will be held in Marrakech, Morocco on 10 and 11 December 2018.
Like Hungary, the UK should not sign"
No to Marrakesh!
The UN's Sinister Blueprint for Globalist Migration Hell
"'Marrakech C'est Non!' says one of the banners wielded by the Gilet Jaunes at the protests in Paris this weekend.
... the UN conference in Marrakesh where the world's nations are being asked to sign away their sovereignty,
their freedoms and their identity in one of the most pernicious agreements ever devised by the UN"
YOUTUBE:
The Terrible Truth About the UN Migration Compact
"A disaster for Western countries which virtually eliminates property rights and free speech,
enshrining the right for everyone to enter Western countries and live off the taxpayer"
YOUTUBE:
UN's Global Compact for Migration Expands on Hate Speech
to Criminalise Criticism of Migration
"ENF Press conference with Marcel de Graaf, Nicolas Bay, ENF Group Leaders, and Gerolf Annemans"
"'Hate Speech' is being used to silence opinions that go against the new world order"
"Migration is not a human right. Defending your homeland is"
Please see also these webpages for articles and videos discussing the following related and very relevant subjects:
The Tower Of Babel: Globalism vs Nationalism
The Migrant Crisis: The Great Replacement
Multiculturalism, Immigration, Racism
UN Report: Replacement Migration: Is It A Solution...? (2000)
The Barcelona Declaration (1995)
The Coudenhove-Kalergi Plan


------------------------------------------------------------



ASIA BIBI
October/November/December 2018
In stark contrast to the UN's disgraceful 'Global Compact' above is the sad case of a real refugee...
Asia Bibi, a Pakistani Christian mother, was convicted of 'blasphemy' in 2010 and has since been on death row
simply for sharing a bucket of water with her Muslim co-workers as they picked farm crops together in June 2009.
Praise God, her conviction has now been overturned, but Islamic radicals are still screaming for her death.
Neither she nor her family are safe in Pakistan and desperately need sanctuary in the West.
PETITION:
Let's Get Asia Bibi Out of Pakistan
"CitizenGo are asking the Pakistani Prime Minister, Imran Khan, to interceded as soon as possible
so that this Christian woman and her family can leave,
and that the necessary security measures will be taken to keep them alive"
Let Asia Bibi Leave Pakistan!
"Asia Bibi is not safe yet ... CitizenGo has held vigils across the world outside the embassies of Pakistan ...
We want the family to know they are not alone and to keep up the pressure on the Pakistani Government"
ACL Says Asia Bibi Could Come Here
"The Australian Christian Lobby welcomes confirmation from Australian Government sources
that Asia Bibi and her family will be offered asylum"

Betrayal of Innocent Christian as Our Government Fails to Offer a Home
"The life of persecuted Christian Asia Bibi still hangs on the balance as we go to press, yet our own government has not offered her asylum.
Why? Because the Foreign Office is too frightened - both of extremists in our own country and of attacks on our consulate staff in Pakistan"

Why There's No Feminist Outrage Over Asia Bibi
"Asia seems an ideal candidate for politically-correct 'virtue-signalling' today.
She's a farm labourer, not a powerful business man. She's a woman living in a state where women are second-class citizens.
And she's a member of a persecuted minority - Christians in a fundamentalist Islamic nation.
And that's where the difference lies. Somehow Christianity is an embarrassment to people
living in lands where they owe their freedom to the Christian ideals of the past"

No Sanctuary for a Christian in the UK
"It seems that [Asia Bibi's] only chance of survival lies with an offer of sanctuary by a foreign country.
If she is denied this the chances are the Islamist [sic] mobs baying for her blood in Pakistan will kill her. So this literally a case of life and death ...
[but] despite the fact that hundreds of thousands of Pakistani Muslims are welcomed in the UK, one Pakistani Christian is denied access.
This is how cowered and morally bankrupt the UK Government has become..."

Why Don't We Want Her? Because She's Christian?
"A real refugee! Now we have a case of a real refugee who needs help - a refugee who is genuinely threatened for her beliefs ...
why haven't there been 'Aasia Welcome' protests across Western Europe? Is it because Aasia Bibi is a Christian?
Is it because Aasia Bibi doesn't come from the elites' favourite religion?"
"Praise God for the Supreme Court's acquittal of Aasia Bibi, parting the sea (Exodus 14:21)
for her release in the face of threats and opposition - an answer to nearly a decade of faithful prayer from believers around the world.
Pray that the Almighty will be a refuge for Aasia, keep her safe from danger
and be a fortress against those who would seek to harm her or her family (Psalm 59:1).
Lift up in prayer Christian communities in Pakistan who face the threat of violence as mobs mass on the streets in protest.
Ask that the Lord will defend His people on every side, lifting them to safety, and thwart the malignant plans of evil (Job 5:11-12)"
[Barnabas Fund].
"Deliver me from mine enemies, O my God:
defend me from them that rise up against me"
(Psalm 59:1)
http://www.persecution.org/
http://www.britishpakistanichristians.co.uk/
http://www.releaseinternational.org/index.php
http://www.barnabasfund.org/
There are many, many others, also persecuted by Islam, who desperately need us to pray for them...
"Remember them that are in bonds, as bound with them; and them which suffer adversity,
as being yourselves also in the body"
(Hebrews 13:3)


~~~~~~~~~~~~~~~~~~~~~~~~~~~~~~~~~~~~~~~~~~~~~~~~~~~~~~~~~~~~~


...ONGOING ISSUES...
The Migrant Crisis
al-Hijrah: "The migration to, and eventual takeover of, foreign places following the example of Mohammed"
"Muhammed was once a refugee taken in by the Jewish city of Medina.
Within 5 years he had driven out, executed, or enslaved every Jew there"
"The 'refugees' are 70% males under the age of 30.
They aren't refugees, they are jihadists heading off to war"
"We have 50 million Muslims in Europe. There are signs that Allah will grant victory in Europe -
without swords, without guns, without conquest - will turn it into a Muslim continent within a few decades"
"You can avoid reality but you cannot avoid the consequences of avoiding reality"

---------------------------

The Rape Jihad
"Women of Europe must understand what is happening here ... This is a truly brutal hatred of women
that demands we are slaves and absolutely believes it has the right to rape women who don't submit.
The men think of women in this way because that is where they come from, that is what they know ...
It's true, women are abused everywhere, but in most countries it's against the law.
In Islamic states, it is the law"

---------------------------

The Rotherham et al Rape Gangs
"If you see evil, you confront it, you oppose it. You certainly speak about it" (Tommy Robinson, 23 May 2018)
Accrington, Aylesbury, Banbury, Barking, Birmingham, Blackburn, Blackpool, Bolton, Bournemouth, Bradford, Brierfield, Bristol, Buckinghamshire,
Burnley, Burton-on-Trent, Bury, Cambridge, Carlisle, Chesham, Colchester, Coventry, Derby, Dewsbury & Batley, Dudley, Essex, Glasgow,
Great Norton, Halifax, Harlow, Hayes, Huddersfield, Ipswich, Keighley, Kent, Leeds, Leicester, Leigh, Littlehampton, Liverpool,
London (Bethnal Green, Finsbury Park, Hackney & London Fields, Harrow, Kensington, Mile End, Whitechapel), Luton,
Manchester, Middlesbrough, Nelson, Newcastle, Nottingham, Oldham, Oxford, Peterborough, Preston, Plymouth, Redcar,
Rochdale, Rotherham, Sandwell, Scunthorpe, Sheffield, Shrewsbury, Skipton, Slough, South Shields, Stevenage,
Stockport, Stockton, Stoke-on-Trent, Sunderland, Telford, Torquay, Toxteth, Walsall, Wolverhampton, Yeovil...

Let Us Give Thanks to Our Many Multi-Cultural Enrichers!
"I would like to dedicate this weekend's blog to those wonderful people who have selflessly left their own countries
and endured so many personal sacrifices in order to travel to Britain and enrich our life here
in once boring, safe, peaceful mono-cultural Britain"
The Rotherham et al Rape Gangs | But What About the Parents?!
A few months ago, I had a brief conversation with a social worker concerning children caught up in the State 'care' system,
the Rotherham et al rape gangs, the respective roles of Social Services and parents,
and various other aspects of the State's assistance (at least, as the State sees it) of families in recent decades.
Because our chat was necessarily very brief, I subsequently revisited in a little more depth some of the topics we'd touched upon,
collating them into a letter to the social worker concerned, of which these two documents are just a part.
Britain's Liberal Elite Still in Denial About Muslim Rape Gangs
Who Will Speak for the Huddersfield Girls?

---------------------------

Female Genital Mutilation
"We must not pussyfoot around FGM and child marriage, but confront them and prevent them"
FGM: The God Who Hates

---------------------------

Islam
"And he will be a wild man; his hand will be against every man"
"that bitter and hasty nation, which shall march through the land, to possess the dwelling places that are not theirs.
They are terrible and dreadful ... They shall come all for violence ... imputing this his power unto his god"
"Where he remains there will be death and suffering. He will kill because it is all he can do.
He has nothing else to offer the world, his own kind, or the Creator"
YOUTUBE: Muslim Agenda [in the UK] Exposed by Ex-Labour MP
"In what year will the UK have a Muslim majority? ... The time to wake up is now"
[The UK's Demographic Transition to an Islamic State]


---------------------------


UK: A Police State: Political Arrests: Melanie Shaw
Nottingham Beechwood children's home child abuse survivor and whistleblower.
"Melanie Shaw, who is a survivor of abuse at a children's home in Nottingham
remains in a high-security prison with no substantive evidence against her
in a suspected cover-up by the establishment"


~~~~~~~~~~~~~~~~~~~~~~~~~~~~~~~~~~~~~~~~~~~~~~~~~~~~~~~~~~~~~

Remembrance Sunday
11th November 2018
The Centenary of Armistice Day ~ The Great War: 1918-2018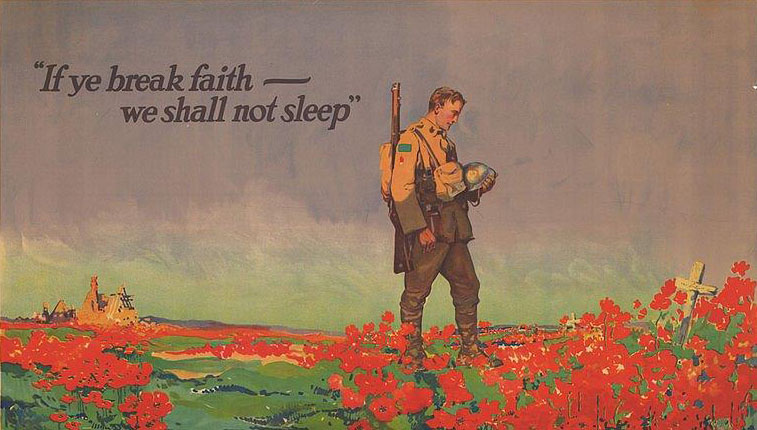 "In Flanders Fields the poppies blow between the crosses, row on row, that mark our place;
and in the sky the larks, still bravely singing, fly scarce heard amid the guns below.
We are the Dead. Short days ago we lived, felt dawn, saw sunset glow,
Loved and were loved, and now we lie in Flanders fields.
Take up our quarrel with the foe; to you from failing hands we throw the torch; be yours to hold it high.
If ye break faith with us who die we shall not sleep,
though poppies grow in Flanders fields"



~~~~~~~~~~~~~~~~~~~~~~~~~~~~~~~~~~~~~~~~~~~~~~~~~~~~~~~~~~~~~
STICKIES:
The State as Parent
"The first thing that a totalitarian regime tries to do is to get at the children,
to distance them from the subversive, varied influences of their families,
and indoctrinate them in their rulers' view of the world"
Withdraw Thy Foot... | Children in the State System
The State as Parent: Institutionalised Child Abuse
"Above all things, the child needs protecting from the State"

---------------------------

Political Correctness and Identity Politics
Cultural Marxism's "Long March Through The Institutions" of Western Civilisation
"We will make the West so corrupt that it stinks" [Willi Munzenberg, The Frankfurt School]

---------------------------

Education
"Parents have a prior right to choose the kind of education that shall be given to their children"
[UN Universal Declaration of Human Rights (1948) Article 26]
"In the past 125 years, social engineers have sought to keep [Western] life under tight central control.
Compulsory schooling is a deliberate effort to establish intellectual, economic, and political conformity
so that society can be managed efficiently by a technocratic elite"

---------------------------

Agenda 21 and Sustainable Development
"The planned global control of all land, assets, resources, and people"
"The Future isn't bleak. It's empty. It has nothing in it at all.
Grey boxes stacked behind grey doors in grey shops staffed by grey people ... What's coming is a new Dark Age
... You know the worst part? An awful lot of people will just accept that grey world.
They won't do anything about it at all and they will report any who try.
It's happened before in individual countries but this time it's global.
This time there is no wall to climb over"
Ode to Medway Council


~~~~~~~~~~~~~~~~~~~~~~~~~~~~~~~~~~~~~~~~~~~~~~~~~~~~~~~~~~~~~
ALSO:

The Dhimmitude of the Foolish MOD
The Ministry of Defence or the Ministry of Submission?
Following a 'complaint' by the pernicious grievance-mongering fifth-column Muslim Council of Britain,
the British Army has pathetically virtue-signalled its politically-correct credentials by launching an 'investigation' into some Army cadets
who took a photograph of themselves with the patriot Tommy Robinson when their coach stopped at the same motorway services recently.
The MOD seems to have forgotten that its raison d'être is to defend our country from its enemies, not submit to them.
I Am Soldier X

---------------------------

Tommy Robinson's Retrial
23rd October 2018
"If it had not been the LORD who was on our side, when men rose up against us:
Then they had swallowed us up quick ... Then the waters had overwhelmed us ...
Blessed be the LORD, who hath not given us as a prey to their teeth.
Our soul is escaped as a bird out of the snare of the fowlers:
the snare is broken, and we are escaped.
Our help is in the name of the LORD"
(Psalm 124)
Deconstructing Tommy Robinson's Court Case
Tommy Robinson, Britain's Last Lion, Roars

YOUTUBE: How They Rule Ya
READ: Tommy Robinson's Court Statement in Full

WATCH: Tommy Robinson Reads Out His Powerful Court Statement of Evidence
WATCH: Supporters Gather Outside Court as Tommy Robinson Faces Trial in London
The Seven Stages of Tommy
"The thing about pint-sized Tommy Robinson is just how much he towers over
the privileged and powerful of our country ... [He] has shown himself to be not only the bravest man in Britain
but even one of the bravest in our illustrious history of brave men.
Where are you in the Seven Stages of Tommy?"

Conscience. Character. Courage.
"A large proportion of Brits know Tommy Robinson is right.
But to what degree do they share his conscience, his character, and his courage?
How many of them have heard, or will soon hear - and heed -
a voice inside telling them that they, too, have to do something?"
YOUTUBE: Tommy Robinson: Why I Started the English Defence League
Tommy Robinson Retrial: The Charges

Tommy Robinson Speaks About His Retrial

Tommy Robinson Interview on His Treatment in Prison (12 September 2018)
Tommy Robinson Arrested and Imprisoned (25 May 2018)
"They used to come in the middle of the night ...
and throw you into the back of a van and drive you to some detention facility.
You may, or may not, get some kind of show trial ...
and then you would be whisked off to some gulag or concentration camp,
where you may survive, or you may not"
Tommy Robinson Interview Two Days Before His Arrest (23 May 2018)

Tommy Robinson Interview (14 March 2018)



~~~~~~~~~~~~~~~~~~~~~~~~~~~~~~~~~~~~~~~~~~~~~~~~~~~~~~~~~~~~~


Israel
"I will make of thee a great nation, and I will bless thee ...
and I will bless them that bless thee, and curse him that curseth thee:
and in thee shall all families of the earth be blessed"
"Behold, he that keepeth Israel shall neither slumber nor sleep"
"As the mountains are round about Jerusalem, so the LORD is round about His people
from henceforth even forever"
The Restoration of Israel


~~~~~~~~~~~~~~~~~~~~~~~~~~~~~~~~~~~~~~~~~~~~~~~~~~~~~~~~~~~~~



Dwelling Place
"A song based on King David's declaration in Psalm 132
that he wouldn't let himself rest until he had made a dwelling place for the Lord"
Written by Sarah Begaj, filmed by Ruth Hill


~~~~~~~~~~~~~~~~~~~~~~~~~~~~~~~~~~~~~~~~~~~~~~~~~~~~~~~~~~~~~



What We Believe | How To Support Bayith Ministries | Contact Us

One thing have I desired of the LORD, that will I seek after;
that I may dwell in the house of the LORD all the days of my life ~ Psalm 27:4