"HO THERE!!!!!"
"The following are updates to this Citadel of Darkness, the most recent being near the top."
The Warmaster last spoke here on 05/07/01 18:33:34 GMT Daylight Time
---
"Has been awhile since this site has been updated but uni has finished so I can devote more time to updating this Lair. Currently in the process of sorting out dead links and stuff and trying to sort out the art section."
"Going to do a section on the crusades at some point as I find this period in history extremely interesting."
"Busy at uni some updates maybe slightly infrequent for a while."
"Updated my biography."
"Changed my poster store, more posters added for you to buy."
"More photos. In the process of scanning more artwork and adding more band photos."
"Been scanning loads of photos and totally redone the Legio Mortis High Command."
"Started updating stuff today. Found a funny picture a Marduk Cereal Box "
"Site will not be updated till end of June."
"Lyrics to added Abigor's Orkblut- The Retaliation and Supreme Immortal Art albums. Also added a page about computers used in the movies which is very funny!"
"Added lyrics to the Marduk album Nightwing"
"Re done the Simon Bisley gallery so should load quicker and added some new images."
"Added a Landscape photograph gallery."
"Nice. Received the GMDesigns gold award today! :o)"
"Re done my Keith Parkinson and Mark Gibbons galleries and added more images to them."
"Added more mp3 downloads and also the cradle of filth video to the Battle Hymns section."
"Changed the menu in the Fantasy Art section. Also added a Jeff Easley gallery, and some more mp3s to the Battle Hymns page and the Cradle of Filth video. An Abigor Discography has been added and so has an interview with Morgan HÜkansson of Marduk."
"Added some more black metal interviews from bands like Abigor, Bewitched, Enthroned and Dimmu Borgir."
"Re built my Marduk site. Some if it is still has to be constructed."
"Heaps new Luis Royo pics. Enter the Luis Royo gallery here. Also added some new mythological links."
"Created a new room which contains various bits about this site. It can be found here. Been adding lots of new fantasy art gallery. Mainly Luis Royo and to a new Jim Burns gallery."
"Added a metal webring section."
"More Simon Bisley pictures as well as more pics for Boris Vallejo"
"Started a interview section in the Black Metal part of this Lair, Creatures of the Battle Hymns, and includes interviews with Mayhem, Emperor, Dimmu Borgir, Marduk and more."
"The Ted Nasmith gallery is up and also a gallery of my favourite artist of all time, Simon Bisley."
"Added lots of new pictures to the John Howe gallery and have started to make a gallery for the artist Ted Nasmith."
"Added lots of new downloads, which include a Dark Funeral and Dimmu Borgir videos."
"Redone the Emperor gallery, which is now in vrml format. These is also a non vrml version for people who don't yet have a plug in for this format. In the future I hope to turn the Lair of Darkness into one big 3D world, and have converted a quake level into one already, hopefully this Lair will turn out similar to this, but with a lot more detail. Enter here to view it."
"Added a VRML gallery to the Cradle of Filth shrine. You will need a vrml plug in to view this page. Might change all my galleries to be like this in the future. Hecate Enthroned and Bal Sagoth have both released new albums so will be adding more info in their respective shrines. Have also joined a few more webrings."
"The links section has been reconstructed and split into smaller parts. Enter here if you would like your link to appear there."
"The Cradle of Filth shrine is now almost finished and have begun to add more to the download section. This will mainly be music downloads. More dragon images has been added to the dragon art gallery.
"Visit the new alliance section."
"Started a banner/link exchange. Enter here for more details."
"Added some pictures to the High Command of Legio Mortis."
"A few tweaks. Have begun to update the links section so check there soon for some changes."
"Apply now to win my new Battle Trophy!"
"Added lyrics to all of Immortal's albums."
"Have been adding mainly new pictures in the Creatures of the Battle Hymns section and have also started on the Immortal shrine."
"Just added a new section to the Library on Norse mythology and also on the Viking Longship."
"After a lengthy Crusade of 2 months, I have returned, so expect new things to start appearing here soon."
"A small chamber dealing with horse Armour has been added to the armoury."
"Got the Boris Vallejo art section up."
"Started a new section dedicated to black and death metal bands."
"At last, got the Cheshire's Catt award! Been waiting a long time for this one."
"Completely reshuffled this Lair. Changed the illusion at the barbican again. The armoury and fortification sections can now be found in the new Legio Mortis part of my Lair. A guestbook as been added so please sign it. The most major changes have occurred in the Legio Mortis sections and the Solar. The Boris Vallejo art section has been completed, all that's needed is for me to upload it somewhere. A section dealing with the groups of people who compose the Battle hymns that accompany us to war is being started. The first 'band' dealt with is Bal Sagoth."
"Well, more of the solar is now up and so is the Legio Mortis High Command. Should all be finished soon. Might though, have to postpone the Boris art."
"The first part of my Solar is up, so please have a peek. This weekend it should be finished as well as the Boris Vallejo art gallery"
"Changed the illusion found in the Barbican, and have also added the first of the new art galleries, this one being dedicated to the art of Larry Elmore. "
"In the process of doing 3 new art galleries."
"Just thought I'd say that this section along with the photos of myself shall be moved to a new section called the Solar very soon, a week or less I hope."
"The main changes that have been made to this Lair is that a new art gallery has been added, covering the work of Keith Parkinson, whom I'm sure many of you have heard of. If not, do not despair, I'm sure that if you look at his art you will recognise many of his pictures, I hope :O) Also, many new images has been added to the existing Luis Royo gallery as well as the one dedicated to dragons.
"A few images have been added to the armoury, in the helmets and armour section. I'm currently working on a new section, dedicated the vessels of war the forces of Legio Mortis use and I think this will tie in well with the fortification sections."
"Time to go now, a Christian Stronghold needs to be attacked and preparations must be made, so farewell brave adventurer, and I hope you enjoy our Lair!!."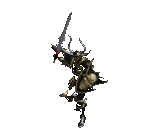 ---