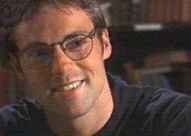 Click photo to hear Daniel
In May 1999, I posted Fan Fiction. Little did I know that a year later the idea (that Daniel lurks on the samandjack mailing list) would have spawned ten more stories and begun to take on a life of its own. For instance, did you know that Danny now has his own e-mail address? Try mailing him at djlurk@yahoo.com if you don't believe me!
Images -
"Danny Lurks - the photographic evidence"
"Danny Lurks - more photographic evidence"
Stories -