Dambusters Pilot remembered
SQUADRON LEADER HENRY ERIC MAUDSLAY
DISTINGUISHED FLYING CROSS
ROYAL AIRFORCE VOLUNTARY RESERVE
"They shall not grow old, as we that are left grow old:
Age shall not weary them, nor the years condemn.
At the going down of the sun and in the morning
We will remember them."

"For the Fallen", by Lawrence Binyon 1869 - 1943
A plaque (click to view) "TO THE GLORIOUS MEMORY OF HENRY ERIC MAUDSLAY DFC, SQUADRON LEADER RAFVR KILLED IN THE ATTACK ON THE MOHNE DAM 16TH - 17TH MAY 1943 AGED 21 YEARS" on the wall to the left of the organ in Sherboume Church, commemorates a young man who achieved so much in his short life. He was the youngest Squadron Leader in the Dambusters. A lady in the village remembers, as a young girl, going to pick wild flowers with him, his elder sister and nanny.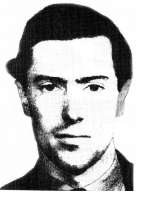 Henry Maudsley DFC


He was born in Leamington Spa on July 21st 1921, the youngest child of Reginald Walter Maudslay (1/9/1871 - 14/12/1934) and his wife Susan Gwendolen (14.11.1881 – 9.2.1974). He had a sister, Margaret Kate (18.2.1910 – 9.7.1979), who was 11 years older. His family was connected to the Standard Motor Co and the Maudslay Motor Co.

In 1925 the family moved to Sherbourne Priors, an imposing house in Watery Lane, now a Language School. His father died in 1934, when Henry was only thirteen years old. Henry went to a Prep School in Gloucestershire and then to Eton, 1935 to 1940. He showed great ability as a long distance runner and won the School Mile three years in succession. He was also a good oarsman in pairs and as a member of the 'Eights' crew. In his final year he was Captain of Boats and of Athletics. He was elected by his peers to 'Pop', the elite Eton Schoolboy Society, of which Prince William was recently a member.

His family left Sherboume in 1937 and moved to Willersey, near Broadway in Worcestershire, to Foxhill Manor, an imposing house with magnificent views, now owned by Group 4 Security. Henry's name is on the War Memorial at the entrance to St Peter's Church in Willersey, near Broadway. His parents are buried in Sherboume churchyard and near their headstone is a plaque in memory of his sister, who died in 1979. They can be found between the church and the lake.

Whilst still at school in April 1940, Henry volunteered for the RAF and was called up in that July. He was a shy quiet young man, who did not like having his photograph taken. Whilst in the RAF, when he was not on duty, he always changed into civilian clothes.

From 1940 - 1943 he did so much. After call up, he did his initial training at RAF Uxbridge then on to Bexhill and Paignton. In September 1940 he was accepted for pilot training and sent to No.4 Elementary Flying Training School at Brough near Hull, where he was taught the rudiments of flying on the Blackburn B2 and Tiger Moth. In October 1940 he was posted to No.32 Service Flying Training School at Ternhill, Shropshire to convert to the twin-engined AvroAnson. During November 1940 he was transferred to Canada in the initial part of the Commonwealth Air Training Plan. Whilst stationed at Moose Jaw, Saskatchewan, he completed his training on Ansons and returned to England in February 1941. After a period with No.25 Operational Training Unit at Finningley, Yorkshire, he converted to the Handley Page Hampden and was posted to No44 Squadron at Waddington, Lincs.

Having successfully completed his initial training laying mines, he undertook twenty-nine operations to targets such as: Kiel, Cologne, Essen, Frankfurt, Kassel, Mannheim and Lorient. In November 1941, in poor weather, he single handedly attacked two enemy cargo vessels off the Dutch Coast, which resulted Maudslay being awarded the Distinguished Flying Cross in January 1942.

From December 1941 he was attached with other members of No. 44 Squadron to Boscombe Down, Wilts, to carry out service trials and work with the new Avro Lancaster. He returned to Waddington in February 1942 and trained other Squadron members to master the new aircraft. In May and June 1942 he took part in attacks on Cologne and Essen.

In July 1942 he transferred to No 1654 Conversion Unit at Wigsiey, Notts, converting No5 Group aircrew via the Avro Manchester to the Lancaster. At the end of December 1942 he applied to return to operational flying and was posted to No50 Squadron at Skellingthorpe, Lincs, flying Lancasters. After completing a further thirteen operations, including several over the Alps to Italy, F/Lt Maudslay together with his crew was posted to Scampton, Lincs, on 25th March 1943.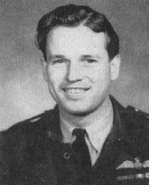 Wing Commander Guy Gibson DSO DFC


Maudslay was promoted to Squadron Leader and became B Flight Commander of the new 617 Squadron being formed under Wing Commander Guy Gibson DSO DFC. Low level and cross country flying was being practised first at 150 feet then at 60 feet by day and night, often over water. Men, normally trained to attack at 15,000 to 20,000 feet, were now practising flying straight and level at 220mph at a height of 60 feet. Due to security, no explanation was given to the crews until the day before the attack. Gibson was a strict disciplinarian and emphasised the need for tight security.

Many locals, living in areas where the low flying was practised, were furious by the serious vibrations, which caused the loss of roof tiles and were blamed for the reduction in egg and milk production. Some people thought the crews were joy riding. Suitable lakes for practice were found in Wales and the North Midlands - Derwent Reservoir, Lakes Bala, Vyrnwy and Elan Valley. There is a memorial at Derwent Reservoir Dam, which reads "They paid for our freedom ".

Maudslay took one aircraft to Farnborough to fit to the fuselage two lamps, whose beams converged at 60 feet. Later at Scampton, during the night, he demonstrated their effectiveness. Gibson was satisfied and consequently all 617 Squadron were equipped with these lights called "The Spotlight Altimeter Calibrator". A special VHF radio had to be installed in the aircraft because of the low altitude flying. The Lancasters were adapted to fit the "Upkeep" cylindrical bouncing bomb, which weighed 9,2501bs, was 60 inches long and 56 inches in diameter.

On May 1st Gibson phoned Barnes Wallis to say he was confident the Squadron could carry out the operation. The training had lasted just six weeks. The Air Force told all squadron members to make wills. Henry Maudslay, together with Norman Barlow, witnessed Astell's will, all pilots, who with their crews lost their lives within a few miles of each other – never to return.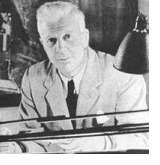 Barnes Wallis


The reason for all this preparation was not revealed until shortly before the attack, when aircrew were introduced to the 'bouncing' bomb, devised by Barnes Wallis. The object was to breach dams in the Ruhr, Germany's industrial heartland. Aircraft had to fly over enemy territory, avoiding ground radar and enemy flak to reach their targets, hence the low flying practice, vital to position the bouncing bomb. The dams were to be breached in order of priority: Mohne, Eder, Sorpe, Lister, Ennerpe, Diemel. This would cause severe flooding and interruption to industry and utilities. On May 12th Maudslay was one of several crews practising dropping an inert "bouncing" bomb, at a low altitude, at Reculver Bay in North Kent. The resultant spray and shingle thrown up damaged the aircraft and pieces were seen falling off. The ground crew at Scampton worked day and night to repair the damage, but were unsuccessful. This meant that only nineteen aircraft could take part in the raid. The nineteen left Scampton on 16th May in timed waves, ten minutes apart, to allow them to be directed to the dams not yet breached. Eight planes did not return.

Squadron Leader Maudslay's plane left Scampton at 21.59. The Mohne Dam had already been breached, therefore he was directed to the Eder, which is surrounded by ridges 1000 feet high, making the approach very difficult. Gibson ordered Shannon to make the first attack. He made three or four attempts without releasing the "Upkeep", because he couldn't get the correct height and speed, after a dive and tight turn. Maudslay then tried twice with similar problems. During these runs he may have damaged the bomb release mechanism on trees. Shannon made two more dummy runs, then dropped the bomb, which exploded with an upsurge of water. Shannon then climbed to safety, thinking he had breached the dam. This was not the case so Maudslay made a third attempt on the target at 01.45 but the "Upkeep" dropped too late and exploded on impacting the parapet of the dam, which may have damaged the plane. Gibson asked, if he was OK. Maudslay's faint reply was "I think so, stand by". Pilot Officer Knight, an Australian, then came in, made one dummy run and then released his bomb at 01.52. This hit the dam and sank to thirty feet, as planned, before blowing a large hole through the dam wall.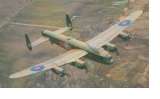 A Lancaster bomber


After the Mohne dam was breached 134 million tons of water poured out. The larger Eder dam spewed out 202 million tons of water. These were the prime targets. Widespread flooding followed, which affected industry, roads, bridges and utilities. Steel production needs large quantities of water. 1,200 people lost their lives.
Of the nine aircraft, which attacked the Mohne and Eder dams, only five returned. On his way back to England Maudslay's plane was shot down close to the Dutch Border at 02.34 and burst into flames with the loss of all the crew:

Pilot - Squadron Leader H E Maudslay DFC
Flight Engineer - Sgt J Marriott DFM
Navigator - F/O R A Urquhart DFC (Canadian)
Wireless Operator - W/O A P Cottam
Bomb Aimer - P/O M JD Fuller
Front Gunner - F/O W J Tytherleigh DFC
Rear Gunner - Sgt N R Burrows

Initially they were buried in Dusseldorf North Cemetery. Later they were re-interred in the Reichswald Forestry War Cemetery.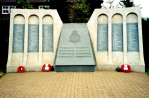 Memorial to 617 Squadron, at Woodall Lincolnshire


The code-named "Operation Chastise", as the Dambuster's Raid is known, gave a real boost to civilian and service personnel in the dark days of 1943. In one night an outstanding squadron lost 42% of its strength. After the Dams raid 617 Squadron was retained as a precision bombing squadron, developing and using its own low level target marking techniques. Recently RAF jets of 617 Squadron pounded Iraqi defences with the latest precision weapons.

Team work was essential in all these operations and all played a valuable part in ensuring our freedom. We give thanks to them all.
Compiled by Ann Tallis, Sherbourne, Warwick. 2003
Acknowledgements
Thanks to Mr J Pratley, historian with the Wellesbourne Aviation Group and Wellesbourne Airfield Wartime Museum, who allowed me to use his file on Henry Maudslay.
Bibliography:
"The Dambusters" by Paul Brickhill. Pan Books. 1951.
"The Dambusters Raid" by John Sweetman. Cassell Military Paperbacks. 1982.
"Dambusters" by Chris Ward, Andy Lee and Andreas Wachtel. Red Kite. 2003.
"Life's Too Short to Cry" by Tim Vigors DFC. Grub Street Publishing. 2006.
Websites:
617 Squadron , The "Dambusters"

History Learning website
BBC - Retrace the daring journey