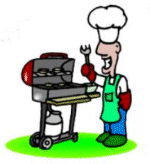 BBQ :
Saturday 16th July
In St Peter's Church grounds, Barford 6:00 for 6:30pm.
Licensed Bar.
Meat for Aubrey Allen

Tickets available from Barford Village Shop, Adults £10, Child £5. Family (2 aduts and 2 children) £20.
Includes first drink.
In aid of Church Fabric Fund.
---

An opportunity to reach out and meet with God in song and silence.
Every last Sunday of the month at 6:00pm in St Peter's Church, Barford
This month, this is Sunday 31st July 2016.
---
NEWS FROM THE PEWS! :
The PCC held its first meeting of the new church year on May 19th at which Jo Barrand and Chris Sanders were welcomed as new members of the Church Council and also Jane Scott who has become a Church Warden.
Wide ranging discussions took place on the church's 'key areas', looking back over recent activities and making plans for the future. As mentioned last month, the recent Quinquennial report has highlighted the need for a significant amount of work on the church fabric to repair and preserve the building – which will require a sustained fund raising effort.
One of the more enjoyable ways of raising funds is by holding events and this led to a number of ideas being put forward – including a Summer Barbeque party in July, a Jazz Concert in the Autumn and looking further ahead, having an Open Gardens Weekend in Barford next year. This is something that has been very successful in Wasperton (which had one in May this year) and we feel sure there must be many keen gardeners in Barford who might open up their gardens for others to see!
The first step is to gauge interest, so please start to think if you would like to participate - it will probably be in May or June next year. A lunch will be held in church on September 10th to which all those interested in taking part are invited and where the plans can be discussed in more detail.
As before the church services are timetabled on this website and other key dates and events will be detailed or advertised separately.
---
SHERBOURNE BELLS :
Our own new muffles were used with the bells for the first time on the evening of Good Friday; the plaintive half-muffled toll befitting the solemn occasion.
The bells rang out again five days' later to the joyful sound of a Surprise peal rung by a team from Kineton. This gave the bells a much needed work out, the peal lasting for 2 hours 35 minutes.
And there was more to follow nearly three weeks' later, when a team from the Isle of Man, on tour in England, rang in Sherbourne.
More ringers are required. We are especially keen to welcome back those who may have learned in the past how to handle a bell and ring rounds but who then set aside the hobby.
---
SHERBOURNE CHURCH - MONTHLY COFFEE MORNING :
(3rd Sunday of every month from 10am until 12noon)
We invite you and the family to join us at our monthly Coffee Morning. It's an opportunity to get to know us better. We serve complimentary refreshments including coffee, tea and hot chocolate along with a selection of breakfast items such as bacon butties, hot waffles and warm croissants.
We also support Fairtrade so come and have a look at the items on our Fairtrade table. When you purchase any product with the FAIRTRADE mark on it you are supporting farmers and workers as they work to improve their lives and their communities.
This month it will be 17th July.
Hope to see you there... you'll receive a warm welcome.
Contact: Gail Robinson-Smith
---
CATHEDRAL PARISH PARTNER'S REPORT :
Photographic Exhibition 'The English Cathedral'
The exhibition is a collection of stunning photographs created by Peter Marlow (who died earlier this year) and features prints of all 42 Anglican cathedrals in England.
This is the first time the exhibition has been staged outside of London and will be located in the Chapel of Christ the Servant until 5th September 2016.
David Hill
Cathedral Parish Partner
---
COVENTRY CATHEDRAL ADMISSION CHARGES :
As part of the vision to eliminating the admission charges by 2018 the standard admission charge is being reduced from £8.00 to £6.00. The concessionary charge is being reduced from £5.75 to £5.00 and under 18s will have free entry.
The admission charges were first introduced in 2010, when the average donation was just 24p.
The Cathedral costs £3,000 a day to run excluding fabric repairs.
David Hill
Coventry Cathedral Liaison Officer
---
FOODBANK SHOPPING LIST:
St Peter's Church, Kineton has opened a "food bank" for local people in crisis but are having difficulty maintaining food stocks. Families qualifying for food are referred through an agency or their GP.
Donations of food may be taken to any "Coffee Stop" in Wasperton Village Hall, or to the third Sunday 9.30am service in St. John the Baptist Church, Wasperton.
Please contribute items on the following list:
- Milk (UHT or powdered)
- Sugar (500g)
- Fruit juice (carton)
- Soup
- Pasta sauces
- Sponge pudding (tinned)
- Tomatoes (tinned)
- Cereals
- Rice pudding (tinned)
- Tea bags/ instant coffee
- Instant mashed potato
- Rice/ pasta
- Tinned meat/ fish
- Tinned fruit
- Jam
- Biscuits or snack bar
---
ST PETER'S CHURCH IS OPEN :
The church is open every day from around 9.00 am until early evening. You are welcome to come in and look around or simply to enjoy the peace and quiet.
On Saturdays between 10.00 am and 12.00 noon, tea and coffee will be available.
---
MORNING PRAYER :
Morning Prayer is said every Thursday at St.Peter's Church at 8.30 a.m. Prayers are said on Tuesdays and Wednesdays at 9.00a.m.
All welcome.
---
The Club has resumed after the half term break. Our thoughts have turned to the coming summer and the things we look forward to. Stories told by Jesus help us to see ways that everyone can appreciate and enjoy this time of year.
St. Peter's Club meets every Thursday during term-time . Tea (sandwiches etc) will be available from 4.30pm until 5.00 pm. All children meet from 5.00pm till 6.00pm. This term will end on Thursday, 21st July.
The ages of the children vary and we are happy to accept any of Primary School age. Why not come and give us a try, coffee and biscuits for adults if you want to stay and watch. New members are always welcome.
We would love to see more joining especially from other villages in the area. Why not come and give us a try, ring Ann on 624371 for more information.
---
PASTORAL TEAM :
The Pastoral Team exists to pray for people who want us to pray for them and to visit anyone who would like us to visit them. You can contact any of us. Members are:
Jan Bradley
Ann Fawcett
Christine McBeath
Barbara Peters
Jane Scott
David Jessett
---
CHILDREN IN CHURCH :
Do you have small children? Do you worry about bringing them to church in case they make a noise? We understand this concern but would like to reassure you that at Barford there are toy bags for children and you are welcome to take one to a corner at the back of the church and let them play there. At Sherbourne too there are toys for children at the back of church.
We would be happy to welcome you at any of our services but you may find 9.30am services on the second and fourth Sundays of the month at Barford to be most suitable for young people and third Sunday services at Sherbourne at 11.00am.
We look forward to welcoming you and your children.
David Jessett