BARFORD FEATURES :
CPRE, THE FIRST EIGHTY YEARS
Changing England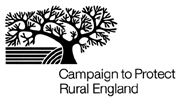 "To the editor of The Times.
Sir, - During the next few weeks we shall differ on so many problems of public importance, that we gladly take an opportunity of showing that on one subject we speak with a united voice – namely, in advocating the preservation of our countryside in its rich personality and character."
So opened a letter written jointly during the 1929 General Election campaign by Prime Minister Stanley Baldwin and opposition party leaders J. Ramsay Macdonald and David Lloyd George. It endorsed the appeal for funds then being made by The Council for the Preservation of Rural England, CPRE, formed three years earlier as a national joint committee with pioneering planner Sir Patrick Abercrombie as its honorary secretary.
Much has been achieved since that date. The first task in 1927 was an all out attack on ribbon development of housing along the radial routes out of towns. By 1929 work had started to make the case for National Parks and, in cooperation with the Royal Institute of British Architects, CPRE was advising developers and local authorities on good design. The 1930's saw enormous pressure on the countryside. The four million new homes built consumed 60,000 rural acres a year. CPRE realised that modernity and change could not be reversed but tried to ensure that through design, zoning and landscaping progress did not irreversibly scar the countryside. Positive achievements in which it was involved included the 1932 Town and Country Planning Act, The Restriction of Ribbon Development Act, the beginnings of Green Belt legislation and the protection of Lake District central fells from large scale forestry.
During the second world war CPRE was heavily involved in planning and greatly influenced both the 1944 and1947 Town and Country Planning Acts which respectively listed buildings of special merit and laid the foundation of the national planning system we still use today.
The organisation has met many challenges since then and has evolved steadily including two changes of name so that it is now "The Campaign to Protect Rural England". There are 57,000 individual supporters and 3000 parish councils and local groups are members.
Campaign aims have now to meet modern circumstances and environmental concerns. Large scale national plans for roads, major housing plans and green belt preservation remain as key areas of action. Now added to these are other major challenges including airport developments and the disappearance of ancient hedgerows. The huge increases in imported food are damaging local farming. Unnecessary or poorly designed signs and other street furniture, excessive lighting and a general loss of tranquillity, including the loss of quiet country lanes to speeding traffic are also of concern. It is striking how many CPRE campaigns link to the problem of global warming of which we are all now aware.
The CPRE message is essentially a positive one. The organisation has never been opposed to progress or change but seeks to influence change for the better by resisting avoidable destruction of unspoilt areas and by supporting such countryside needs as well planned affordable housing, good public transport, strong local services, thriving rural business's, local food production, biodiversity and sustainable farming.
Much of this short article is based on the CPRE booklet "Making Our Mark". 80 years of campaigning for the countryside by Tristram Hunt. If you would like a copy or may be interested in joining CPRE please contact their Warwick office on 01926 494597 or .
Click here for the CPRE website.
CPRE, December 2006