---
WATCHBURY DEXTER BEEF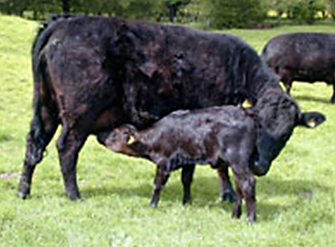 DO YOU LIKE TASTY BEEF?
DO YOU LIKE TO KNOW WHERE YOUR BEEF COMES FROM?
If you are answer yes to all the above questions ,you might like to read on.
On our small-holding over the hill at the back of Barford, we slowly grow our own grass–only fed beef from our small herd of pedigree Dexters. We are registered with the national Dexter Society and comply with their husbandry standards.
Our farm is one of the few farms to be selected to be part of the Higher Level Stewardship Scheme which is a Government supervised European Union initiative to encourage the promotion of endangered species of plants and animals, especially birds and insects.
We do not use hormones or intensive feeding to grow our beef – they feed on the grass in summer and the haylage we make from the wild flowers and traditional meadow grasses in winter. This, together with the rare breed that it is, gives the beef a unique flavor as promoted by TV Chef, James Martin and other well known celebrity Chefs.
We do not use artificial fertilizers, herbicides or insecticides on our grass fields and wild flower meadows.
We cull the beef in late October/November and it is hung for three weeks before being cut into small family joints, each labelled and sorted into boxes weighing a minimum of 30lbs for an eighth of an animal. This amount of beef will fill three freezer shelves of an upright freezer. Each box contains a cross section of the whole animal i.e. mince, pot roast, oven roasts, various steaks from stewing, shin, braising, sirloin, rump and fillet.
If you are interested in our Dexter beef, then please contact
Malcolm Eykyn
Watchbury Dexters
01926 624772
Posted 6th September 2014