Barford Features
Father and son, Keith and Jonathon Roberts, have just returned from a successful trek to the summit of Mount Kilimanjaro in Tanzania, raising around £3,000 for charities in the process. This month, we feature their story....


---
Kilimanjaro Trek, August 2002
It was with some trepidation that Jonathon and I waited at Umbwe Gate, eating our lunch, while our guide, Joachim, completed the permit formalities with the National Park ranger, and the chaos of tents, food and equipment was sorted out. The Umbwe trail is one of the less frequented routes up the mountain, and our presence was an attraction, it seemed, for the whole village whose inhabitants had turned out to watch this grey-haired guy and his son set out to climb the Great White Mountain of Africa.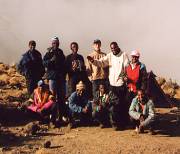 Jonathon, Joachim (our guide), and the team



Were we sane? Would we make it? I'm sure each spectator had his own view. We had been planning and looking forward to this moment for two years or more, and now we were here. Ever since I found out that Kilimanjaro is the highest mountain on Earth that can be climbed by a mere hill-walker, reaching its summit was something that I just had to do. And Jonathon, the only one of my three sons who shares my interest for walking further than to the nearest pub (well ok, I admit I do stop at the pub sometimes), was the ideal companion.

Suddenly, day rucksacks were slung on our backs, and we were away, up a steep trail through the rainforest with Joachim and porters leading the way. Now there was no going back, no time for second thoughts, we were going to climb Kilimanjaro!

Just a few days earlier, Jonathon and I had reached the summit of Mount Meru, (nearly 15,000 feet high), using that trek to acclimatise to high altitude, and giving us a taste of what was ahead. But now, at last, we were climbing Kili itself, every step upwards taking us closer to the 19,343 feet high top.

The first night was spent camping at Umbwe caves, a rather dismal spot on a narrow ridge, misty and cold. There is no water there. What we needed had to be carried by two bare-footed porters who, job done, had already left to drop back down to Umbwe village before we even arrived. The advice is "Pole, pole" (Swahili for "slowly, slowly"), and everything has to be done at a slow pace. We didn't even try to keep up with the porters, who with unbelievably large loads strapped to their backs, or balanced on their heads, made light of the thin air. Every day, the camp was dismantled after we left, the porters overtook us en route, and camp was magically re-pitched at the next site before we arrived!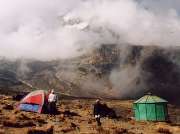 At Barranco camp



After breakfast next morning, we were soon above the clouds, and climbing in sunshine to Barranco camp. What a fantastic location! Barranco Wall, ahead, is a seemingly impossible barrier, 1,500 feet of sheer cliff face. Joachim assured us there is an easy walking trail up it, if you have a head for heights! The clouds, which had been swirling around the top all day, finally cleared completely late in the afternoon, revealing the bulky, snow capped summit of Kilimanjaro to us for the first time. It is still 6,000 feet above us, but we both say, "yes, we can do this". However, not for the last time on the climb, I wrote in my diary, "it seems so near and yet still so far".

Next day dawned bright and clear. For some reason, (lack of oxygen?), my packing up was completely disorganised, and we got away around 10 o'clock. Soon we were at the bottom of the Wall, but Joachim was right, a short scramble and we were climbing it on an easy track. "Pole, pole" was again the order, and we both enjoyed the climb and the views over the clouds to Mount Meru which are revealed about half way up. Just a few days before, we had been looking in the opposite direction, experiencing a magical moment on the ascent of Meru as the sun rose behind distant Kilimanjaro (see photo at top). We dropped down into Karanga Valley, to camp for the night at around 14,000 feet.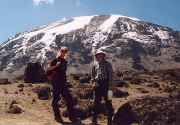 Jonathon and Keith near Barafu camp



A better organised start the following day, and we trekked uneventfully up to Barafu, our final camp on the ascent at 16,000 feet.

The landscape is dry, and could not be described as pretty, but the air is clear and the situation is still spectacular when you look across the carpet of clouds to Meru in the distance, and the second summit of Kili, Mawenzi Peak, comes into view for the first time. In contrast to the volcanic dome of Kilimanjaro, Mawenzi is spiky and vertical, and best left to real mountaineers. Barafu camp is situated on a ridge at the foot of the final steep slopes of Kilimanjaro, still some 3,500 feet below the top, but from there Rebmann's Glacier on the summit is clear, and Joachim pointed out tomorrow's route…. So near and yet still so far, but Jonathon and I agreed, "we've come this far, we can do it now".

Early to bed, early to rise. We were woken at 11:30pm, put on all the clothes we owned (I had six layers on my top half, and four layers on my bottom half) and, with our guide and his assistant Joseph, we were on our way by 12:15am. The temperature was minus 10 degrees Centigrade, and there is a limit to how many pairs of socks will fit inside one's boots. Jonathon was soon complaining of cold feet, I couldn't feel my fingers, despite two pairs of gloves.

"En-joy-every-step, en-joy-every-step", Joachim's advice rang like a mantra in my head. That's all I have to do, I thought, keep putting one foot in front of the other and the top will come. En-joy-every-step. Onwards we went, slowly up the steep scree slope in the darkness, other head torches twinkling on the mountain track above and below us, showing that we were not the only mad people in the world. Eventually the sky grew lighter, until the bleak, dusty landscape of volcanic ash was bathed in a pale morning light, and the fierce chill of the night melted away. The final few feet up to Stellar Point, on the crater rim, stretched my endurance to the limit, but finally we were there. The true summit, Uhuru Peak, was just an easy walk now, a hundred feet or so up around the crater rim to the roof of Africa. After over seven hours of effort, we finally reached our goal at 7:30am.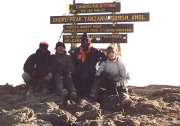 At the summit! Uhuru Peak



By now, Jonathon was feeling really ill, with worsening symptoms of mountain sickness. He just wanted to get back down to a lower altitude, so he set off quickly with Joseph (and was back at Barafu camp 90 minutes later!). Jo and I stayed a little longer to savour the moment, taking more photographs and engaging in the traditional mutual back slapping!

After returning to camp, the day was still not over, as there is only room at Barafu for those ascending the peak. So we had to drop down another 4,000 feet to Rau High camp for our final night on the mountain. But not before smugly giving those unfortunates who were arriving at Barafu on the way up the benefit of our experience!

The final day to Kidia Gate should have been an easy downhill stroll, but overnight rain, which continued in torrents all through the day, quickly turned the track into a stream, then a river and finally a swamp. Eventually, there was no point in trying to find a dry way through; we just splashed along in mud up to our knees. The advertised four-hour trek turned into seven, and our friends, Sue and Michael, who were waiting at Kidia to greet us with lunch, had almost given us up when we finally arrived around four in the afternoon. We were wet through, cold, tired and dirty, but finally we could rest, shower and say, "we did it!"

Jonathon and I paid all our own expenses for this trip, but decided to raise money for three health charities, British Heart Foundation, Diabetes UK and the National Asthma Campaign. Kind sponsors have enabled us to give around £1,000 to each charity. Jonathon suffers from asthma, so his achievement is all the more remarkable. There is still time to contribute - just call me on 07748 644515.

Now that I have achieved this personal goal in life, what next? We have gained a taste for trekking, so perhaps Nepal. After all, Kilimanjaro is the same height as Everest base camp! On the other hand, a relaxing holiday on a Spanish beach has something to recommend it too!

Keith Roberts



This page carries short feature articles about Barford, or of interest to residents.

If you'd like to contribute an article, informative, funny, whatever, please to e-mail us your ideas.