The fourth in an occasional series of articles about Barford people, past and present.
TED WILMOT
EXPLAINING TED…. By Clare Wilmot
Dad was a big man. He was full of stories, poems and lectures. His memory, my husband stated, was prodigious. He was encyclopaedic in his recall. He remembered numbers and dates. His mother was the same. The medications over the last few months robbed him of that facility, which drove him nuts. He was a large baby and a charming child of older parents. His father was a solicitor, the son of a respected family doctor in Burnham, Bucks. His mother was an artist, who illustrated children's books. His uncle was a doctor and died in his 30's of TB. Dad was the only offspring of five children in his mother's family. They all took turns in looking after him. He was loved. He carried this sense into his early school days, first at Cherry Orchard and then onto prep school at Clifton College Prep School, in Bristol. He met my sister's godfather there, who became a doctor and a mentor for me. Dad won a scholarship to Winchester College in 1937. He was encouraged to go there by his Godfather, whose nephew had just graduated from there. The nephew's other uncle was H. Ryder Haggard. Being a scholar at Winchester, he was younger than other classmates. Dad threw himself into the academic and social life of a Win Coll. boy. He finished in 1942. He and I went to his 69th reunion at Winchester College
During the summers of early WW2, he went and learned farming with his friend John Prince. He talks of shocking hay and milking cows and bathing last, after 20 people bathed in a single hip bath, by the fire. His job had been to scrape the filthy soap scum off the bath and warm it up for the next one. One wonders if he relished the story more than the event. He seemed to get a taste for farming at this point. It was a Christian camp and John Prince says that it was living the Christian Life.
In 1942 he went up to Trinity College Cambridge, following friends from Winchester, to do The Natural Science Tripos. During the first year he learned how to use his left hand to advance down the sign in line, how to get free grub at tutorial teas. He took the lead at the first ROTC meeting, where he was assigned to the RAF and marched down the street with his fellow students. He wanted to be in the RAF, since his father's cousin was married to the child of Hugh Trenchant, Head of the first British Flying Corps in WW1. In 1943 he was first sent to Stratford to be inducted into the training arm of the RAF and then to Rhodesia, where he learned to fly and decided to earn enough money to return to Central Africa to buy a farm.
Towards the end of the war, he went with his tent mate, Anthony Wedgewood Benn, whom he has quoted to us endlessly. They stayed in Alexandria waiting for duties to be assigned. He was assigned a slightly less tightly controlled unit, where they would do reconnaissance beyond Suez. Just as he collected his commission, the war was over and he headed back to Cambridge. During various bootcamp exercises and meeting with Americans, he was questioned in Ely and found to be good at Maths. They dispatched him to Delhi, where he worked in Statistics. He was sent up North and became a Lieutenant. In 1947 he returned to Cambridge and finished his degree, rowed for the 1st and 3rd Trinity team and acquired a Diploma in Agriculture. Very green, he joined Crown Agents, and he set off for Central Africa on a ship and arrived in Lorenco Marques and headed up to Nyasaland. His journeys around Nyasaland and into neighbouring territories were very interesting to him. He learned much from the Village Headmen, that he was detailed to teach. He learned several languages. However he came back every three years.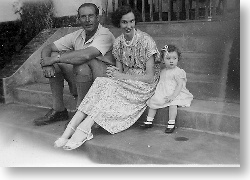 He married Mum after impressing her about lions in his garden in the Lower River. Mum's cousin had married a doctor out there. They were married at St Andrews Church in Cambridge and Dad left after two days on a ship. She followed him 2 months later on a ship to Lorenco Marques in Mozambique. She was pregnant with me. The first person to know that fact, after Dad, was Derek McLinden, who became my Godfather. He was on station with them in Nkhata Bay. I was born 300 miles from Dad and home in Lilongwe. Mum flew back with me in a small aeroplane, when I was 9 days old.
They moved around Malawi, and through the crisis in 1958, just after my sister was born, where he had to do night police duty. Mum slept with the baby and a gun. Dad went up the Agricultural Ladder and met many of you here. They spent 22 years in Malawi. Malawi became Independent in 1964 and a Republic in 1966. He had some illnesses and accidents. He availed himself of the adequate health care that kept them going. He traveled back to Britain every three years. He received the OBE from Prince Philip in 1971. Dr Banda, the first President, was his friend, but Dad felt it was time to change what he was doing. He went to the Caribbean for 4 years doing Tropical Agriculture for UNDP. The people and climate were different. He went back to Africa for two years, Ghana this time. He traveled and consulted around Sub Saharan Africa. Eventually he returned to Britain and based his work around Warwick, with Tropical Agricultural Consultants at ULG. Wally Saunders has been his friend and mentor for that long. He traveled to Bangladesh, Qatar, USA, Mocambique and was about to go to Jordan, when Kuwait was invaded by Iraq. I believe he retired to Barford after that. He traveled with his portable computer : a suitcase of neutrons. A heavy, bulky piece of equipment. Very avant garde at the time…
At this point he became involved with Barford Boards of Trustees. He became a St Peter's Church School Trustee and apparently helped with reorganizing the financial structure, to help the school stay in business. He loved the school and the kids and teachers. He recycled his cardboard for projects and saved old books from his dead relatives, for the teachers. He supported them at fetes and tombolas with his home made wines and sherries. He became involved in the Conservative Party at the time Maggie was coming to power, and he supported this church with his financial expertise. He was thrilled when they found the same quarry stone, that had built the church, when they needed to fundraise and build the little out house on the side of the South entrance. The two new bells were another project he relished. He became involved in the Barford Bypass, supported Myton Hospice, the art shows in town and the Village Shop. He integrated with the village, as his friends and home professionals.
He belonged to the Tropical Agriculture Association and spent many happy summers planning and manning the TAA stand with his good friend, Henry Gunston at the Royal Show. He called me in my hospital bed in the US, after the last Show, to say he had run into Charles, one of my friends, at the Royal Show. Our lives had intertwined. He missed the camaraderie of those shows. He became more disabled and could not drive to all the lectures and seminars put on by ODI, Institute of Biology and the Coventry Ecumenical Eco group. He headed into old age with two sticks and a loud voice. Still the Pater Familias.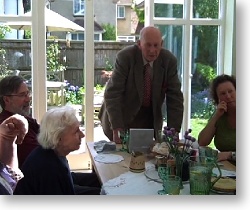 A rugby injury at WinColl left him with a painful back, that plagued him all his life. He infarcted a kidney in Barbados, but did not have it removed until the 1990's. This operation left him with a weak abdomen, and one leg longer than the other. The whole village has watched his back collapse over the years. He last took a long walk , when Beating the Bounds in 2005. The next year he walked three miles and has not managed any since. This back injury has plagued him in the past few years, slowing up his mobility and with his other health issues put him to bed last December. In his usual way, when he came up to the realization, that he had lost muscles, he decided to start physiotherapy. He received 6 weeks and did his exercises, as often as he could remember. Sadly he never managed to get himself out of bed again, and had to rely on a hoist for the last 5 months.
Socially, you all knew him. In Malawi he was known as Bwana Njobvu. The Elephant boss. He was loud and cheerful and friendly. He was a pleasant father. We missed him horribly when we went to boarding school. He felt we, his daughters, could do as well as any man, and supported us through University. He advised us on husbands and jobs and how to raise the grandchildren. Never one to start a fight, nor to carry one on, he was somewhat conciliatory, even when he may have prevailed in the right. He lost his father en route to Africa in 1950, returned to UK prior to marrying Mum, and took his mother for a tour of the Lake District pubs and scenes. She always supported his projects in Africa, through Oxfam. He moved Granny from under the M20 to the other side of Blackheath. She died there in her 90's. He kept in touch with some of his friends from Blackheath, took their advice on where to send us to school: Winchester, where they had sent their daughter ! He has supported many charities related to Malawi, the small Farmer, Eco sustainability and Christian outreach.
Both of us, his daughters, went through University and married. We both ended up in the USA, where Mum and Dad visited us alternate years. They loved Williamsburg and Charleston, South Carolina, where Fiona arranged their 50th wedding anniversary. They got to know each of the grandkids in their first year of life. David, my son, came for Xmas one year, but stayed only a short time due to a tummy bug, he and his girlfriend got en route. David came when Dad was ill this year, and helped form a plan to access his finances. Tara is here and has painted a museum quality casket for him. Lodi is unable to come. Each of them have inherited visible traits from him.
Mum is the hero in this relationship. She was a beautiful woman with career prospects in the Diplomatic Corps. She agreed to marry Dad on the thinnest of data. She has been in Dad's words " a very loyal wife". He always thought she was beautiful and talented. He offered to help her get a University degree. Her objective was always to support him. She went with gusto to all the places he went. She nearly got shot on their first ulendo in Nyasaland, together, where she rustled in the bushes, and Dad nearly jumped out of his skin, thinking she was a duiker, aiming at the noise. Another ulendo, she went for something to do. I was three months old and was part of the katundu. Dad tried to help with us kids, but after changing a few nappies, Mum needed some time to herself. He was stuck with me in a bar in Mzimba and a pint of Coronation Ale. Mum played the piano, and I drank sips of Ale ! In the last two years Mum had a stint in hospital and needed lots of care at home. Dad took on that job until he no longer could. The people in Barford have been at the house with them during these hard times.
I cannot tell Fiona's stories, but there were many for both of us, in which he was a kind and patient father. As teenagers and younger we have been on some spectacular ulendos in Africa and drives around Britain. He came to my children's school in Braintree, Vermont in the early 1990's and gave a talk on the economics of Ghana. Much was discussed about the non cash market or his terms: The Parallel Market. He had many discussions with all of us, on our own subjects. Fiona also went to Cambridge, which pleased him enormously. He was broadly educated, well traveled and well liked.
This past year was a time when he turned inward. He spent hours at his very slow computer, with his leg elevated on a drawer. When confined to bed, he watched Telly and sport particularly and did the GK and codeword crossword puzzles in the paper. Derek McLinden suggested he watch "Empire". He did watch it and felt they were not fair on the people, who made decisions at the time. He loved his friends and our friends visiting and liked to minimize his disability. The carers who have fed and bathed and moved him this past few months are to be commended. It is not easy to live someone else's life. He had help from friends and neighbours and us. He was disappointed a few weeks ago, when we said it would be cheaper not to put him on the Car Insurance. He wanted to know how easy it would be to be reinstated. I reassured him that we would get him insured the first day he was ready. He acquiesced. He wanted to live as long as Prince Philip, and considered him his hero. He felt in command of his life, aided by carers and us. He stated that he was still the "Pater Familias". It was difficult to disagree. Hope rings Eternal… He was a gentleman and a scholar.
I hope you all know the poem by Rudyard Kipling: "If". This was his philosophy and the way he lived his life.
September 2012