Personal memories and photographs of schooldays in Barford, 1950's.
By Clive Byerley, now of Melbourne, Australia
Click on the links in the text for a larger photo. This will open in a separate window, which you should close after viewing. The filesize of each photo is given.
In response to the request on the website for any photos of Barford, I enclose three that may be of interest to your fellow Barfordians. You will recognise, I am sure, the site of the planting of the Coronation Oak in 1953 - just next to "South of St Peters", I think the house is called.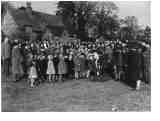 School Gathering


In the first photo (27k) one can see Arthur Spencer Twigger, the Head Master of Barford primary school; a much respected ( and feared ) figure. Every boy of my generation knew his car ( SHP 119 ) as it cruised like a Great White Shark around the village "looking for whom it might devour". Anyone who was ever caned by him will well remember how severe he could be, yet now I find I model my teaching style on his (not his disciplinary methods, though) and thank his memory for the example of moral toughness he engendered in all his students.

Archdeacon Parr in his full canonicals can also be seen at the ceremony. I remember that he still wore gaiters as late as the 1950's when he left the vicarage for visits. He used to arrive at the school to hear us recite the church catechism; a day of fear and trembling!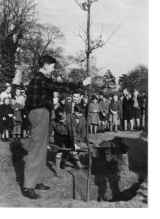 Planting the Coronation Oak


In case you are wondering where your correspondent is, I am the cute little boy in front with his head on one side!

My brother Allan and many of our contemporaries can be identified: Stephen Parr; Susan Wimbush; Pamela Carter; Robin Hammond;Susan Dance;Joan Matthews; Ronnie Barlow; Roger Edmunds; centre left in hat and glasses the ferocious Miss Charles who ran the grades one and two with her assistant ( name not remembered) standing next to her with long golden hair. Perhaps some of your readers might be able to add to the list of identities?

The second photo (23k) shows Anthony Reed and, I think Brian Thompson, planting the tree which is now such a fine and maturing specimen. In the background with his hand to his eyes is my brother, Allan, who still lives in Sandy Way.

Lastly is a class photo; (28k) not alas my year. Many faces will be familiar to your viewers: Keith Sandal; Trevor Tilling; Andy Court; Brian Thompson; Linda Cowley; Susan Wimbush; Susan Hammond; Helen Preston; Pamela Dance; Dick Thompson; Allan Marshall; and many others.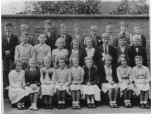 Class photograph


If anyone has a similar photo of my own class perhaps they would let me know through your site. Perhaps a "Where are They Now?" page could be added to the website to accommodate such nostalgic old photos?

Hoping these are of some interest,

Sincerely,

Clive Byerley
To contact Clive, to e-mail,
---